100 Days of Prayer "St. Luke Missionary Baptist"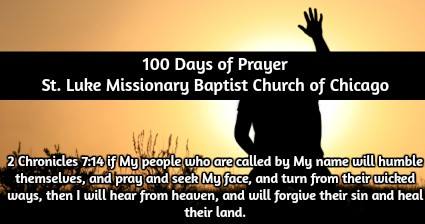 Join us on July 18th until October 28th for 100 days of prayer. Starting at 7:30AM every morning we will be praying corporately. The Prayer of a Righteous Man Availeth Much. We are in a time where we need healing, hope, love, compassion, food, a place to live, we need the Lord. Together we stand, divided we will keep falling.
Everyone is welcome to partake in this cry to the Lord. Our Land is suffering, our people are suffering, but God said If my people who are called by my name will humble themselves, pray and seek my face and turn from their wicked ways, then will I hear from heaven, forgive them of their sins and heal their land.
Join Us!
Please Share this event on your page Every Morning before prayer starts. We don't want anyone to miss out on sending their requests up to the Lord. He said where two or more are gathered in my name I am there, He will be there!