10th Ward Buzz: Garbage Pickup Day Changes in the 10th Ward! Newsletter "Alderwoman Garza"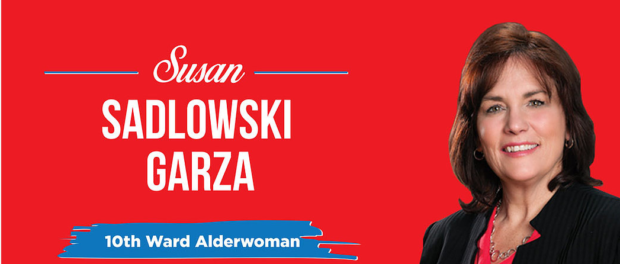 Message body
10th Ward Buzz
January 23, 2017Beginning January 30th, the Chicago Department of Streets and Sanitation will begin making adjustments to refuse collection routes within your ward in an effort to ensure residents are receiving the best possible refuse collection.
As a result to these route adjustments, there are households in the 10th Ward that will receive a new day of service. These service delivery changes will increase crew productivity and provide the most cost effective, quality service to you.
Please see the following map and legend that outlines the new service schedule for the 10th Ward.
Sincerely,
Alderwoman Susan Sadlowski Garza
"No fundamental social change occurs merely because government acts. It's because civil society, the conscience of a country, begins to rise up and demand – demand – demand change." -Joe Biden 
We have collaborated with 
Chicago Family Health Center
 to host a Yoga Night on Tuesday, January 31st in the 10th Ward Office. Come learn some yoga moves and mingle with CFHC and Alderwoman Garza!
Learn how to start a local Chicago Farmers Market in your neighborhood! Whether you're an entrepreneur or just a curious resident, this workshop explores the history and growth of local markets in Chicago – and offers simple tools, training and tips to start your own!

Yescenia Mota, program manager of Chicago Farmers Markets, presents this exciting workshop on behalf of the City of Chicago Department of Cultural Affairs and Special Events.

Making a Chicago Farmers Market: How to Bring Fresh Foods To Your Community
Saturday, January 28, 2017 (1:00PM – 2:00PM)
Hegewisch Library

Click here for more info!
Receive up $50,000 in federal assistance to buy down your mortgage or refinance you into a affordable loan with the I-Refi program! First time homeowners in Illinois can also receive up to $7500 in cash assistance for down payment or closing costs.

Check out these amazing programs below and contact the Spanish Coalition for Housing at 773-933-7575 with your questions!
Stop by Calumet Park January 21st-28th for the Festival Neighborhood Tour that will feature a puppet show!
The Contractor Outreach Event will be held on January 27th from 9am-12pm at the CRRC Assembly Plant. This event is to identify union contractors to work on the construction of the assembly plant.