A CALL TO ARTIST! …ETA Creative Arts.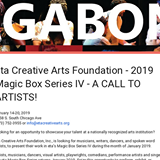 A CALL TO ARTIST!
Looking for an opportunity to showcase your talent at a nationally recognized arts institution? eta Creative Arts Foundation, Inc., is looking for musicians, writers, dancers, and spoken word artists, to present their work in eta's Magic Box Series IV during the month of January 2019.
To inform us of your interest, please click on this ARTIST INFO LINK: https://docs.google.com/…/1FAIpQLSf0N3Wzb149PHo30…/viewform….
January 14-20, 2019 7558 S.…