'A willingness to fight': Win or lose, Trump's push for a citizenship question in the census is red meat for his base by Washington Post.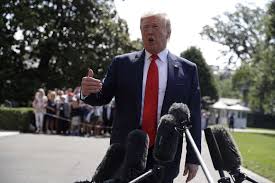 https://www.washingtonpost.com/politics/a-willingness-to-fight-win-or-lose-trumps-push-for-a-citizenship-question-in-the-census-is-red-meat-for-his-base/2019/07/06/4950889c-9f5c-11e9-b27f-ed2942f73d70_story.html?utm_term=.c5bac4dcd6f8
The government had begun printing census forms, the Commerce Department had publicly announced its legal surrender, and Justice Department lawyers had rested their case in court. But President Trump wasn't ready to give up the fight.
With a tweet that sent much of his administration scrambling over the Fourth of July holiday, Trump decided to unilaterally revive the government's attempt to add a citizenship question to the 2020 Census.
It's a move that fits into a long pattern of Trump going to the mat — and occasionally overruling his own administration — to force a fight over polarizing issues. While the strategy has so far yielded mixed results, it nonetheless allows Trump to cast himself as a relentless change agent — an image that has become central to his reelection bid.
"We're fighting very hard against the system, that's a very difficult system but we'll make a decision," Trump told reporters Friday, adding that he was "thinking of" issuing an executive order to add the citizenship question to census forms.
The Trump administration, which told a federal court Friday that it would reverse its plans and continue pursuing the citizenship question, faces long odds. The Supreme Court recently blocked the government from moving ahead with asking about citizenship, after saying the administration's stated rationale was "contrived."
Stung by that legal rebuke, and facing fast-arriving deadlines to move forward with the constitutionally mandated census, Trump's government publicly decided to drop its effort to add the citizenship question. On Tuesday, Commerce Secretary Wilbur Ross, who oversees the decennial population tally, said the administration was abandoning its effort and had begun printing the census forms without the citizenship question.
But the appearance of a premature surrender — and the backlash it caused among conservatives — was enough to cause Trump to intervene.
"The News Reports about the Department of Commerce dropping its quest to put the Citizenship Question on the Census is incorrect or, to state it differently, FAKE!" Trump tweeted Wednesday. "We are absolutely moving forward, as we must, because of the importance of the answer to this question."
The president has repeatedly rushed into the brink with last-minute reversals in similar situations, creating the impression that he is saving his administration from throwing in the towel on key priorities before exhausting all options.
In December, after Trump's congressional negotiators had agreed to support a bipartisan spending deal to keep the government open — without providing funding for building new border barriers — Trump overruled them.
A 35-day partial government shutdown ensued, with the president and lawmakers locked in a stalemate over border-wall funding. Trump used the battle to attempt to bolster his political prospects, running digital ads to inform voters about his hard-line position.
When Trump did finally agree to give in and sign a spending bill, he coupled his surrender with the announcement of a national emergency declaration that he said would allow the government to repurpose existing funds to build the wall.
Several federal judges have since ruled against Trump's effort to spend taxpayer money without congressional approval.