Adult Spanish Book Club / Club de libro at South Chicago Library.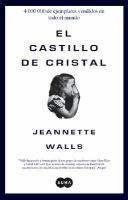 Monday, November 12, 2018 (4:30PM – 5:30PM)
South Chicago
9055 S. Houston Avenue
Chicago IL 60617
Description
Connect and share interests or ideas with like-minded people featuring various topics in Spanish literature. Join us this month as we discuss El castillo de cristal por Jeannette Walls. Discussion will be conducted in Spanish.
Conéctate a personas con ideas parecidas e interés en los diversos temas que ofrece la literatura en español. Únase a nosotros este mes mientras discutimos El castillo de cristalpor Jeannette Walls.