Aldermen start push to desegregate Chicago neighborhoods by David Zegeye, Chicago City Space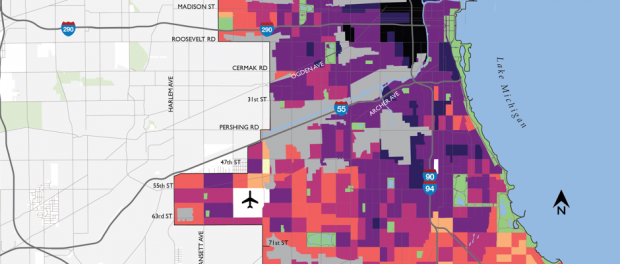 If a ward doesn't have enough affordable housing, then a project that meets the on-site AH requirements could not be blocked
https://blog.chicagocityscape.com/aldermen-push-to-desegregate-chicago-neighborhoods-9dc1e11fa7b0
Earlier this year, the Metropolitan Planning Council released a study called "The Cost of Segregation" detailing the effects of racial and income segregation in Chicago, and outlining necessary institutional reforms to address the effects of racism in the city. By ending segregation, Chicago would have a stronger economy, higher earnings for Black residents, provide residents access to better schools, and lower crime rates.
A key recommendation to reduce segregation in Chicago's housing market is to counterbalance the negative effects of "local control" by automatically approving certain multi-family housing proposals.
MPC's specific suggestion is that "when a residential development with at least 10 percent affordability is proposed in a ward with less than 10 percent affordable housing, the proposed development can no longer be rejected or delayed indefinitely by the Alderman alone". The purpose of this recommendation is to prevent "aldermanic prerogative" from blocking affordable housing on the North Side. Aldermanic prerogative is a longstanding tradition that gives aldermen the final decision on a proposed project in their ward.
The city's Affordable Requirements Ordinance (ARO) was intended to increase the amount of long-term affordable housing in the city. However, developments that include affordable housing can face stiff resistance from residents and aldermen. Such proposals have been delayed or blocked, therefore not meeting the demand for affordable housing in a ward. Chicago's Office of Inspector General investigated where 1,623 affordable housing units, built and generated from fees paid by developers to avoid building affordable housing, were located in the city. The OIG found that "there were zero in nearly two dozen North, Northwest and Southwest side community areas".
The ability for aldermanic prerogative and community residents to defer housing needs is why 47th Ward Alder Ameya Pawar, cowriten by MPC, introduced the Affordable Housing Equity Ordinance. Sponsored by 26 other aldermen, the purpose of the ordinance is to desegregate many predominantly white neighborhoods in the city, by increasing the amount of multi-family affordable housing in these neighborhoods. Ald. Pawar recognizes that this is an incremental step, but this is a big first step for the city to address its history of segregation.
The ordinance aims to create an "Affordable Application" process to increase the amount of dedicated affordable housing in the city, particularly in "Underserved Wards" that have less than 10 percent of their multi-family housing being affordable to households earning up to 60 percent of the region's median income. According to the ordinance, an "Affordable Application" process applies to:
A residential or mixed-use Planned Development (PD), located in an Underserved Ward, that activates the ARO and will provide the required affordable housing units on-site
Any application for a zoning change that activates the ARO, regardless of the ward, and provides all affordable housing units on-site
The ordinance also proposes changes to the PD review process, where there is now prioritization to approve developments with multi-family rental housing in an Underserved Ward. This is important when considering PDs in wards that have a significant portion of their housing stock as single-family homes. When a 100-unit mixed-income development was proposed for the 45th Ward, the proposal faced backlash at a community meeting over concerns of being out-of-scale of Jefferson Park's suburban-character. This was in addition to a crowd of local residents outside the meeting yelling bigoted chants, while expressing fears that "poorer neighbors will draw crime and drive down property values," (DNAInfo). Neighboring 41st Ward Alder Anthony Napolitano also opposed the building.
The proposed development has now shrunk to 75-units, and is still waiting for financing. When a group of residents are able to oppose affordable housing over fears of density and crime, attempts at desegregation in these wards becomes more difficult.
Although there is not yet a map of which wards are considered underserved, wards that lost the most amount of affordable housing in the past couple of decades will probably be considered underserved. The Chicago Area Fair Housing Alliance (CAFHA) created a map which shows the percentage change in affordable housing from 1970–2016. Areas that have lost the most affordable units are predominantly on the North Side, Northwest Side, and Downtown.
In addition, allowing aldermen to stall proposals increases the overall cost of a project and the difficulty to build affordable housing as quickly as possible. This discourages small developers from requesting a zoning change to be able to build apartments, and instead incentivizes single-family homes, which are more likely to be aimed towards wealthier households, to be built on existing lots. This is why the Affordable Housing Equity Ordinance also places a time limit for City Council to take action on a proposal, in order to expedite developments with affordable housing and allow them to be built as soon as possible.
For the case where only a zoning change is necessary, if the Plan Commission and the Committee on Zoning, Landmarks, and Building Standards doesn't take action within 90 days of the application being filed, the zoning change is automatically approved by both committees. If the Affordable Application is for a PD, then the Plan Commission has 90 days to take action and the Committee on Zoning, Landmarks, and Building Standards has an additional 90 days afterwards to take action; otherwise the application is automatically approved.
Once an application is approved by the Committee on Zoning, Landmarks, and Building Standards, it is sent to the next City Council meeting for final approval. If the application is not approved within two City Council meetings, the proposal is automatically approved.
To gain a better understanding of what would qualify as an affordable application, and here are some examples of how the Affordable Housing Equity Ordinance would apply to different proposed developments:
A zoning change to allow a 6-flat and a 4-flat on three lots, with one of units being affordable housing, would qualify as an Affordable Application and be expedited (via zoning change to RM-4.5)
A new 40-unit mid-rise with retail on a commercial street would have to provide 4 units of affordable housing (via zoning change to B- or C-5)
A mixed-use high-rise, with office components and 100 residential units, requires 10 on-site housing units. (via zoning change to DX-5, then submitting a PD)
Different wards have different ARO requirements. In 2017, the city passed an ARO Pilot program, to experiment with increases in the amount of affordable housing in wealthy and gentrifying areas of the city. Developments in the Milwaukee Corridor Pilot Area and Near West Pilot Area are required to have 15 percent of units be affordable, while those in the Near North Pilot Area required to have 20 percent affordability. No in lieu fees are allowed.
The new approval process would encourage more multi-family housing on the North and Northwest Side, where loss of affordable units over the past 16 years has exacerbated the housing crisis. This is good for affordability in North Side neighborhoods, such as Old Town and Wicker Park, where there are residents who're resistant to new housing. Many North and Northwest Side neighborhoods are significantly below their peak populations, and the Affordable Housing Equity Ordinance would help add much needed housing to these neighborhoods.
However, for neighborhoods facing gentrification, removing community engagement of proposed housing increases the fear of displacement of working-class residents. Alder Carlos Ramirez-Rosa of the 35th Ward, which covers many Latinx-majority neighborhoods on the Northwest Side, has attempted to use aldermanic prerogative to keep his ward affordable and to allow working-class Latinx residents a say in community development. In spite of this, Ald. Ramirez-Rosa is a sponsor of the Affordable Housing Equity Ordinance, which will still allow aldermen the ability to influence proposed developments in their ward. MPC is currently developing assessment tools that address impacts of new and proposed developments on housing affordability and small businesses, so residents can understand how they will be impacted by new investments and better address changes in their community.
The ordinance will require an updated map of wards with affordable housing to be published as a part of the city's Quarterly Housing Reports, which would outline which wards in Chicago need to be prioritized for the construction of affordable housing. Currently the Bureau of Housing is part of the Department of Planning & Development, and the current deputy commissioner of the Bureau of Housing is Anthony Simpkins. As part of the 2019 budget, the bureau will become the Department of Housing this year.