Attempt Kidnapping Child Abduction/Stranger……Info Forward by Edward S. Stanford, CAPS Organizer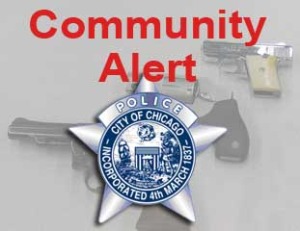 Bureau of Detectives – Area South
Community Alert
Alert# HY425451
September 16, 2015
Wanted for
Attempt Kidnapping
Child Abduction/Stranger
004th District/005th District
About This Crime:
On September 16, 2015 at approximately 8:40 a.m., a juvenile victim was
approached by a male offender in the vicinity of the 9400 block of South Stony
Island Ave., while waiting for the bus. The offender motioned the victim to come
to his vehicle while smiling. The victim shook her head indicating no and
boarded the bus. After reaching her destination in the 9500 block of S. Michigan
Ave., she observed the same vehicle as she walked northbound on Michigan
Ave., from 95th St. When she reached the middle of the block, the offender
appeared behind her yelling "come here". The victim ran to school and reported
the incident to police.
About The Offender:
The offender is described as a Black male, approximately 5'8″, dark complexion, between 30-40 years of age, thin build, short black hair, wearing a light blue shirt and dark blue jeans. The offender was driving a late model Black Chevrolet Impala.
What You Can Do:
Be aware of this situation and alert your neighbors.

Do not let children walk alone; Identify safe havens along the school route.

Call 911 to report any suspicious person, vehicles or activity in your neighborhood.

 

Instruct your children to notify the nearest adult (crossing guard, police officer, school personnel) of the incident.
If you have any information about this incident,
Please call the Area South Detectives at (312)747-8271
or email your tips to area2tips@chicagopolice.org
Reference RD# HY-425451
Chicago Police Department