Candidate for 5th Ward Alderman Josef Michael Carr, MBA Address The Budget Mention the Sun-Times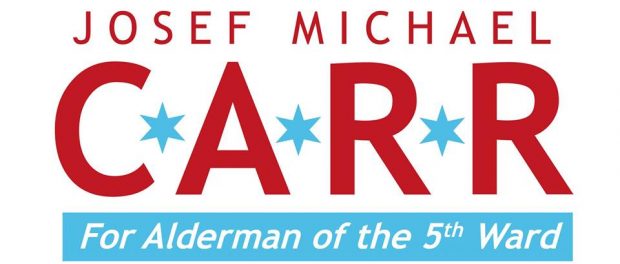 As the city of Chicago starts planning for the 2019 budget cycle, introducing new revenue streams are equally as important as recurring revenue. I am a firm supporter of linkage-agreements imposed on new real estate development to create a city-wide safety fund. Currently, other major cities use linkage-agreements.
I propose a pilot program in the 5th Ward for a community safety fund to purchase emergency telephones in dimly-lit areas in high crime areas or contracts with private security firms. The community safety fund would be managed by 5th Ward residents. The fund would supplement the safety measures already in place.
It's time for the city to explore a new way of conducting business. It's time for a new way of educating our children. It's time for a new way of making our streets safe for our children. Only together can we rise as a community, a city, and a nation again.
Josef Michael Carr, MBA
Candidate for 5th Ward Alderman
#Carrforalderman #TogetherWeRise
Click Link Below to View Article :
https://chicago.suntimes.com/news/chicago-budget-audit-shows-improving-financial-picture-decline-pension-obligation/?utm_source=Free+Email&utm_campaign=31d63cbbd6-Review_6_26_17_COPY_01&utm_medium=email&utm_term=0_6833c6a000-31d63cbbd6-257005013&mc_cid=31d63cbbd6&mc_eid=1e4ebd7cf1