Click Link To View More About the Project:
https://www.honeypotperformance.org/chgpblksocialculturemap/?fbclid=IwAR1Wq57ITfTTrXQFKo54CoHfPuw1EpoHD-dXt9NpF2ebXb4tUcYoQbNw3Z0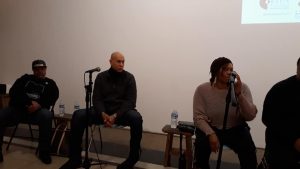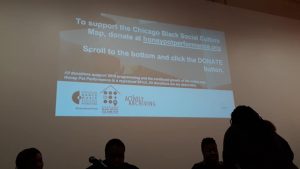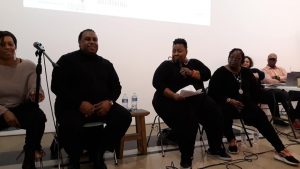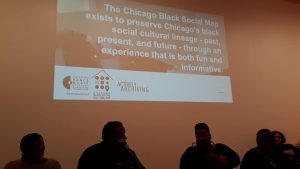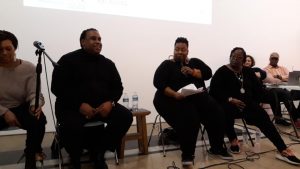 The Chicago Black Social Culture Map is an online public humanities project documenting Black social culture from the Great Migration through the early 21st century with a focus on the emergence of house music and dance in the 1970s. The map features profiles for over 350 different venues, including basic information, first-person stories, and supplemental media, all collected through collaborative community research.
The CBSCM exists to preserve Chicago's black social cultural lineage – past, present, and future – through an experience that is both fun and informative. In Fall 2018, we launched our interactive digital initiative with a community archiving day including panel discussions, archiving stations, and hands-on demonstrations of the online map. In 2019, we are growing that experience into a series of roving map and archiving days focused on the social scene across the city's South, West, and North sides. Each day features public spaces, personalities, and cultural history connected to specific city geographies.
Our first event for 2019 features South Shore's queer community, the impact of teen ingenuity, and the importance of crews and houses as key influences in the development of house culture in Chicago.
Bring your photos, flyers, fashion, and stories to be archived on site and added to the digital map!
SOUTH SHORE/SOUTHSIDE EDITION
The event includes refreshments, a cash bar, and DJ sets from Jo de Presser and Duane Powell.
PANEL SESSIONS
Basements, Pubs, & Clubs: South Shore's Queer Nightlife Networks (12:30-1:45pn)
South Shore's queer community played a pivotal role in developing the house and social scene from the 1980's to the present in this neighborhood. This conversation pays special homage to recently transitioned South Shore DJ and tastemaker Craig Cannon.
Moderator: Lori Branch
Panelists: Dana Powell, Darrell Hill, Frederick Dunson
Sock Hops, Juice Bars, & High Schools: The Southside's Teen Scene through Chicago's Public and Catholic Schools (2-3:15pm)
The South Side's teen scene was instrumental in the development of house music and dance culture. Panelists discuss the differences between parties at Catholic and public high schools and unpack why high schools and teen ingenuity were so critical to the growth of the early scene.
Moderator: Larissa Johnson
Panelists: Kirk Townsend, Craig Alexander, Celeste Alexander, Noshaluv Rime
Clubs, Crews, & Houses: The politics of belonging & membership in Chicago's Black social spaces (3:30-4:45pm)
Chicago's social and membership clubs became essential networks of safe and lucrative interaction and leisure that facilitated navigation of the city for Great Migrants and their descendants. Dance crews and fashion houses, continuing this tradition of "membership" in the later 20th century, evolved as another iteration of the social club for youth, queer folks, and others on the fringes to express themselves. This panel is a glimpse at the complex social, cultural, and economic work of these crews and houses and their relationship to the development of Chicago's black social cultures.
Moderator: Duane Powell
Panelists: Todd McCurry, Tina Howell, Hans Chery
****
This event is presented in partnership with Rebuild Foundation.
The CBSCM team includes Honey Pot Performance members Meida McNeal, Jo de Presser, and Abra Johnson as well as collaborators Duane Powell, Larissa Johnson, and Kimeco Roberson. Additional partners include Lauren Lowery, Skylah Sensahrae, Micah Salkind, and the Modern Dance Music Research & Archiving Foundation.