Chicago Park District Senior Talent Show and Lunch at the South Shore Cultural Center. (full house)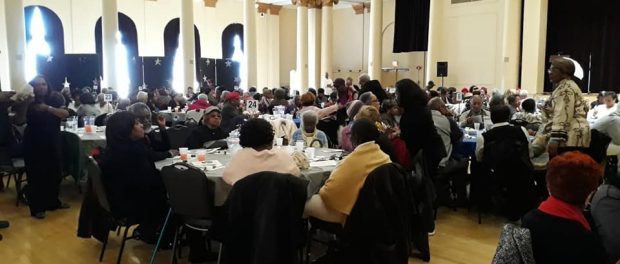 7059 S. South Shore Dr.
Chicago, IL 60649
Supervisor: Andrea Adams
Phone Numbers:
Main (773) 256-0149
South Shore Cultural Center Advisory Council Meet every 2nd Saturday

.
We have produced our own cultural events at the SSCC such as concerts of chamber music, blues, story telling, art exhibits, tango demonstrations and lessons. We have also invited arts groups from around the city to present events and form ongoing partnerships at SSCC. Our independent partners in both producing free and other quality public performances and teaching and mentoring youth and performers include Chicago Music Association, Chicago Modern Orchestra Project, Civic Orchestra of Chicago, Iona Calhoun School of Dance, and the South Shore Opera Company of Chicago– the latter two are housed at the Center.

We have a very active Landscape & Gardens Committee which maintains several gardens on the premises and advises the Park District on landscape issues at the Center

We have been an active force in lobbying to Park District to increase and upgrade the quality of programming it provides at SSCC.