Clean Energy Lobby Day (Bus from Champaign-Urbana & Decatur) Public · Hosted by Prairie Rivers Network .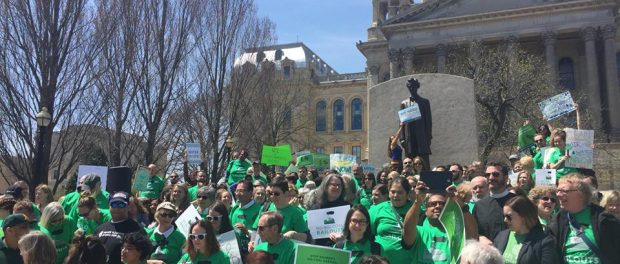 Info Shared by Faith In Place:
Thursday, May 9, 2019 at 8 AM – 3:30 PM

Illinois State Capitol

401 S 2nd St, Springfield, Illinois 62701

On Thursday, May 9, travel with us by BUS from Champaign-Urbana & Decatur to the Capitol in Springfield for 2019 Clean Energy Lobby Day!

RSVP is required. To register and get a bus ticket visit: https://ilenviro.salsalabs.org/2019registration/index.html

If you are joining us in Springfield but travelling independently, please visit: https://goo.gl/forms/bJbYFHewVQPnO6ro2

Depart C-U at 8am from The Mennonite Church (902 E. Springfield, Urbana, IL, corner of Lincoln and Springfield).

Depart Decatur at 8:45am from Macon County U of I Extension Center (3351 N. President Howard Brown Blvd. Decatur, IL 62521)

This event is a great way to learn the ropes at the Capitol with other Illinoisans who share your desire to see our state lead the way into the clean energy future. Lobby days have been vital in passing important environmental policies in past years, and it's more important than ever that we make sure state legislators hear our concerns loud and clear. We'll visit with our legislators in the morning and join folks from all around the state for a Rally in the early afternoon!