$ecure the Bag – Neighborhood Opportunity Fund Info Session Hosted by Southeast Chicago Chamber.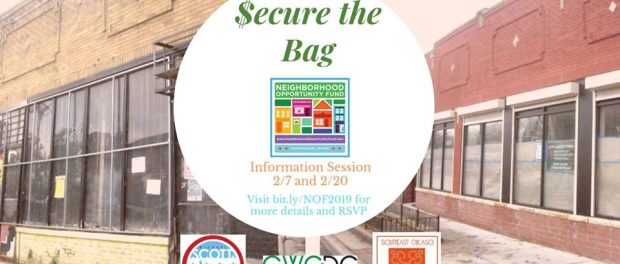 Wednesday, February 20, 2019 at 6 PM – 8 PM

The Woodlawn

1200 East 79th Street, Chicago, Illinois 60619

Secure the Bag – Neighborhood Opportunity Fund Info Sessions

2/7 North Lawndale MLK Exhibitor Center
2/20 The Woodlawn 1200 E. 79th Street

In partnership with the Greater Westside Community Development Corporation and the South East Chicago Chamber of Commerce, Project Forward facilitate this session.

Secure The Bag will provide an NOF program overview, highlight some success stories, as well as identify challenges and provide solutions to those challenges.

Have a project that that will help build a stronger commercial corridor in your neighborhood? The Neighborhood Opportunity Fund can help!

NOF funds projects like:

Storefront buildout
Facade repair, window and door replacement
Plumbing, electrical and HVAC work
New construction
Roofing repair
And much more
Learn more about applying by attending this info session.

Send questions to christyn@yourprojectforward.com

Please note there are 2 separate events, the same
Information will be presented at each session.

Consulting Agency

Project Forward helps organizations improve their bottom line with strategic implementation for economic and small business development.