CFPAC's 13th Annual Chicago Food Policy Summit 2018….Info Forward by South Shore Cultural Center Advisory
Date/Time
Date(s) - 02/23/2018
9:00 am - 5:00 pm
Location
South Shore Cultural Center
Categories No Categories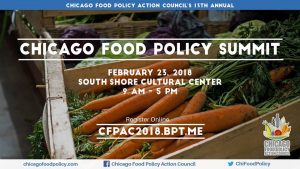 Español debajo
Chicago Food Policy Action Council's 13th Annual Chicago Food Policy Summit will be Friday, February 23rd at the South Shore Cultural Center, 7059 S. South Shore Drive. Connect with food workers, farmers, vendors, and local leaders to discuss food policy and critical issues involving climate change, labor, food access, urban farming and the economics of food production in Chicago, Cook County and Illinois. More details about the summit's workshops, speakers, food vendor marketplace, food trucks, and funding opportunities will be announced soon. For more information, contact cfpac.inquiries@gmail.com.
La 13ª Cumbre Anual de Políticas Alimentaria del Concilio de Acción de Políticas Alimentaria de Chicago (CFPAC por sus siglas en Ingles) será el viernes, 23 de febrero en el Centro Cultural South Shore, 7059 S. South Shore Drive. Conéctese con trabajadores de alimentos, agricultores, vendedores y líderes locales para discutir políticas alimentarias y cuestiones críticas relacionadas con el cambio climático, el trabajo, el acceso a los alimentos, la agricultura urbana y la economía de la producción de alimentos en Chicago, el condado de Cook y Illinois. Anunciaremos más detalles pronto sobre los talleres de cumbres, conferencistas, mercado de vendedores de alimentos, camiones de alimentos y oportunidades de financiamiento. Para obtener más información, contáctese con cfpac.inquiries@gmail.com.
Tendremos interpretacion simultanea disponible en Español en la cumbre. Por favor indique en la registracion si va a necesitar este servicio.
We are THRILLED to announce this year's keynote speaker, Amani Olugbala of Soul Fire Farm!
Amani Olugbala/ Amani O+ Poet & Emcee is a storyteller who weaves music, film, speech and poem into art that addresses social injustice, honors the ancestors and inspires transformation. Amani strives to uplift and promote love & service as necessary acts of rebellion against isolation and disconnection that threatens our collective peace and wellness.
As Assistant Director of Programs at Soul Fire Farm, Amani works with a crew of beautiful people committed to ending racism and injustice in the food system and strengthening the movements for food sovereignty and community self-determination. Soul Fire Farm raises life-giving food to folks surviving food apartheid and offers models for revolutionary thrival through love, ancestral wisdom, activist-farmer training and Earth reverence.
In 2016, Amani O+ co-founded the femcee raptivist duo KATANI with their best friend and music partner Kat So Poetic. KATANI aims to educate, uplift and unite people with a specific focus on those invisibilized by interwoven systems of oppression (such as misogynoir). KATANI believes in hip hop music as a beacon to shift and shatter our shared culture to one of collective healing and radical self-care.
As an event curator, MC, performer and teacher, Amani uses artistic expression, urban agriculture and community education to create change and foster a sense of empathy and inter-being. In 2017 Amani formed B.L.A.C.K. Label, a collective of artists committed to curating safe events that honor and celebrate the stories of people in color and bring forth the world they wish to live, love and create within.
Amani aims to inspire all those they come into contact with to remember their magic, trust their vision and share their unique gifts with the world.