South Shore Good Food Farmers Market Info Forward by the Planning Coalition
Date/Time
Date(s) - 07/09/2016
11:00 am - 2:00 pm
Location
The Quarry And Culinary Arts Center
Categories No Categories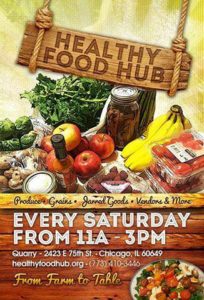 Join us as we enter the CommUnity Cleanse.  We will be reviewing week 1 and preparing for week 2.  Get what you need to rejuvenate during this Market Day.
Growing a Local Food System and Building a Local Food Economy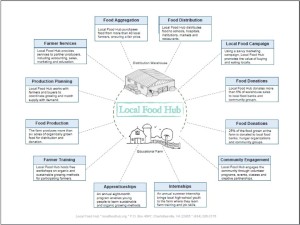 "Our mission is to create a just, holistic local food system to transform urban to rural communities through education, entrepreneurship and access to healthy, affordable food."
Lifeboat Series begins at noon.
Pre-Order at http://www.healthyfoodhub.org/
Forms of Payment Accepted: Cash, Check, Credit or LINK
View this email in your browser 
Healthy Food Hub
Market Day
The Quarry Event Center
2423-7 East 75th Street
** Brunch with Chef Michael
————————————————————
Menu
Spring Detox Juice & Smoothies
Berries & Waffles
Veggie Omelette
Vegan Taco
Steak Taco
Grass Fed Beef Taco
Vegan Gumbo
Call to place an order before 3:00 p.m.:
312-259-1143 (tel:312-259-1143)
The CommUnity Cleanse is an 8 week long cleansing, detoxifying, regenerating transition into Spring.  Our destination:  a higher level of health in our community.  Your invited to be a part of the critical mass to transform our well being.  Weather your fasting for the first time or your a pro,
lets do this together,
on all levels: physically, mentally, emotionally spiritually & economically!
** Get your fresh fruits, vegetables, grains, beans, herbs, teas and supplements for the CommUnity Cleanse at the Healthy Food Hub
————————————————————
** INVEST IN COMMUNITY WEALTH
BECOME A MEMBER
————————————————————
$25/year
Every time you place a pre paid order or make a purchase from the Healthy Food Hub, dollars stay in our community to build health & wealth from your family to the environment.
15% OFF PRE PAID ORDERS
10% OFF MARKET DAY PURCHASES
JOIN NOW (http://healthyfoodhub.us7.list-manage1.com/track/click?u=3f1b841e89ff9f4ab551d7c9b&id=2281ee2632&e=1ede91725d)
** Local
Boots n Saddles Eggs 4.50dz
————————————————————
** Certified Organic
Apple, Fugi 0.90 ea
Avocado 1.50 ea
Banana  1.00 lb
Grapefruit,Red 1.60 ea
Oranges, Valencia  1.10lb
Pears,Bartlett  0.80 ea
Beets 1.50 lb
Broccoli 3.20 ea
Butternut Squash 1.10 lb
Carrots 1.00 lb
Dandelion Greens 1.90 bu
Lacinato Kale 1.20 bu
Potato, Red 1.00 lb
Salad Mix 6.20 lb
Shiitaki Mushrooms 3.90 ea
Tomato, Grape 1.90 ea
————————————————————
** Affordables
Baby Cuties 0.15 ea
Coconuts 3.00 ea
Grapes, Black 2.40 lb
Lemons 0.40 ea
Limes 0.50 ea
Mango 1.40 ea
Papaya 3.00 ea
Pineapple 3.00 ea
Asparagus 2.60 ea
Collards 1.30 bu
Green Bean 1.40 lb
Green Kale 0.90 bu
Mushrooms, Crimini 2.70 lb
Mustard Greens 1.30 bu
Onions, Red  0.80 lb
Onions, Spanish 0.40 lb
Spinach, Baby 2.10lb