EXCITING HOLIDAY POP UP STORE COMES TO SOUTH SHORE…..by The Planning Coalition & South Shore Chambers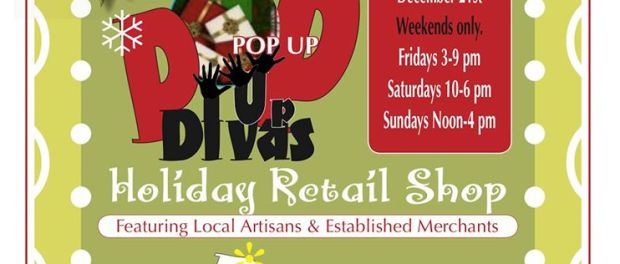 South Shore Pop Divas have your holiday shopping covered.
For Immediate Release Contact: Jeanette Foreman
404-290-2175
EXCITING HOLIDAY POP UP STORE COMES TO SOUTH SHOREAn exciting South Shore Holiday Business Pop Up boutique gift store will be opening for six weeks, every Friday, Saturday and Sunday starting Friday, November 27 until Dec Sunday, December 21 at the Quarry 75 Entertainment venue at 2423 East 75th Street in Chicago.Called a Pop Up because it is designed to last for a short time, it will offer the public a potpourri of unique hand-crafted jewelry, fine art, photography, music, funky fashion ware and accessories, according to the South Shore based group who conceptualized the idea, the Pop Up Divas. Also unusual furniture items and a variety of other high quality wares and services will be available for purchase. This is a creative way for 15 local South Shore artists and entrepreneurs with compatible visions and tastes to collaborate and sell their goods together in a beautiful and creative setting, working as a collective. Even teens are being featured in the Pop Up. Customers will have access beautiful and unusual gift items at reasonable prices without having to leave the neighborhood.The launch events for the Pop Up are Friday, November 28th at the "Mo Better Jazz Chicago" event where saxophonist Rajiv Halim will perform from 8 PM -11 PM, followed Saturday morning November 29th from 9 -11am with a Small Business Breakfast planned and hosted by the South Shore Chamber of Commerce, Inc. in connection with their Buy Local Campaign. Breakfast sponsor, American Express, will give away $25 gift cards to be spent with local South Shore businesses. A third Saturday event is a modified offering of the weekly "Good Foods South Shore Year-Round Farmer's Market', which will wrap around Pop Up sales as part of the festivities from 11am- 3pm. All events will take place at the Quarry where there is ample parking at an adjoining lot.
The theme and purpose of this gathering is to increase local resident awareness and incentives to do their holiday shopping with all of the 500 plus excellent local South Shore businesses as a means of strengthening the local economy .The Pop Up boutique, in furtherance of that very worthy goal, will cross promote other South Shore businesses in connection with the Planning Coalition's Walk, Shop, Dine South Shore Campaign, identifying those businesses by linking to the business list found on the South Shore Chamber of Commerce, Inc.'s web site.
Partners who played a role to plan, fund and support the Pop Up, in addition to the Pop Up Divas are The South Shore Chamber of Commerce, Inc., The Planning Coalition, "The South Shore Current" magazine, Black United Fund of Illinois, Inc., The Quarry Event Center, and Special Service Area (SSA #49). For information visitwww.theplanningcoalition.org and www.SouthShoreChamberofCommerceInc.org.
###