Gov. Pritzker, other Democrats sworn into statewide offices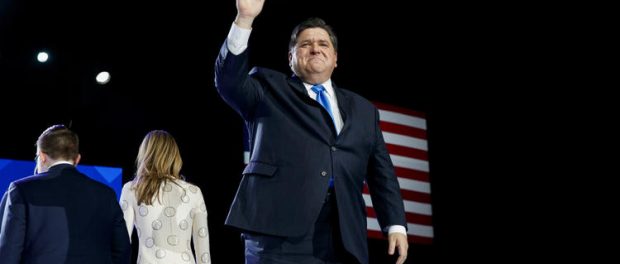 By Doug Finke
State Capitol Bureau 
Democrat J.B. Pritzker took office Monday as the state's 43rd governor, delivering a message of bipartisan cooperation while the state tackles the challenges still facing it.
But while calling for that cooperation, Pritzker did not shy away from detailing how his approach will be different from his predecessor's.
With the outgoing Gov. Bruce Rauner looking on from a seat on the stage, Pritzker — who joined five other Democrats in taking their statewide offices — said the state must pass a balanced budget even though "our obligations as a state outmatch our resources and the solution requires a collective commitment to embracing hard choices."
"But be clear about this — I won't balance the budget on the backs of the starving, the sick and the suffering," Pritzker said. "I won't hollow out the functions of government to achieve an ideological agenda. I won't make the government the enemy and government employees the scapegoat."
During Rauner's tenure, the state went through a prolonged budget impasse that severely strained human services organizations that deliver services on behalf of the state.
Pritzker takes office with daunting problems still facing the state. The backlog of bills still stands at more than $7 billion, the state desperately needs a new capital improvement plan although there is no agreement on how to pay for it and Illinois is no closer to resolving the problem of steadily increasing pension payments that are starving other state programs of money.
Democrats hold super majorities in both the House and Senate, but that is no guarantee Democrats alone will provide the votes for issues on Pritzker's agenda, particularly when it comes to paying for a capital plan or even putting an amendment on the ballot for a graduated income tax.
Even before he delivers his first budget speech, Pritzker faces additional financial challenges. Illinois universities recently said they want a $314 million increase to help offset years of cuts. And Pritzker has said he will resume negotiations with the American Federation of State, County and Municipal Employees members who have gone four years without raises.