Immigrant Advocates Blast Rauner Holiday Budget Cuts as "Galling," "Foolish" The Illinois Observer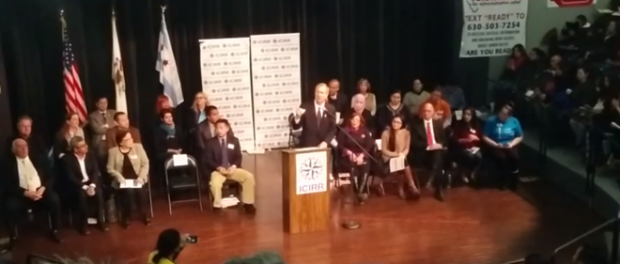 Immigrant Advocates Blast Rauner Holiday Budget Cuts as "Galling," "Foolish"
(Chicago) – Illinois' top immigrant rights group has blasted Gov. Bruce Rauner for a budget cut of $6.7 million ordered on the Friday before Easter.
"ICIRR is outraged at the Rauner Administration's unilateral decision to halt immigrant services programs, a penny-wise but pound-foolish move that will devastate immigrant communities and the organizations that serve them and deny our state much-needed tax revenue," the Illinois Coalition for Immigrant and Refugee Rights said in statement issued on Saturday.
On Friday afternoon, Rauner overall suspended $26 million in social services and public health grants. The governor eliminated $7 million to pay for the burials of public aid recipients; $3 million, teen and smoking-cessation programs; and nearly $4 million for autism, HIV and AIDS awareness and other public health services to narrow a $1.6 billion budget gap.
The immigrant rights group noted that on January 31 Rauner stood before hundreds of immigrant leaders at ICIRR's immigrant integration summit at Richard J. Daley College and stated his commitment to support the state's immigrant communities.
"That's why I'm here," Rauner told the audience. "I'm committed to you and to helping you."
Until he is not.
"… [H]is proposed budget for state fiscal year 2016 zeroes out funding for immigrant services," according to the ICIRR statement. "And now his administration has suspended the program for the remainder of the current fiscal year, which runs through June."
The Immigrant Services Line Item, which totals $6.67 million, funds two major programs:
The Immigrant Family Resource Program (IFRP) engages immigrant-serving agencies to help IDHS fulfill its legal obligations to provide language-appropriate services to families interacting with state agencies as they work toward self-sufficiency.
The New Americans Initiative (NAI) brings together immigrant-serving organizations to promote US citizenship and provide citizenship application assistance.
The advocacy group argues that the state programs have helped generate prosperous, tax generating citizens but that Rauner "seems oblivious" to the economic impact.
"Since median earnings for naturalized citizens in our state outpace those of non-citizens by as much as $20,000 per year, ISLI is a key investment in our state's future that provide five-fold returns to State coffers in the form of increased tax revenues," ICIRR said in its statement. "Yet Governor Rauner, who portrays himself as a smart businessman committed to our state's economic recovery, seems oblivious to these returns on the state's investment in immigrant communities."
The group hit Rauner for ordering the cuts late on Friday afternoon under the cover of the Passover and Easter weekend in order to avoid negative media coverage, a tactic favored by former Governors Rod Blagojevich and Pat Quinn.
"The suspension of ISLI is particularly galling not only because it was announced on a Friday afternoon of a holiday weekend, but also because the General Assembly in late March already passed emergency legislation to fix the fiscal shortfall for the current fiscal year—legislation that specifically preserved ISLI funding," the ICIRR stated. "The Rauner Administration's unilateral move flies in the face of what advocates and legislators understood about the spending legislation."
The immigrant advocates simultaneously called on Rauner to rescind the cuts and promised a public protest at the Thompson Center on Wednesday.
"ICIRR calls on Governor Rauner to undo this foolish, destructive suspension," said the statement. "We invite our allies to join us at the James R. Thompson Center in downtown Chicago at 12 noon on Wednesday, April 8, in calling on the Governor to restore ISLI funding for fiscal year 2015, and continue this funding for the next fiscal year."
Whatever goodwill the governor generated by appearing before immigrant advocates and pledging to "help" them he wiped out over the weekend.