——————————————————————————————————-
A Special Friend Career Training

A Special Friend Career Training is a not for profit organization committed to creating a positive impact on the health care industry. It believes in the uniqueness of each individual in terms of learning styles and prioritization of education as an integral part of social advancement.
As a training center, A Special Friend focuses on the overall success of the student populace within and beyond the school structure and how these successes can benefit society. The school aims to develop well rounded health care professionals by providing high quality education through strict adherence to state educational standards, development of relevant curricula and ensuring dynamic yet effective methods of instruction. It also seeks to create a steady pool of highly-skilled manpower for the employment market through fast-tracked scheduling of courses.
A Special Friend Career Training
9204 S Commercial Ave. Suite 309
Chicago, IL 60617
(M) 312-772-6469
(O) 872 666-5055
(F) 844-270-7048
asfctraining@gmail.com
 —————————————————————————————————————
 —————————————————————————————————————
 The Black United Funds Trading Center
773-324-0494
1750 E. 71st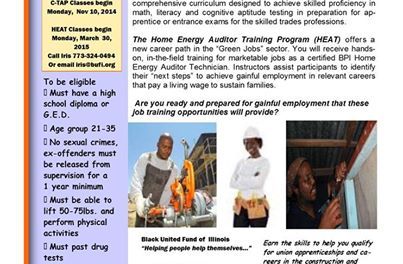 ————————————————————————————————————–
Greater Chicago Food Dispository
Registration
Pantry University courses are open to member agencies of the Food Depository. Please refer to the course listing for class descriptions and offerings. These forms can be used for registration.
General Information
Community and Network Services
773-247-3663
Click: Resource
 ————————————————————————————————————-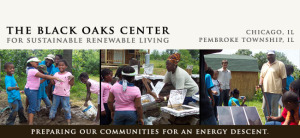 The Black Oaks Center (Good Food Farmer Market @ the Quarry)
Farmer Training
Vision Statement
Our vision is to create safe, healing spaces founded on the principles of environmental stewardship and social equality. A place where community can learn skills required to master sustainability to lead a successful transition to a post carbon world. From this, our communities, families, and children will be resilient. Hence, they will be fully capable of being lifeboats thriving during an energy descent.
———————————————————————————————————————————-
Info Forward by Alliance of the Southeast Side Coalition:
Job & Training Opportunities…
Get the training and experience to prepare for future jobs that may be available at Lakeside Development.
Bricklayers Local 21

accepting applications for apprenticeships
This apprentice program is year round.
Where: 
2140 Corporate Drive , Addison, IL 60101
When: 
Monday- Thursday
From: 
8:30 am- 3:00 pm
For more information, contact Dave Wysocki at 630-953-0835 or email at dwysocki@bac2school.org
Chicago Area Painters, Decorators, and Drywallers now

accepting applications for apprenticeships
Where:1101 Taft Avenue, Berkeley, Illinois 60163
When:Monday through Friday
From:10 a.m. to 2 p.m
For more information, or to arrange an appointment, please call 708-449-5282  Ext. 0
Electrical Workers Local 134 now accepting applications for apprenticeships 
Where:
6201 W. 115th Street, Alsip, Illinois
When: 
Every Wednesday
From:
  9:00 am- 11:00 am
For more information, please call (708)389-1340  or visit 
www.ejatt.com
.
Laborers accepting applications for apprenticeships
This apprentice program is year round.
For more information, please call Apprentice Coordinator: Paul Hoetzer at 630-653-0006 or paul.hoetzer@chicagolaborers.org
Roofers Local 11 accepting applications for apprenticeships
Where:
7045 Joliet Road,Indian Head Park, Illinois 60525
When:
  Monday- Friday
From:
7:30 am- 2:00 pm
For more information, please contact Chicago Roofers Joint Apprenticeship & Training Program at 708-246-4488 or
info@ChicagoRoofers.org
Tuckpointers Local 21 accepting application
This apprentice program is year around.
Where: 2140 Corporate Drive , Addison, IL 60101
When: Monday- Thursday
From: 8:30 am- 3:00 pm
For more information, please contact Dave Wysocki at 630-953-0835 or email at dwysocki@bac2school.org