MAYOR RAHM EMANUEL TALKS TO WINDY CITY LIVE….Windy City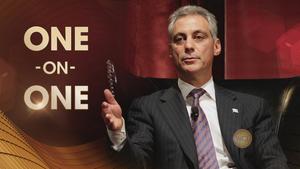 MAYOR RAHM EMANUEL TALKS TO WINDY CITY LIVE
Chicago Mayor Rahm Emanuel sat down one-on-one with Val Warner, discussing everything from CPS money problems, can the Chicago Police Department really be fixed, and will there be a Clinton-Emanuel reunion if Hillary wins.
In part one of the interview, above, Mayor Emanuel discusses his passion for education.
In part two, the mayor talks about the Chicago Police Department, new Superintendent Eddie Johnson and the struggle to make the city's streets safer.
In part three, Mayor Emanuel exposes his softer side as he speaks about his family, and answers the million-dollar question about the 2016 election.