Officer Story Time Hosted by 004th District Community Policing Office, Chicago Police Department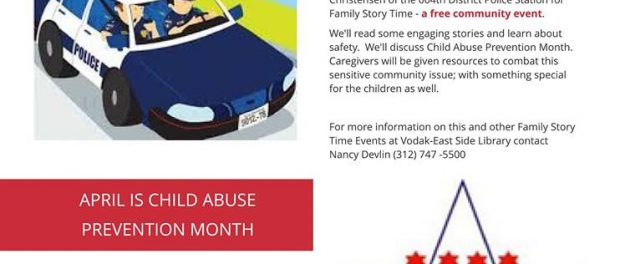 Wednesday, April 3, 2019  at 5:30 PM – 8:30 PM

April is Child Abuse Prevention Month. In order to draw attention to this important issue, the 004th District and the Community Policing Sub-committee for Domestic Violence in collaboration with Vodak-East Side Library, will be hosting Officer Story Time, a free community event on 3 April 2019 at 5:30 PM. This is a family story time event for children of all ages.

Officer Christensen from the 004th District Community Policing Office will read two engaging children's stories; A Terrible Thing Happened by Margaret Holmes and Police: Helping, Hurrying, Saving by Patricia Hubbell. These stories address challenges children encounter and the role of police support. The characters demonstrate heroic behavior for children to model; with the goal of helping them to develop social and emotional competence as they face their own challenges. The event will continue with Nancy Devlin, Vodak-East Side Library's Children's Program director, who will lead participants in favorite Family Story Time activities.

Advocates from Family Rescue, Inc. and The Maryville Crisis Nursery will be in attendance at the event to provide immediate support to any participant struggling with a crisis. They will also be available to answer questions and direct participants to additional resources. The first 40 children will receive a special gift from the Chicago Police Department and caregivers will receive brochures, pamphlets and resources for help and support on Domestic Violence and Child Abuse Prevention.

The 004th District of the Chicago Police Department encourages all individuals and organizations to play a role in making our community a better place for children and families. By ensuring that parents have the knowledge, skills, and resources they need to care for their children, we can help prevent child abuse and neglect by creating strong and thriving children, youth, and families.

For more information contact Officer Christensen (312) 747-1708.
Additional information about all Family Story Time Events (in addition to Officer Story Time) at Vodak-East Side Library can be obtained from Nancy Devlin at (312) 747-5500.