Rep 26th Christian Mitchell and Rep 25th Curtis Tarver Townhall at ST. PHILIP NERI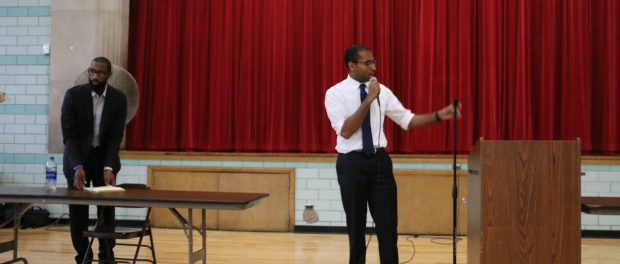 Introduction Representative Christian Mitchell thanking few of the officials in the room such as Alderman Mitchell of 7th Ward and Community Leader Pastor Onque' of St. Luke Missionary Baptist Church on 73rd Coles.   Also Introduce Representative Curtis J. Tarver II  the Illinois House of State Representatives 25th district.
Rep Mitchell talked about the State Budget, Education"Childcare", and Taxes.
Illinois State Representative  26th Christian Mitchell Office
449 E 35th St, Chicago, IL 60653
Phone: (773) 924-1755
Bio-https://en.wikipedia.org/wiki/Christian_Mitchell
… Christian Mitchell named interim executive director of state Democratic Party
https://chicago.suntimes.com/news/south-side-christian-mitchell-named-interim-director-illinois-democratic-party/
Illinois State Representative Curtis Tarver (Attorney) of 25th District
Bio and website-https://www.curtisjtarverii.com/
Social Justice Civil Rights Violations
The Things Important Is Revenue, Taxes, Returning Workforce, Education