Senator Robert Peters Community Tour. View Locations: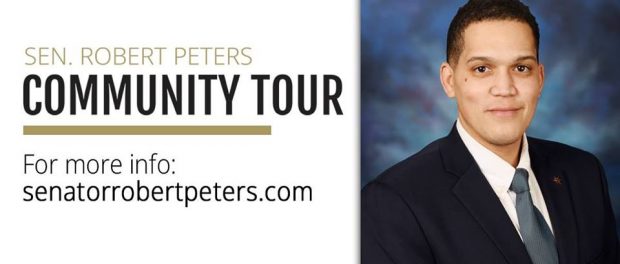 Info Forward by  Danielle Richards &  Favors DeVon:
Please join Senator Robert Peters on a tour of the 13th District!
Click this link to RSVP so we can have an accurate headcount: https://goo.gl/forms/g0pDKaIAeH41yR4r1
Peters will visit several locations over two weeks in February and March. All events will take place between 6 and 7 p.m. and are free and open to the public. Peters will host meetings at the following locations:
February 11 – Robust Coffee Lounge in the Woodlawn neighborhood
February 12 – Loyola University Water Tower Campus in the Gold Coast neighborhood
February 13 – South Chicago Public Library in the South Chicago neighborhood
February 14 – Sip and Savor in the Bronzeville neighborhood
February 25 – South Shore Brew in the South Shore neighborhood
February 27 – Drunken Bean in the New East Side neighborhood
March 1 – Lutheran School of Theology the Hyde Park neighborhood
The previously announced event on February 28 has been cancelled.
Anyone who is unable to attend any of the above events can join Peters on March 2 at the Silver Room in the Hyde Park Neighborhood from 1 – 3 p.m. for an end of tour celebration.