Sexual Assault Breakfast Program hosted by Mujeres at EL VALOR .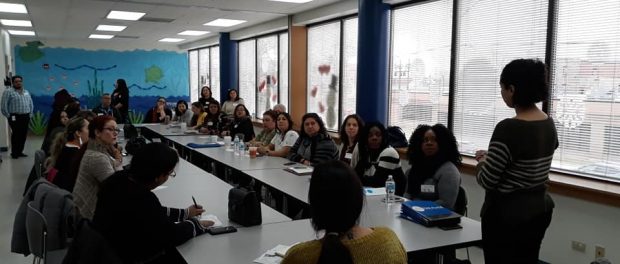 Sexual Assault Breakfast Program hosted by Mujeres a success "the community resources came out!" At EL VALOR 3050 EAST 92ND STREET CHICAGO, IL, 60617
http://www.mujereslatinasenaccion.org
24-hour intervention is available through the Chicago Rape Crisis Hotline (888) 293-2080. 
Sexual assault is any type of sexual activity that is not consensual. Sexual assault can be verbal, visual, or anything that forces a person to participate in unwanted sexual contact or attention. Sexual assault can take many forms: inappropriate touching; vaginal, anal, or oral penetration; rape; and child sexual abuse. Survivors of sexual harassment are also seen in the sexual assault program.
Mujeres provides support for adult survivors of sexual violence, both Spanish and English speaking, at many stages in their recovery. Staff also work with significant others such as parents of children who have been sexually abused, partners or adult family members of survivors. The goal of these services is to ensure that survivors of any form of sexual violence receive all the necessary support and to assure them that they are not alone. The Sexual Assault Program offers counseling, both individual and group, as well as medical advocacy, legal advocacy, community education, professional training and therapy.
Mujeres provides survivors with short-term individual counseling, a 15-week educational group and an ongoing support group. Counseling sessions help reduce a survivor's symptoms and offer stability. The ongoing group offers survivors the opportunity to share experiences with other survivors and to build a support system. A therapist is also available to work with survivors whose lives have been severely affected by sexual violence. The therapy can be short or long-term based on the clients' needs.