South Chicago's Quality of Life Plan Annual Update Meeting….Claretian Associates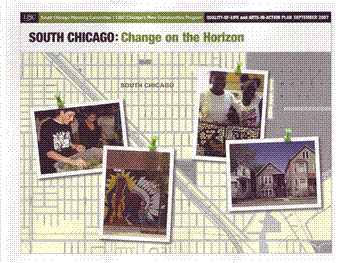 South Chicago's Quality of Life Plan – download it here!
Download a copy of "South Chicago: Change on the Horizon"'s Quality of Life plan below. The plan includes nine steps to a stronger community through several key initiatives including:
1. Creating an identity for South Chicago that builds connections to our history, our institutions and each other.
2. Create a mixed-income sustainable community that embraces green building technologies and includes market rate and affordable housing.
3. Beautify our neighborhood with new and improved parks, community gardens and reconnect South Chicago to the lakefront.
4. Build family wealth by attracting businesses with living wage jobs, by improving employability, legal knowledge and financial skills.
5. Strengthen Commercial Avenue as South Chicago's "downtown."
6. Create better social, recreational and enrichment opportunities for youth and families.
7. Expand student and parent programs that enhance academic achievement.
8. Improve security so that children and families can walk safely throughout our neighborhoods and better utilize community resources.
9. Develop a strong arts community and use art as an innovative and powerful tool for community restoration.
To download the full quality of life plan for South Chicago, click here.
December 16, 2014 Annual Update on Progress
By Kevin Murphy-Writer & Film "Video"
Review and celebration of achievements — and remaining challenges — pertaining to the South Chicago New Communities Program Quality of Life Plan.