South Shore Holiday Shopping "Final Dash" and Highlights of Pop-up Diva Activities by Yvette J. Moyo, The South Shore Current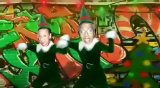 We're in the final dash and here are highlights of the activities we're having for our final weekend. The Pop-Up Divas have a wonderful program planned for this final Sunday, which we're calling Super Scentual Sunday! We'll be hosting some of the vendors who inspired us to do this POP-UP, featuring sweets from GIve Me Some Sugah Bakery, savory bites from Chef Sara, fragrant oils and perfumes from Robin at the Scentuary and we are welcoming Carrie Cox of Treats by Carrie, with her specialty southern Banana Pudding Pops and delicious chocolate dipped fruits.This isn't just for older folks! The energetic team of Eye Love You Teen Workshops headed by artist Dorain Sylvain will be creating tie-dye and silk screen masterpieces with children, so bring out the kids for some good messy fun.You'll find your holiday gift items, and you'll never know what entertainment we'll add, beginning tonight at Mo Better Jazz Chicago, and all weekend long.
Holiday Video by Yvette J. Moyo, The South Shore Current!
https://www.facebook.com/video.php?v=10151136775011920&set=vb.616001919&type=3&theaterhttps%3A%2F%2Fwww.facebook.com%2Fvideo.php