Southeast Side Youth Ideas Lab at Vodak-East Library.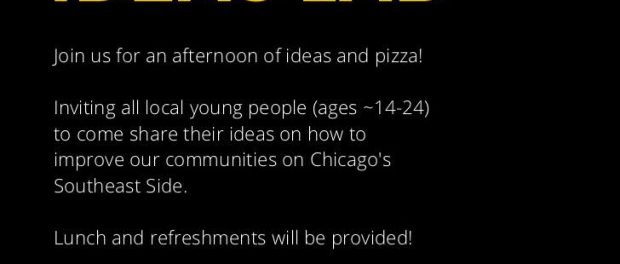 I'd like to invite every young person on the Southeast Side of Chicago out to a community meeting this Saturday (11/10) afternoon at 2:00pm at the Vodak-East Side Library.
In times that we feel overwhelmed by the problems facing our neighborhoods, I know there's many of us that would like to make a difference.
Some local youth leaders and I are hosting a small event to provide a safe and open space for youth to come together and connect, discuss, and inform ourselves on what is going on in our communities, and the role our voices can play in changing our neighborhoods for the better.
In this event, we will have small group discussions that will focus on topics like the local economy, higher education, the environment, local resources, and arts/culture. At the end of the discussions, we will come together as a group, discuss our ideas, and get each other's contact information to identify the next steps we can take to become more involved in our community.
Changes come slowly and one conversation at it time; let's talk about it and be a united front.
RSVP link: https://docs.google.com/forms/d/1FwOUMB_w8oAxq–LXOtQwmOo7XQwjvwVKX1g53RbsOk/edit
Hope to see y'all there! 🙏
~Español~
Hola a todos!
Me gustaría invitar a todos los jóvenes del sudeste de Chicago a una reunión comunitaria este sábado (11/10) a las 2:00 pm en la Biblioteca Vodak-East Side.
En momentos en que nos sentimos abrumados por los problemas que enfrentan nuestros barrio, sé que muchos de nosotros nos gustaría hacer una diferencia.
Algunos líderes juveniles locales y yo organizamos un evento para proporcionar un espacio abierto y seguro para que los jóvenes se reúnan, se conecten, discutan e informen sobre lo que está sucediendo en nuestras comunidades y el papel que pueden desempeñar nuestras voces para cambiar nuestros barrio para el mejor.
En este evento, tendremos discusiones en grupos pequeños que se centrarán en temas como la economía local, la educación superior, el medio ambiente, los recursos locales y las artes / cultura. Al final de las discusiones, nos uniremos como grupo, discutiremos nuestras ideas y obtendremos la información de contacto de cada uno para identificar los próximos pasos que podemos tomar para involucrarnos más en nuestra comunidad.
Los cambios vienen lentamente y una conversación a la vez; hablemos de ello y seamos un frente unido.
Enlace de RSVP: https://docs.google.com/forms/d/1FwOUMB_w8oAxq–LXOtQwmOo7XQwjvwVKX1g53RbsOk/edit
Espero verlos allí! Muchas gracias 🙌🏾