UIC Mayoral Forum Jan 12, 2019 Live Recording.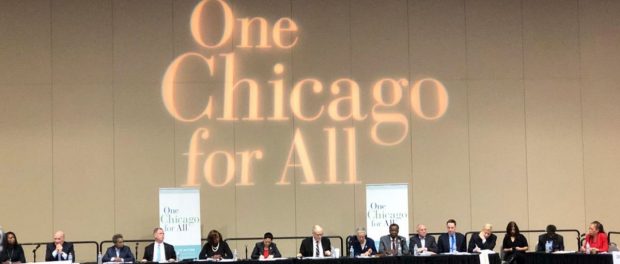 Candidates Left to Right:
Amara Enyia, Bill Daley, Lori Lightfoot, Garry McCarthy, Dorothy Brown, Susana Mendoza, Paul Vallas, Toni Preckwinkle, Willie Wilson, Gery Chico, John Kozlar, and Bob Fioretti
https://chicago.suntimes.com/news/chi…
In Chicago, a consensus is emerging that inequity not only has a social coast, but obscures the city's long-tern economic performance. Chicago is a global metropolis with the most diverse economy in the nation, yet the city is losing population. And by many measures, we have failed to recover from the 2008 recession. Racial inequities and segregation drive disparities across Chicago's communities, resulting in gaps in employment, earnings, and investment. Some neighborhoods are experiencing an affordability crisis, leading to displacement, Others are struggling with vacancy and a lack of investment.
Questions:
1. How do you define equitable investment in neighborhoods, and how will you prioritize it during administration? Please share your strategies to address housing, education, and economic development.
2. How will you achieve and inclusive economic climate in Chicago that improves opportunities for all? What are your specific ideas to boost employment, support low-wealth small business owners and entrepreneurs at scale, and ensure more effective capital deployment?
3. What steps will take to ensure that immigrants in Chicago, regardless of documentation status, are not only safe, but thriving?
4. Chicago has one the lowest homicide clearance rates in the U.S. Trust between communities of color and police has broken down. Many institutions are responsible for ensuring that the proposed police reform consent decree (the court order that establishes an enforceable plan for reform within the Chicago Police Department) becomes a reality. As Mayor, how will your administration work with the City Council and other partners to restore trust, accountability and fairness for Chicagoan, for whom the police work, while also increasing police effectiveness?