We are so proud of our own Safe Passages Community Watcher, Jahari Jones (on the far left) youth in South Chicago and will be speaking at the 21st Annual Chicago Neighborhoods Award Ceremony on February 17th, 2015! by Claretian Association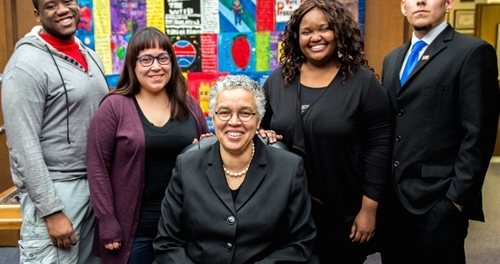 Listen Up! Youth Speaks at CNDA on Feb. 17
"Learning is ever in the freshness of youth, even for the old."
-Aeschylus
The ancient Greek had it about right – the young have much to teach us, even as we latter-day ancients labor to teach them.
Cook County Board President Toni Preckwinkle with 2015 CNDA panelists (from left) Jahari Jones, Korynna Lopez, Perriyana Clay and Berto Aguayo.
Gordon Walek
So why not, for a change, let some youngsters educate us about things urban at Chicago's premier annual gathering of community development professionals?
"Tomorrow Starts Today" is the think-like-a-youth-leader theme of the 21st annual Chicago Neighborhood Development Awards (CNDA), which kicks off at 3 p.m. Tuesday, February 17, 2015 at the Chicago Hilton & Towers, 720 S. Michigan Ave.
Be on time, because this year's CNDA begins not with the familiar "Forum" discussion among aged experts, but a freewheeling exchange between four of the sharpest late-teens and twenty-somethings this side of Snapchat.
Panelists include: an ex-gangbanger from Back-of-the-Yards who now presides over his college's student government; a DePaul double-major Latina who helps kids expunge – legally, of course – their juvenile arrest records; a Whitney Young senior from the Austin neighborhood who is successfully balancing school, mentorships for younger girls, and an internship at an old-line investment firm; and a former medalist swimmer from South Chicago who coaches youth sports… and says kids today have fewer places to play.
"We wanted to spread the good news that tomorrow's leaders are stepping up, and it's our job to support them," said LISC's Susana Vasquez (pictured at last year's event) regarding the 2015 CNDA youth panel.
CEI Media Group
Moderating will be one of Chicago's better-known ex-high school history teachers. Then again, Cook County Board President Toni Preckwinkle also knows a thing or two about community development, youth programming and the inner workings of the juvenile justice system.
Mayor invited to keynote
And that's just the Forum. Mayor Rahm Emanuel has been invited to keynote the traditional Awards Program, which begins at 4:30 p.m. with a video produced by the students of Free Spirit Media. The Awards ceremony then recognizes the very best achievements in community development and architecture during 2014, with each winner featured in a dramatic video produced by Angle Park, Inc.
CNDA categories include outstanding community strategy; best organizing campaign; outstanding real estate project, both public and private; best preservation of affordable rentals; and two awards to individuals – one for lifetime achievement in community leadership and service and the other recognizing an emerging leader.
Three architectural teams also will receive 1st, 2nd and 3rd place honors in the annual Richard H. Driehaus Foundation Awards for Architectural Excellence in Community Design.
Youth are "stepping up"
Following the awards, a good many of the thousand-plus expected to attend will stay for cocktails and hors d'oeuvres at what is widely regarded as the year's finest networking reception.
The cocktail party following the CNDA Awards ceremony is one of the few places that everyone involved in the community development business – neighborhood organizers, funders, elected officials, city staffers and others – meet at the same place and time.
CEI Media Group
Sponsored this year by State Farm and dozens of civic-minded corporations and foundations, CNDA advance tickets are $65 ($75 at the door). Tables of 10 are $650. There's also a special $20 ($25 door) rate for attendees under 21 in keeping with the evening's youth leadership theme.
"There's a tendency to focus on the negative news stories about youth – the shootings, the tragedies – so we wanted to spread the good news that tomorrow's leaders are stepping up, and it's our job to support them," said Susana Vasquez, executive director of LISC Chicago, which manages the annual event.
Like Aeschylus wrote, you're never too old to learn something new… or have a good time celebrating some of our city's most important work.
For more information and to register, visit www.lisc-cnda.org, email cnda@lisc.org or call (312) 422-9567.