CHICAGO WORKS COMMUNITY CHALLENGE


The Mayor has announced a new Chicago Works Community Challenge – a $10M community investment award that will make seven awards of up to $1.5M for each of Chicago's 7 planning districts. Awards will be issued to fund community identified enhancements to city-owned properties including public parks, schools, libraries, or city-owned vacant lots in residential zones through the Chicago Works capital plan. The City expects to award projects like playground improvements in parks, co-working space or meeting room upgrades in libraries and schools, and community gardens or playgrounds on vacant lots.
---
---
City of Chicago Mortgage Assistance Grant 2021
https://nhschicago.org/mortgageassistance/programoverview.aspx
      Events Dates Begins  ————–  Events Dates Begins——
---
Lakeside Alliance
---
---
---
Meet us at 89th and Mackinaw Schaffer Park at 10:00am.
---
Come to the farm and reconnect to the earth with our recurring volunteer opportunities in June. We'd love the support (and our goats definitely love the extra attention). The South Chicago Farm is located at Clara Schaffer Park, 9000 South Mackinaw Street. Register at urbangrowerscollective.org/volunteer#volunteer #bethechange
---
---
https://www.eventbrite.com/e/state-of-the-chicago-treasurers-office-registration-156786128531?fbclid=IwAR2Exw_OH6pyQ6jGXeE3r5iTwOEitOqk0_nOYEdxIGbSA-TE0qxZaiq0arU
---
---
Info Shared by TBTNEWS (I saw this after due time but still send request might have availabilities): TOP NEWS: REPORTER 101: Felony Gun Crimes Data virtual training will take place on Wednesday, June 9 at 10:00 a.m. Matthew Saniie, chief data, and technology officer for the Cook County State's Attorney Office (CCSAO) will host a virtual training to share the office's work and data specifically related to felony gun crimes and how these cases are handled by the office. Reporters will receive information on how to navigate the SAO data portal which includes charges, case dispositions, and demographics for gun cases that are prosecuted. This training is part of the CCSAO's efforts to increase transparency about the office's work. RSVP to sao.media@cookcountyil.gov by 9:30 a.m. on Wednesday, June 9th to receive the link. For additional information, contact CCSAO's Communications Department at 312,603.3423. – Content Curated By MG Media
---
---
Bring a chair (and a snack) and join us on Wednesday, June 9th, 2021 at 5 pm for our first in-person PAC meeting. We will meet outside of the fieldhouse. In the event of rain, the meeting will be held via Zoom.
---
DuJazz Summer Series
June 2 to July 28 at 7:30 pm  740 East 56th Place $25 https://www.dusablemuseum.org/event/du-summer-events-2021/
---
MEN'S HEALTH VIRTUAL TOWN HALL
hosted by NAACP and The Ad Council
June 10th, 8 pm to 9 pm
https://naacp.org/events/mens-health-virtual-town-hall?fbclid=IwAR3u1_Ln5QYdXnWiIU8ye1QJESzGmzc0qYdFZ1w3Syy02vwyeOQ7lvmeWcc
---
https://www.eventbrite.com/e/the-entrepreneur-cafe-tickets-158480384095
---
DuRhythm Summer Series
DuRhythm featuring a mix of music exploring Latin and African rhythms during which guests are invited to hit the dance floor and enjoy Samba, Merengue, Afrobeat and Dance Hall music.
https://www.dusablemuseum.org/event/durhythm-summer-series/
---
---
---
DuHouse Summer Series
hicago's Underground Club culture of the 1980 gave birth to House Music.  Every Friday DuHouse will relive those days of the Music Box and The Warehouse where legendary DJ's like Frankie Knuckles helped us dance the night away!!
https://www.dusablemuseum.org/event/duhouse-summer-series/
---
---
---
---
---
ATTENTION ALL INCOMING FRESHMEN: It's your last chance to secure your spot for the Class of 2025! Limited seats are available. Join us on Saturday, June 12th at 10am. For more information, contact Mary Kay Ramirez at 773-731-7272 or mramirez@sfdshs.org
---
---
---
Join the Bessemer/Schafer Park Advisory Council, Urban Growers, Free Lunch Academy, and the Stop General Iron Coalition for a community wellness event.
---
---
---
---
---
---
---
---
---
Info Shared by Alderwoman GarzaBe Your Own Boss Summer Internship
Join Future Founders for a three-week PAID virtual internship where you'll get a crash course in entrepreneurship, work with awesome high school students from across the city, and build a business of your very own! Interns are paid up to $300 based on their attendance and participation in the program.
Applications are due by Monday, June 14th: https://future-founders.lpages.co/byob-summer-2021-app…/
---
---
---
---
---
---
---
---
Info Shared by South Chicago Neighborhood Network
---

PUBLIC MEETING OF THE POLICE BOARD
https://www.chicagocopa.org/event/public-meeting-of-the-police-board-6/
---
---
---
---
---
---
---
Join Compassion Baptist Church
Black Everything Expo
2650 E. 95th St. Chicago, Il 60617
---
After having been closed since March 2020 due to the COVID-19 pandemic, the DuSable Museum of African American History is scheduled to reopen to the public on "Juneteenth" (Saturday, June 19, 2021), at 11:00 AM with a "Welcome Back" Ceremony celebrating the return to business for the nation's first independent Black History Museum. During this first phase of reopening the DuSable Museum will follow guidelines provided by the state of Illinois and city of Chicago for museums and open at limited capacity to maintain social distancing. Museum hours will be Wednesdays through Sundays from 11:00 AM until 4:00 PM. In addition, the DuSable Museum will provide free admission to all from June 19th throughout the remainder of the month of June 2021.
The reopening program which will take place in front of the Museum will feature specially invited guests, community leaders, elected officials and DuSable Museum personnel welcoming visitors, members and friends back to this world-class institution.
https://www.dusablemuseum.org/reopening-invite/
---
Please come out and join us as we celebrate Juneteenth with the community. Help us spread the word and we hope to see you there.
---
---
JUNETEENTH BLACK TO LIFE CELEBRATION!!!
---
---
---
---
his Juneteenth we'll be hosting a Sawubona Healing Circle to celebrate our resilience and share our stories! Join us at 7pm EDT! Registration link below or email us at virtualhealingcircles@abpsi.org.
---
---
---
Hello Friends,

As a member of the Chicago Aldermanic Black Caucus, I am thrilled to announce that the Chicago Aldermanic Black Caucus Foundation (CABCF) is hosting an annual scholarship soiree in addition to a raffle as a part of our annual fundraising campaign to support our scholarship program.

We have three (3) fantastic prizes that will be raffled off in support of the Foundation's mission.
They are:
A $5,000 cash prize.
Two (2) first class, round-trip tickets by United Airlines to all 50 states, Central America or the Caribbean.
Three (3) nights at the award-winning, luxury Swissotel Chicago.
Tickets are $50 each, or you can purchase six (6) tickets for $250. Enter for your chance to win one of these exciting prizes online here.
The raffle drawing will take place at our annual Scholarship Soiree on June 19th. You do not need to be present to win.
Money raised from the raffle will support our efforts to increase access to higher education opportunities for Chicago's black youth through our annual scholarship program. Each year, 12 young scholars are selected to receive a $2,500 scholarship annually for four years.
Our communities are strongest when we come together to support those in need. I look forward to your support.
For more information or to RSVP for the event, please contact Amanda Latty or Katherine Miles at rsvp@newchicagollc.com or 312-448-8014.
I appreciate your friendship and help,
Thank you,
Leslie
---
ATTENDING/WATCHING CITY COUNCIL MEETINGS
---
---
Join the Student Circle for this month's book club! This month we'll be reading and discussing selected essays from Frantz Fanon's Alienation and Freedom. Message our Communications Chair to receive a registration link and message our SC Chair to receive reading materials.
---
---
---
---
---
---
---
---
---
---
By Laurie Casey
Award-winning filmmaker Byron Hurt created a documentary film journey to learn more about the African American cuisine known as soul food. Here's a sample menu: fried chicken, black-eyed peas, candied yams, and banana pudding for dessert. What's not to love? The flavors are an enticing blend of West African and Deep American Southern cuisines.
Hurt's resulting work, "Soul Food Junkies," is a rich exploration of history, humor, and stories about this cuisine's soul-warming and cultural benefits as well as possible health consequences. When the film was released, among many other awards, it won "Best Documentary" at the 2012 American Black Film Festival and "Best Documentary Feature" at the 2012 Urbanworld Film Festival. https://www.oneearthfilmfest.org/earth-words-blog/2021/5/26/soul-food-junkies-screens-saturday-june-26-at-3-pm-cdt?mc_cid=60ad2745be&mc_eid=5c1a10f1c6&fbclid=IwAR0L5UE5VjRD3HDEw3LrR0LcsmujoMbgkMomAhGmiC_I2X6Qnfnkw-fzpeE
---
---
https://www.eventbrite.com/e/annual-speed-action-rodeo-horse-show-tickets-156612798095?aff=ebdssbdestsearch&fbclid=IwAR0JSgITZqD8RlkFHqcIabYAI_m-GKkL7V8qPea5SXntIkyjtfgwI3oisqM
---
Register today on the CASRA site for this fun event for a great cause: https://yachtscoring.com/emenu.cfm?eID=14551
---
---
YOU ARE INVITED TO A VIRTUAL COMMUNITY PRESENTATION!
Wednesday, June 30th, 2021 at 6:00 PM 
Zoom Webinar
Registration required to be admittedThe Invert Chicago team would like to invite 10th ward residents to the first of a number of meetings about our proposed development. This 1 hour online-only presentation will provide an introductory overview of the project and answer key questions at the end.The Invert is an innovative, subsurface real estate development that will revitalize a Southeast Side property that has been underutilized for decades into an environmentally friendly economic engine supporting modern, 21st Century jobs for Chicagoans. The 6 million square foot facility will leverage renewable energy and create over 2,500 permanent, well-paying jobs, revitalizing a historic economic center of Chicago for a cleaner, modern purpose.TO REGISTER VISIT:
bit.ly/InvertPresentationPLEASE VISIT OUR WEBSITE TO RECEIVE FUTURE PROJECT UPDATES AND TO VIEW FAQS ON THE PROPOSAL: 
www.theinvertchicago.comFURTHER QUESTIONS? 
Please contact our Community Engagement Coordinator, Liliana Rivera, at:
Lilianarivera@theinvertchicago.com
773-413-8460~~

¡ESTÁN INVITADOS A UNA PRESENTACIÓN VIRTUAL PARA LA COMUNIDAD!
Miercoles, Junio 30, 2021 a las 6:00 PM
Seminario Web sobre Zoom
Registro requerido para ser admitido

El equipo de The Invert Chicago quisiera invitar a los residentes del Distrito 10 a nuestra primera de varias juntas sobre nuestro desarrollo propuesto. 

La presentación será una hora y solo online, dará una sinopsis preliminar del proyecto y contestará preguntas principales al final.

The Invert es un desarrollo subterráneo innovador que revitalizará una propiedad que ha sido subutilizada por decadas a un motor económico respetuoso del medio ambiente que respaldara trabajos modernos para los habitantes de Chicago. La instalación tendra 6 millones de pies cuadrados de espacio, aprovechará la energía renovable y creará más de 2,500 empleos permanentes y bien remunerados, revitalizando un centro económico histórico de Chicago para un propósito moderno y limpio.

PARA REGISTRARSE VISITA: 
bit.ly/InvertPresentation

VISITE NUESTRO SITIO WEB PARA RECIBIR ACTUALIZACIONES FUTURAS Y PARA VER LAS PREGUNTAS FRECUENTES SOBRE EL PROYECTO:
www.theinvertchicago.com

¿MAS PREGUNTAS? 
Comuníquese con nuestra Coordinadora de Participación Comunitaria Liliana Rivera en:
Lilianarivera@theinvertchicago.com
773-413-8460
---
---
Venetian Night boat parade returns after pandemic pause, moves to Chicago River
July 10, 2021
For years Venetian Night took place on Lake Michigan, but this year it will be held on the Chicago River.
The event will take place July 10 and is free to the public.
---
---
Click: http://festivalofthelakes.com
---
---
---
---
Spring/Summer programming officially starts March 28th! Register here now: https://go.teamsnap.com/forms/258978
---
SSICP & CSI | Bi-Weekly Food Box Delivery 
Every other Tuesday starting 4/20/2021 at South Shore International College Prep from 1PM-3PM
1955 E. 75th St.
(the corner on 76th and Jeffery) 
---
FREE BREAKFAST FOR CHILDREN @THEQURRY on 2423 E. 75th Street Monday – Friday from 7:30 am to 9 am
---

#MOBEMONDAYS WEBINARS
Marketing Opportunities in Business and Entertainment is the leading African American-owned Marketing & Technology Symposium.

Every Monday at 7:00 pm
---
---
Info Shared by South Shore Works: Where can I get my COVID-19 Vaccine if I live in SS?South Shore Hospital
Working Together for Change
For seniors 65+ Every day, Tues – Thurs, Fri 9 AM-3 PM, 9-12 PM
8012 S. Crandon Ave.
You must call – 773-413-9160
---
---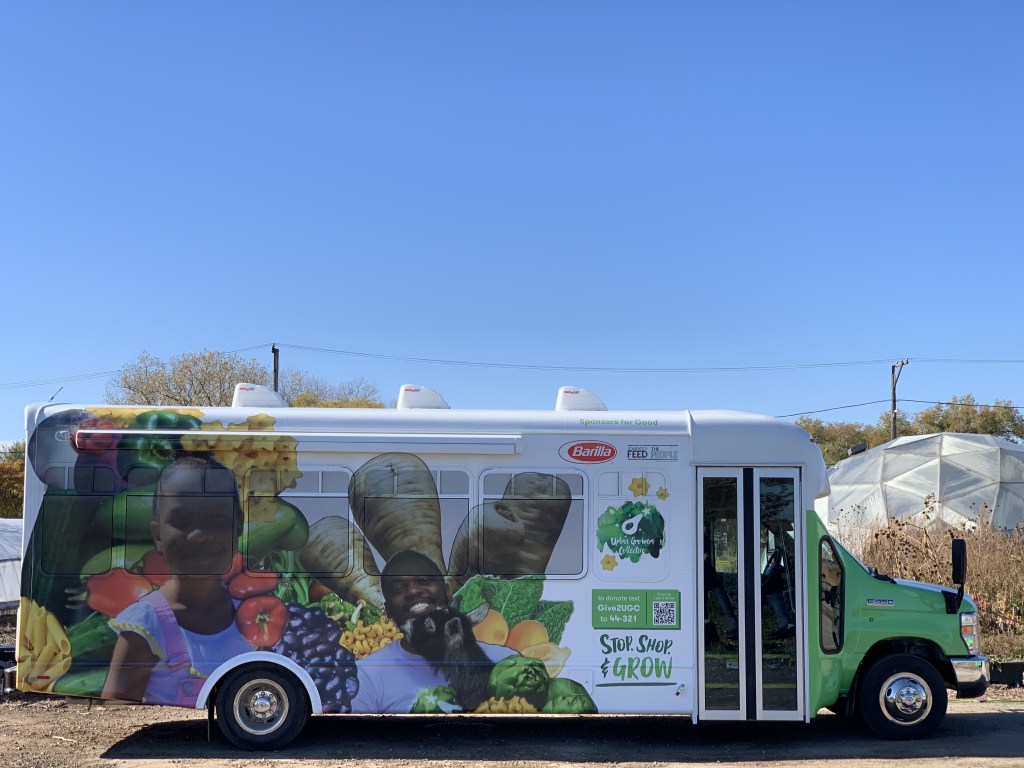 TUESDAYS:
                10:00 AM-11:30 AM: Claretian Associates, 3201 E 91st St
https://urbangrowerscollective.org/fresh-moves-mobile-market/
Every Tuesday
———————————————————————————————————————————
---
---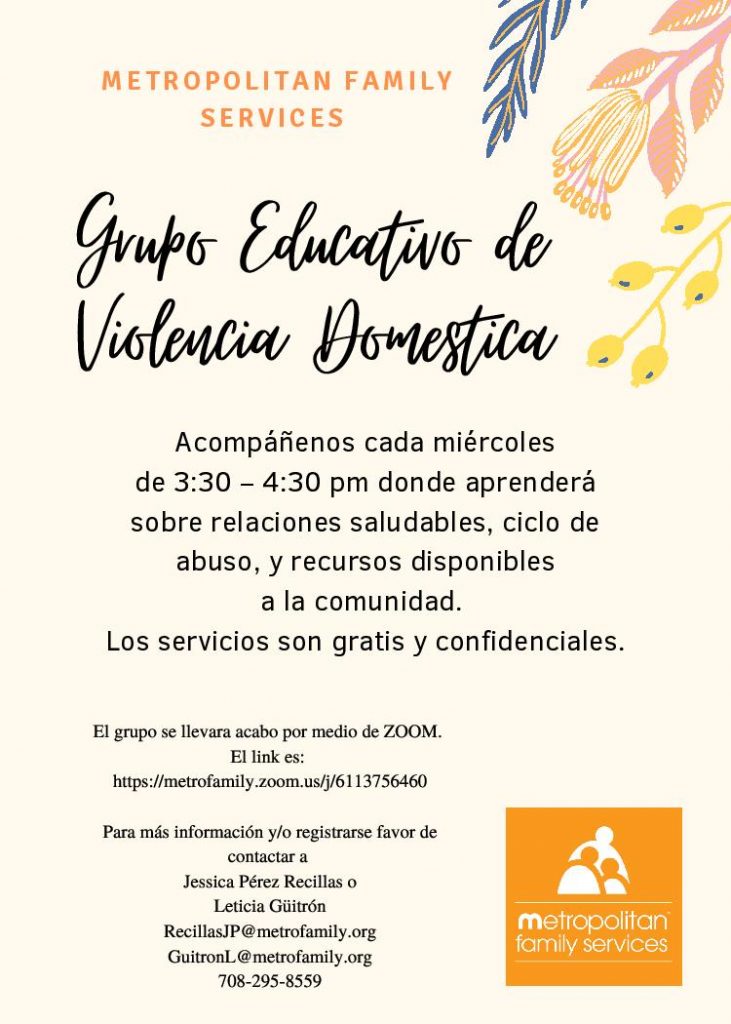 ---
Official Schedule Appointments
---
---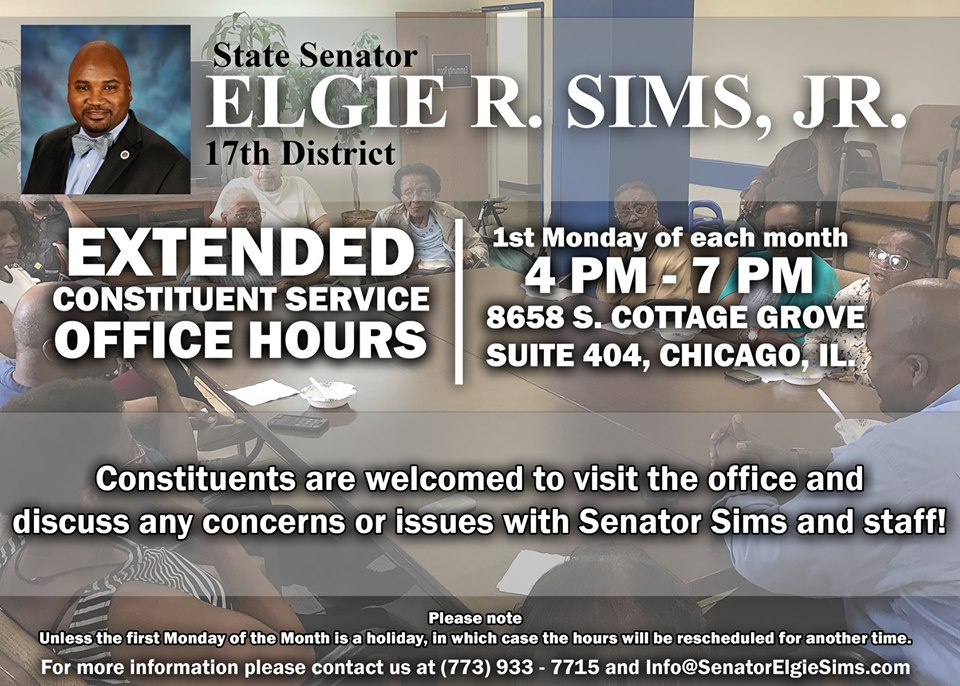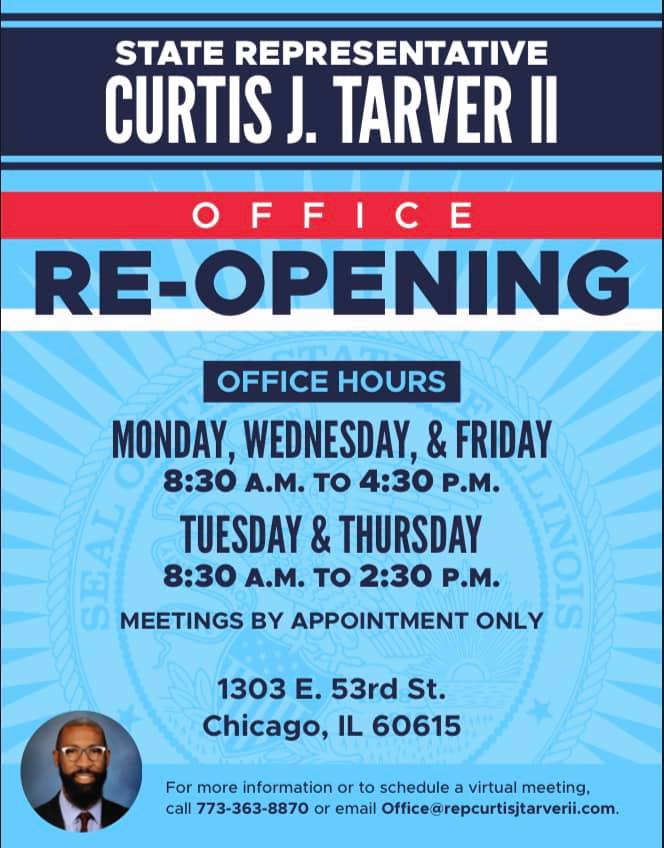 ---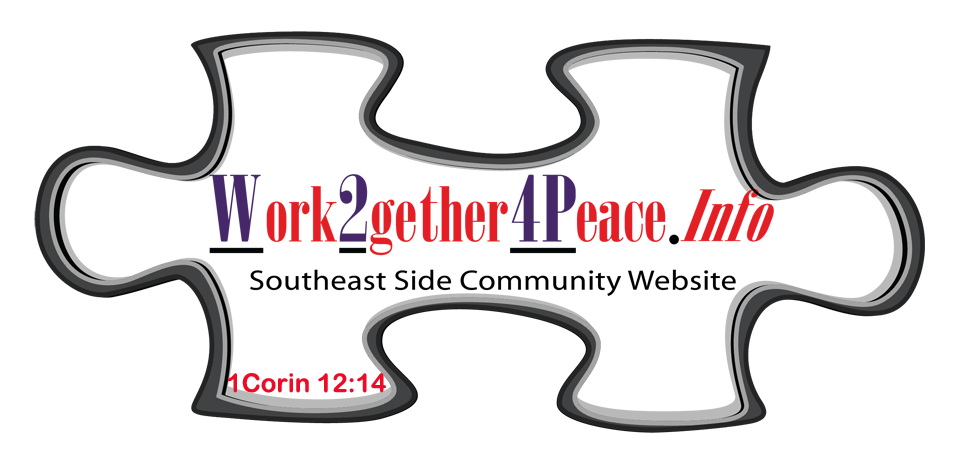 If You Reached The Bottom of Scrolling to Far What You Missed In July…Previous Activities, Events, Services, & Workshop of this Month or Past Months:
If You Reached The Bottom of Scrolling to Far…Current Events at The Top!