A nonprofit got special loans and tax breaks for low-income housing. Dealmakers collected millions in fees. And buildings deteriorated.-Chicago Tribune By Joe Mahr….Info Forward by Southeast Block Club Alliance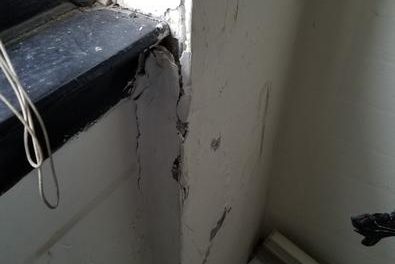 A newly formed charity came to Chicago pitching state officials on its "model" way to provide low-income housing.
The Ohio-based Better Housing Foundation said it would provide safe apartments. It would help tenants get jobs and health care. And it wouldn't evict "solely on the basis that the tenant is unable to pay their rent."
Starting in early 2016, with little scrutiny, a pair of state agencies helped the nonprofit borrow tens of millions of dollars at lower interest rates and obtain hundreds of thousands of dollars in property tax breaks that allowed it to rapidly buy dozens of buildings across the South Side.
But a Tribune investigation has found that many residents have been left to live in deteriorating buildings. The nonprofit hasn't provided social services there. And the charity regularly has sued to evict those behind on rent. Meanwhile, a real estate manager, lawyers and others have been collectively paid millions of dollars in fees.
The effects can be seen at one of the nonprofit's biggest buildings, a modernist high-rise just a couple of blocks from the South Shore Cultural Center. City inspectors and tenants documented pervasive rainwater leaks that led to mold, as well as frequent elevator breakdowns that stranded disabled residents. Residents frequently told the city that the landlord ignored problems.
Among them was Raquel McClendon, who called 311 to tell the city that little was done to clean up the mess from a water leak. She told the Tribune it left her and her 11-year-old to slosh through stagnating water for days. Echoing 18 other current and former tenants interviewed for this story, McClendon said she wasn't told anything about the building being owned by a charity that pledged to help them.
"I just don't trust them anymore," said McClendon, who moved out in May. "They're not doing anything to show any type of compassion for anyone. Did they show compassion for me when we were four days floating in water?"
Records show that conditions became so bad that the Chicago Housing Authority has forbidden its aid recipients from moving into 64 of the 81 Better Housing Foundation-owned buildings in the city, including the high-rise at 7250 S. South Shore Drive.
In addition, the Tribune found that as the state helped arrange $84.4 million in loans for the buildings, it missed red flags about the nonprofit's credentials and didn't check whether the nonprofit lived up to its charitable promises.
The Illinois Finance Authority and Illinois Department of Revenue both said it wasn't their job to monitor how well the nonprofit cared for the buildings or treated tenants. They either trusted others to do the job or the nonprofit to self-report problems.
Still, after the Tribune raised questions, the revenue department took away the tax breaks last month. Soon after, the Better Housing Foundation's board voted to pursue transferring all of its buildings to a more established Florida nonprofit that helps homeless veterans find housing.
Amid the fallout, the two people who spearheaded the Chicago effort said they had the best of intentions, although they disagreed on what precisely went wrong and who's to blame.
Ohio attorney Meredith Rosenbeck said she began the Better Housing Foundation in 2015 to work with Chicago lawyer and real estate investor L. Mark DeAngelis, whose firms picked and managed the charity's South Side buildings. Records show Rosenbeck's law firm was paid nearly $200,000 to help arrange five loan deals with the state, while a firm run by DeAngelis was paid $4.6 million in consulting fees and reimbursements on three of the deals.
Rosenbeck blamed DeAngelis for many of the problems that ensued. DeAngelis said he inherited dilapidated buildings and his staff did the best it could to promptly fix problems while treating tenants fairly.
"We sincerely felt we could help make a positive impact on the affordable housing crisis," DeAngelis wrote in one email, "and to be painted in this negative way is incomprehensibly depressing."
That crisis, advocates say, is all too real. But the Tribune investigation shows what went wrong when state officials helped fuel a venture based on lofty promises but then did little to monitor what happened to the people who supposedly would be helped. That includes those living in the South Shore high-rise.
One building, many complaints
A fourth of all code violations against Better Housing Foundation's Chicago buildings came at one complex: 7250 S. South Shore Dr. From a leaking roof to an elevator prone to breaking down, tenants in the building reported – and city inspectors found – many problems, according to complaints to 311, city inspection records and tenant interviews.
Scroll to explore this building
To Read More Click Link Below:
http://graphics.chicagotribune.com/chicago-charity-housing-violations/