---
https://www.nbcchicago.com/news/local/illinois-rental-payment-program-opens-monday-with-up-to-25k-available-for-tenants-struggling-to-pay-rent/2511686/?fbclid=IwAR0sYWjhguAXa–D66RUIMYA0noOqxSFeWABIjx9qSX2mIXeaMURGQFzQuM
Click Here to Apply: https://www.ihda.org/about-ihda/illinois-rental-payment-program/
https://www.eventbrite.com/e/state-of-the-chicago-treasurers-office-registration-156786128531?fbclid=IwAR2Exw_OH6pyQ6jGXeE3r5iTwOEitOqk0_nOYEdxIGbSA-TE0qxZaiq0arU
Thu. Jun 3, 2021 at 6:00pm CDT   was an inflection point nationally and in our own backyard, and it's time to forge a new path and re-imagine how Chicago can work to lift up residents, improve civic engagement and enhance quality of life.
Are you ready to get started?
From taxes, opportunity zones, private capital, revitalization efforts and economic priorities, community investment is constantly a topic of conversation in Chicago.
https://www.showclix.com/event/ideas-forum-investment?utm_source=Newsletter_Events&utm_medium=WBEZEmail&utm_campaign=Events_Invite_Ideas-Forum_20210524&utm_content=5/24/2021&DE=WBEZEvents
http://Register here: www.tinyurl.com/SOS-TIF-Event
Join us today and every Thursday for open office hours between 10 AM – 4 PM. Learn ways to grow your business, receive 1-on-1 business consultations, and more! Call 888-955-9510 to schedule your appointment or visit our site at: https://bit.ly/3dqrElx
---
---
Lakeside Alliance
The two-part, 1.7-acre site includes vintage, low-rise buildings and vacant land adjacent to the Cheltenham station on Metra's Electric Main Line. RFP goals include the construction and rehabilitation of transit-oriented housing and ancillary uses.
Due 4 p.m., Tuesday, Aug. 31, 2021
Appendix

Pre-Bid Conference
2 p.m., Wednesday, May 12, 2021 | Register
https://webapps1.chicago.gov/eforms/investswregistration?RFP=South_Shore_1
---
https://www.cookcountyil.gov/service/covid-19-recovery-rental-assistance-program?utm_medium=email&utm_source=govdelivery
---
---
South Shore Neighbors Launch Mutual Aid Effort To Shovel Snow, Deliver Food To People In Need
SOUTH SHORE — South Shore residents in need of snow shoveling and other essential supplies can register for help through a new mutual aid effort.
The Neighborhood Network Alliance will send out volunteers throughout the week to help shovel snow following a historic winter storm that dumped as much as 18 inches of snow on Chicago between Monday afternoon and Tuesday morning. The nonprofit will also coordinate donation and delivery of food and supplies.
Volunteers are needed to deliver food, answer the South Shore Blizzard Dig-Out hotline and to coordinate other volunteers.
To register for help, volunteer or donate supplies, click here.
Residents can also call 773-609-3001 or send an email to resourcehub@thenna.org with questions or donations.
---
---
Mayor Lightfoot Announces Transformative Business Initiatives to Support Small, Minority, and Women-Owned Contractors
March 10, 2021

BACP offers free business education workshops or webinars every Wednesday afternoon and Friday morning. Due to COVID-19, all programs are currently being offered as webinars. Topics include business licensing, operations, financial resources, marketing, and more. Programs are free and open to the public and taught by industry professionals, not-for-profit agencies, and government agencies.


Please email BACPoutreach@cityofchicago.org with any webinar questions.
---
Info Shared by Hegewisch Times:
---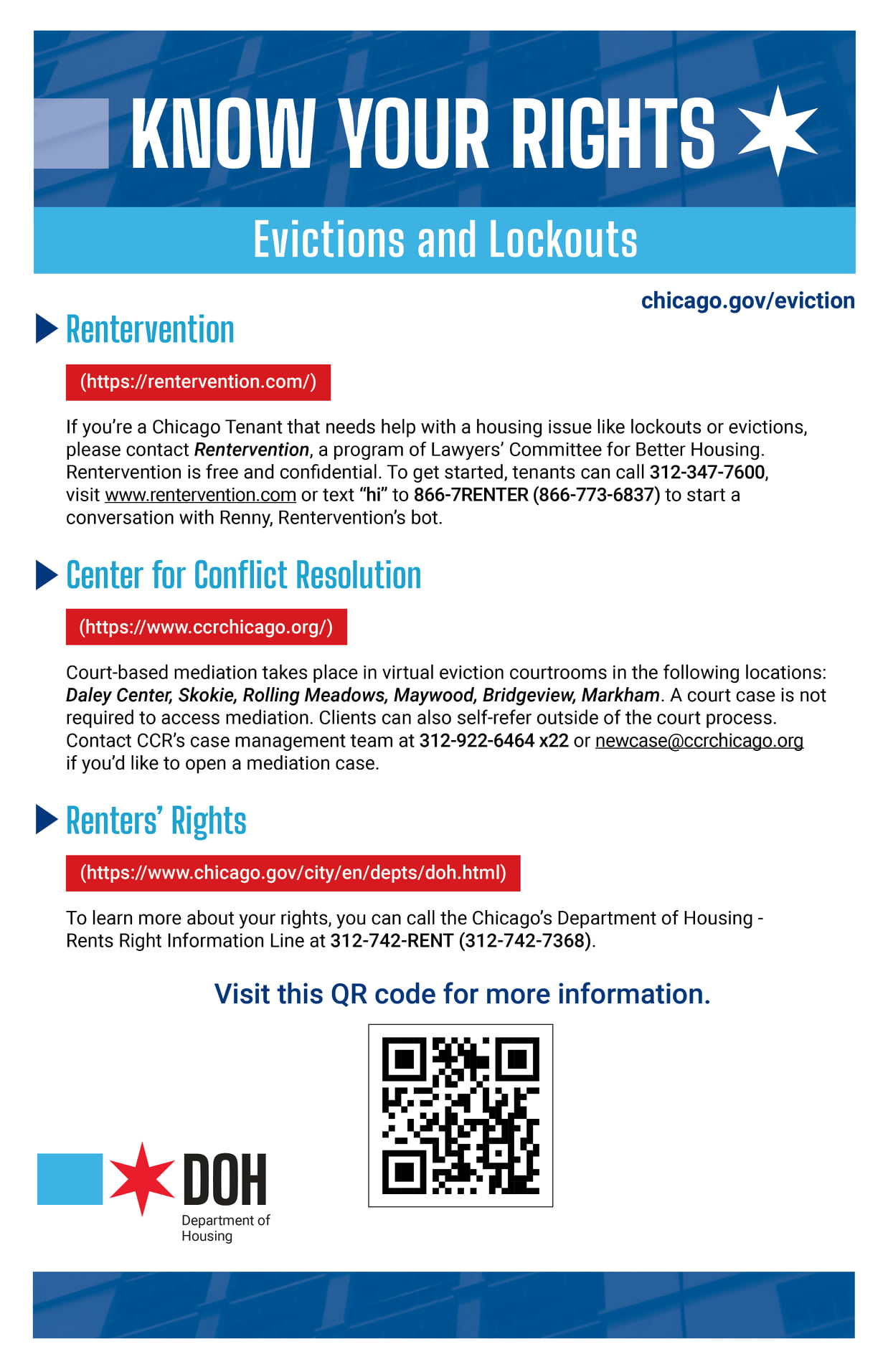 Info Shared by Alderwoman GarzaKnow Your Rights: If you're a Chicago Tenant that needs help with a housing issue like lockouts or evictions, please contact Rentervention, a program of Lawyers' Committee for Better Housing. Rentervention is free and confidential. To get started, tenants can call 312-347-7600, visit www.rentervention.com or text "hi" to 866-7RENTER (866-773-6837) to start a conversation with Renny, Rentervention's bot.
---

---
Current Info @ the Beginning, Please View All due, Some  Services may have extended in spite of due date: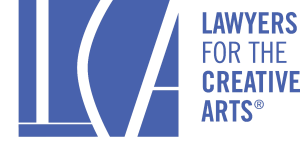 *UPDATE of NEW COVID LEGISLATION* Jan 11, 2021
New Loans, Grants, and Unemployment Benefits
Just before the new year, Congress passed, and the President signed into law the 5,593-page "Consolidated Appropriations Act, 2021." The law contains important provisions for the arts community:
Renewal of the Paycheck Protection Program (PPP);
Extended and additional benefits for out of work W-2 and 1099 workers; and
Grants ($15 billion) for theaters, comedy clubs, music venues and other arts venues.
Renewal of the Paycheck Protection Program (PPP)
The new legislation re-authorizes the PPP first enacted in 2020 in the CARES Act. The PPP extends loans to businesses and sole proprietors that are forgiven if the recipient uses the funds to continue to employ workers. The program officially reopens on Monday, January 11 through small community lenders, and larger banks participate a few days later.
How much will I get? As before, the PPP offers loans up to 2.5x your average monthly payroll, capped at $10 million.
What can I do with the loan? Forgiveness rules for 2021 are mostly the same as they were in 2020. You'll need to spend 60+% on salaries, maintain compensation levels, and expend the funds in 24 weeks. The list of eligible expenses is expanded to include software, cloud computing services, PPE, and even property damage losses resulting from public disturbances.
I received a PPP Loan in 2020. Can I apply for a second PPP Loan in 2021? Potentially, yes, if (1) you have <300 employees; (2) you'll have paid out your first PPP loan before obtaining a second; and (3) you lost 25+% of your revenue in at least one quarter of 2020 as compared to the same period of 2019.
When can I apply? There are several phases:
1/11/21: First-time PPP loans administered by community financial institutions.
1/13/21: Repeat PPP loans administered by community financial institutions.
"Shortly" after 1/13/21: First-time and repeat PPP loans administered by all participating lenders.
How will the funds be prioritized? Of the total $284 billion in PPP funding, Congress has set aside $15 billion and $25 billion for first draw and second draw PPP loans, respectively, for borrowers with a maximum of 10 employees or for loans less than $250,000 to borrowers in low-or moderate-income neighborhoods.
What do I do now? It's best to contact your bank for specifics. We have found that participating banks are quickly issuing guidelines to assist first and second-time borrowers.
Extended and Additional Unemployment Benefits for Workers
The CARES Act significantly expanded the availability of unemployment benefits for workers of all kinds. These programs mostly continue through the first few months 2021 with some important enhancements.
What additional benefits will unemployed workers receive? All recipients of unemployment benefits, including qualified self-employed gig workers, will receive an extra $300/week throughout this extended period.
How long will unemployed workers receive the benefits of the expanded programs? The new law extends COVID-related unemployment benefits for W-2 workers (UI) and gig workers (PUA) for an additional 11 weeks.
I'm a so-called "Mixed Earner." Pre-COVID, I had both W-2 and 1099 income, but throughout 2020, I received unemployment benefits based only on my W-2 income. Has the new law made it possible for me to collect benefits based on my loss of both W-2 and 1099 income? Unfortunately, no. But, if you earned at least $5,000 in self-employment/independent contractor/gig work income in 2019, if you applied in 2020), the new law entitles you to a flat additional $100/week.
When can "Mixed Earners" expect to receive these new benefits? The Illinois Department of Employment Security (IDES) will likely implement the new provisions in the first quarter of 2021, and your entitlement to the $100 benefit will begin as of December 31, 2020.
Grants for "Shuttered Venue Operators"
New for 2021 is the "Shuttered Venue Operator" (SVO) provisions which allocate $15 billion to replace earned revenue (think ticket sales, not contributions) that live performance venues like theaters, music clubs, and comedy clubs lost when they were closed down because of COVID. Grants are open to venues that lost at least 25% of their revenue during defined periods in 2020 compared to the same periods in 2019.
How much will I get? In contrast to the PPP, which provides loans mostly to enable recipients to continue to employ workers, the SVO seeks to replace lost revenue. Most qualifying venues will receive the lesser of 45% of their earned revenue during 2019, or $10 million. Depending on available funds, venues may be eligible for a second grant of half the amount of the first.
What can I do with the grant? You have to spend it on defined types of expenses. But, the list is broad, and there are no requirements that you spend certain amounts on any kind of expenses. LCA can assist you in making informed decisions that maximize the value of the grant and other options open to you.
Can I also get PPP money? As described above, the new legislation does extend the PPP program. Recipients of PPP loans in 2020 are eligible for additional help in 2021 through PPP loans or SVO grants. But, in 2021, you can't receive both PPP and SVO funds. You will have to elect one or the other. Even so, you may be able to apply for both and then choose to accept one or other if you are deemed eligible for both. LCA can assist you in making the most advantageous choice.
What can I expect on timing to apply, and receive a grant? Undetermined for now. The SBA will announce the rules, create application portals, etc. in the coming weeks. One thing we know for sure is those who have sustained the greatest percentage losses of revenue will be given priority, and their funds will be distributed in the first few weeks of the program.
LCA's 
Brief Service Response Center
 is open to advise on business and legal challenges resulting from the Coronavirus crisis, including accessing the new benefits described above.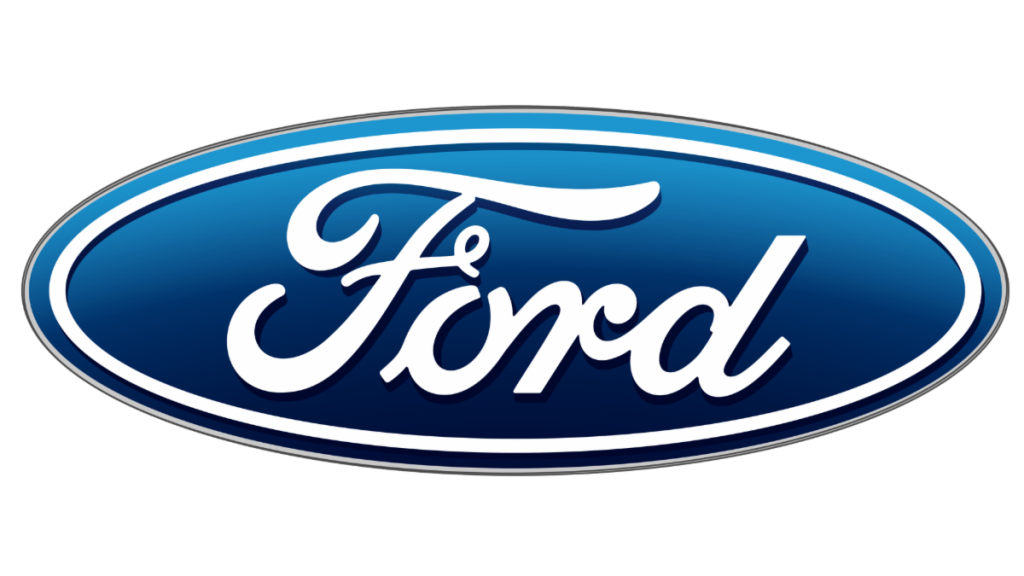 ---

A new round of funding will be available beginning August 10th providing relief for renters and beginning August 24th for homeowners to provide mortgage relief during COVID-19.
Schedule an appointment over the phone

South Chicago Region: (773) 933-7575
Spanish Coalition for Housing (SCH) has been awarded a new round of funding to assist families facing hardships during the pandemic. We thank our partners from the City of Chicago (Department of Housing) and Illinois Housing Development Authority (IHDA) in providing the support to offer these relief programs and partnering with SCH to connect directly with the community to ensure access to these critical resources.
Our offices are preparing to quickly respond and guide our clients throughout the process. We are estimating to serve over 300 households to provide some relief during this time of uncertainty and to help stabilize their housing.
SCH will continue to establish partnerships and leverage resources to craft and implement solutions that are responsive to community needs during this time of crisis and into recovery. We are here with you, to serve you.
Access our services in person or remotely
Rental & Mortgage Assistance
Financial Education & Coaching
Utility Assistance
Homeowner Education & pre-purchase counseling
Landlord Services
Foreclosure Prevention Counseling
To request a telephonic consultation, click on the button below and a member of our team will contact you within 24 hours.

Applications for Emergency Rental Assistance are available now through August 21 at era.ihda.org.
Emergency Rental Assistance program FAQ's can currently be found at era.ihda.org.
Applications for Emergency Mortgage Assistance will be available on August 24 at ema.ihda.org.
If you have any questions, please call 312.883.2720 or 888.252.1119.
If you need immediate assistance, please speak with your landlord or mortgage servicer about your specific situation.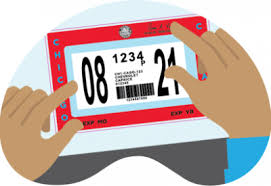 Be sure to purchase City Sticker and Residential Permit Passes now. You can conveniently purchase them online at at ezbuy.chicityclerk.com. You can get started here.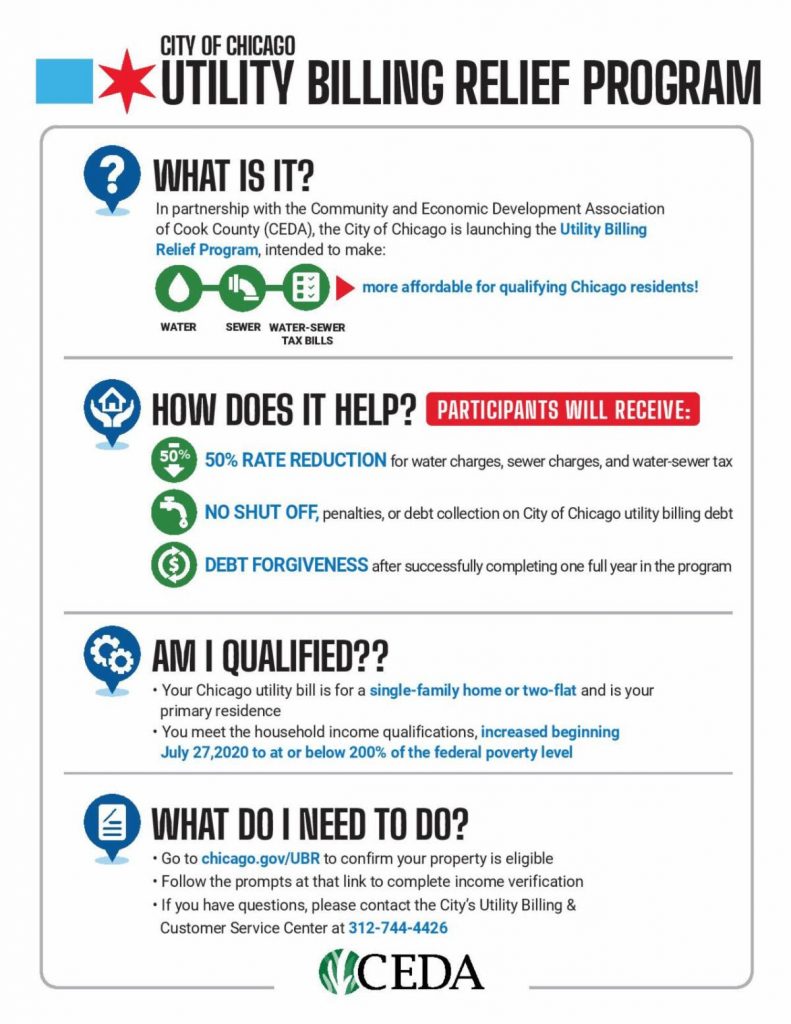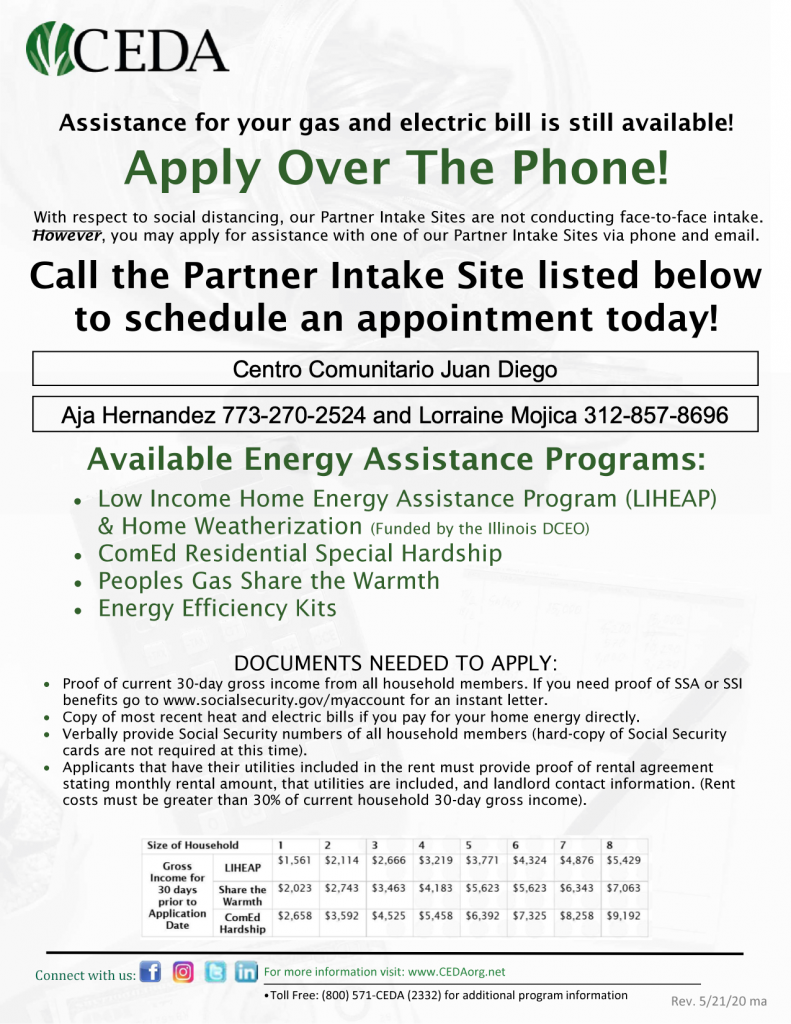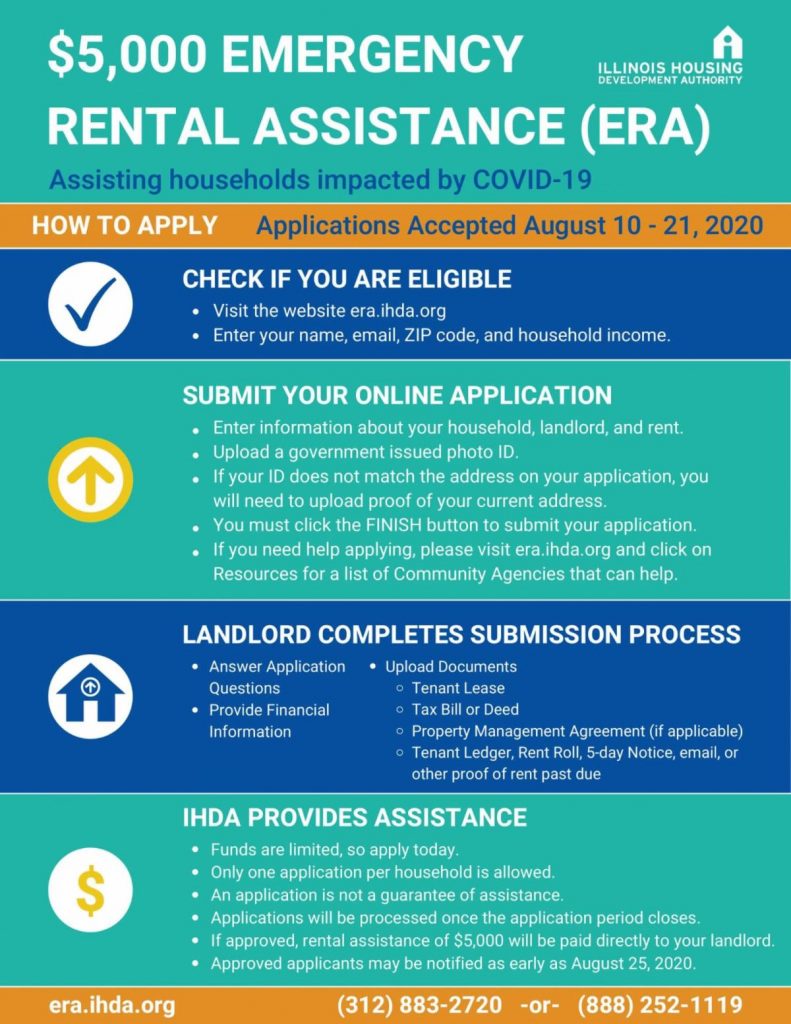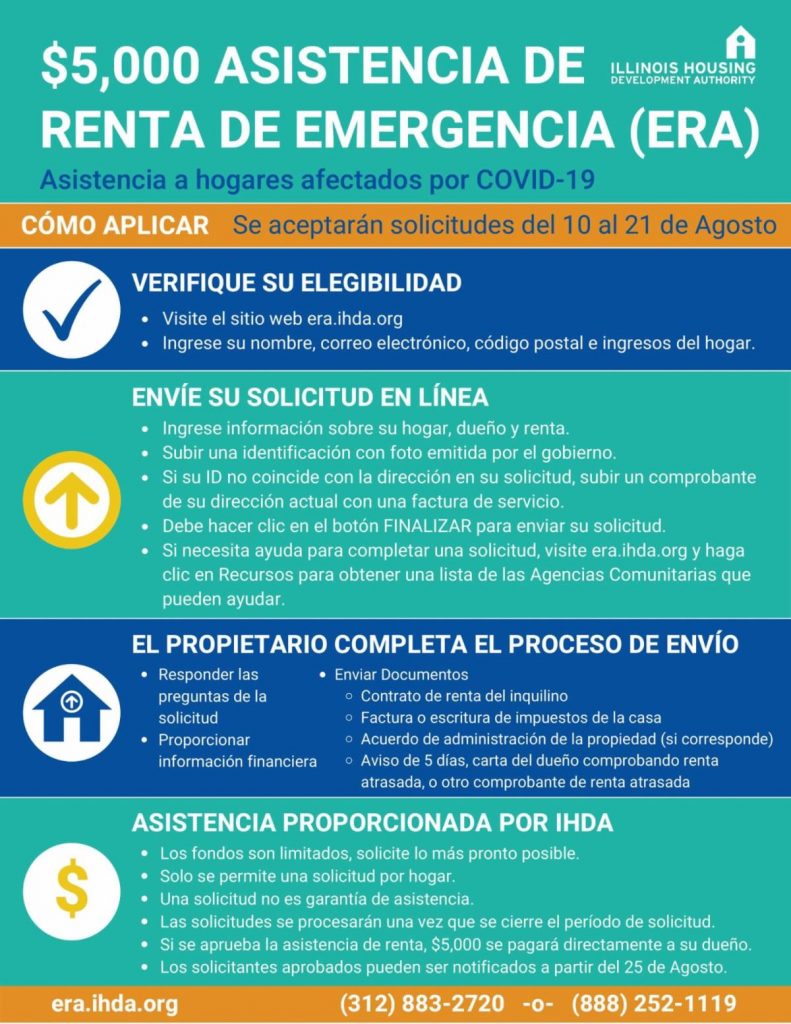 Unemployment Benefits Extended 20 Weeks
IDES announced 20 weeks of state extended benefits (EB) are now available to those who exhaust the allotted 26 weeks of regular state unemployment and the additional 13 weeks of federal Pandemic Emergency Unemployment Compensation (PEUC) benefits.
IDES is responding to the nationwide unemployment fraud scheme, but there are steps you can take to protect your personal information. Please watch this video explaining Unemployment Insurance Fraud and Identity Theft HERE.
Mention Physical Deadline Aug 24th. Call to Clarify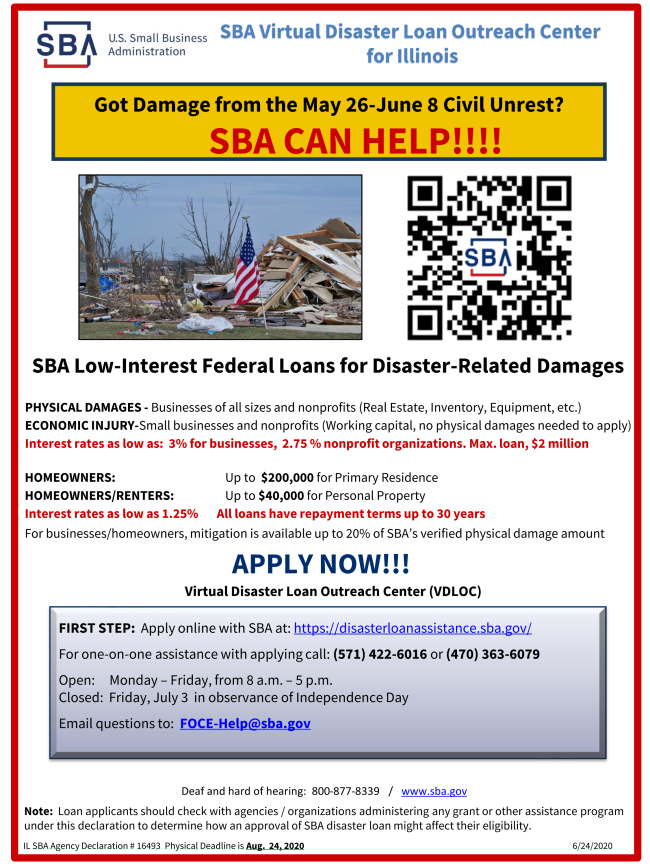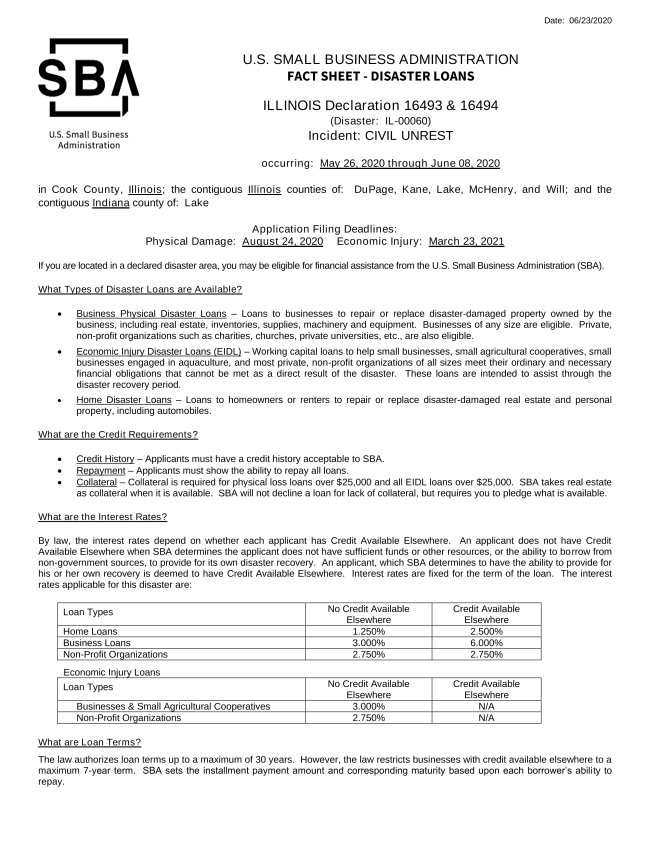 ---
Charitable Trust: Food and Housing Assistance:
This cycle of the Charitable Trust Stabilization Fund emphasizes food and housing assistance because the COVID‑19 pandemic has hurt so many working families and non-profits.
Charitable Trust assists small non-profits with annual budgets of $1 million or less. Money comes from filing fees non-profits pay when incorporating in Illinois, not personal or property tax dollars.
Grants of up to $12,500 are available from a pool of $375,000. An 11-member board will choose awardees and provide oversight. Previous grant recipients are eligible if the term of their grant has been complete for at least one calendar year.
Since 2017, Charitable Trust has provided more than $2.2 million to 100 non-profits.
Welcome to the Chicago Housing Assistance Portal. The Department of Housing and the Department of Family and Support Services have several initiatives to provide housing cost assistance to Chicago residents impacted by the coronavirus pandemic.
A lottery (randomized) system is being used for this program to create a level equity and fairness – we expect a higher demand for our assistance programs than the supply of funding available, and a first come, first serve system would favor those applicants who happen to be more experienced using the Internet or who have all the required documents readily available.
https://www.chicago.gov/city/en/sites/affordable-housing-programs/home.html?fbclid=IwAR2iQebUuq3WNn3Ql8LxLjJt-RypxAjLZdNpfORFGxr7WpwCSpbVD1VZj-c


Today, Mayor Lightfoot and the Chicago Department of Public Health 
announced that Chicago is ready to move to phase four
 of the "Protecting Chicago" reopening framework on Friday, June 26. Under this phase, most Chicago businesses can open under limited capacity with appropriate safeguards in place. Specifically, most businesses will be subject to a 25% capacity limit, with a maximum of 50 people in indoor spaces and 100 outdoors. Furthermore, face coverings are required in most circumstances, along with a maintenance of six feet of social distancing. Please visit 
chicago.gov/reopening
 for an overview of all the phase four guidelines.
While Chicago is transitioning to phase four on the same day as the rest of the State, please note that the phase four guidelines in Chicago are stricter than some of the State-issued guidelines. As a dense city of 2.7 million people, Chicago has experienced a larger COVID-19 breakout than the rest of the State and it is critical that our reopening takes extra safety precautions. While significant progress has been made to bring our total cases per day under 200, we are still at a moderate-high level of new cases. Gathering sizes and capacity limits can more safely increase once Chicago has fewer than 100 new cases per day. Visit the 
Chicago COVID Daily Dashboard
 for the latest health data.
To help businesses navigate the new industry guidelines, BACP will be holding a series of webinars this week. Please visit 
chicago.gov/businessworkshops
 to register and learn more. Below you will also find a summary of some of the important guidelines for different industries, along with links to the detailed guidelines. You can find all of the guidelines at 
chicago.gov/reopening
.
I want to reiterate the importance of strictly adhering to the new phase four guidelines, which come into effect this Friday, June 26. We need to make sure that our reopening efforts do not undo the significant progress we have made over the last few weeks and months. We are all in this together.
Sincerely,
Rosa Escareno
BACP Commissioner
OVERVIEW OF SELECT PHASE FOUR GUIDELINES
If your business falls into multiple industries, please reference the most relevant guidelines for each part of your business's operation
For industries or subsectors that do not have guidelines posted, please refer to the guidelines for industries that are most similar to your business.
Indoor dining allowed at 25% capacity, with a maximum of 10 people per table and 50 customers in a room/floor
Face coverings worn by customers and employees, except when seated and eating/drinking
All patrons must be seated while eating/drinking
Event spaces and all establishments that sell food or beverages for on-site consumption should follow the Food Service and Bars guidelines
Indoor activity and indoor classes can resume at 25% capacity, with a maximum of 50 customers in a room/floor
Face coverings worn by all customers and employees indoors- they can be removed for outdoor classes, provided that social distancing is in place
Indoor sports limited to no more than 6 people
Youth/amateur contact sports allowed outdoors if no more than 50 participants (including players, referees and coaches)
Services can be provided at 25% capacity
Face coverings worn by all employees and customers- can be removed by customers only during services that require their removal (i.e. beard shave)
Limited to 25% capacity at non-essential retail and 50% capacity at essential retail
Face coverings worn at all times by employees and customers
Can reopen indoors, limited to 25% capacity with a maximum of 50 individuals per space or room (i.e. one theater)
A venue may have multiple gatherings of 50 individuals in a single theater (not to exceed 25% seating capacity) if the following accommodations are in place:
The separate groups are clearly delineated and separated by different levels/floors (e.g., balconies);
The separate groups have dedicated entrances and exits; AND
The separate groups have dedicated restroom facilities
Face coverings worn by employees and customers- they can be removed by customers when seated and eating/drinking
Face coverings not required for actors and/or performers while performing
All customers must be seated, with six feet of social distancing in place
Extended Due Date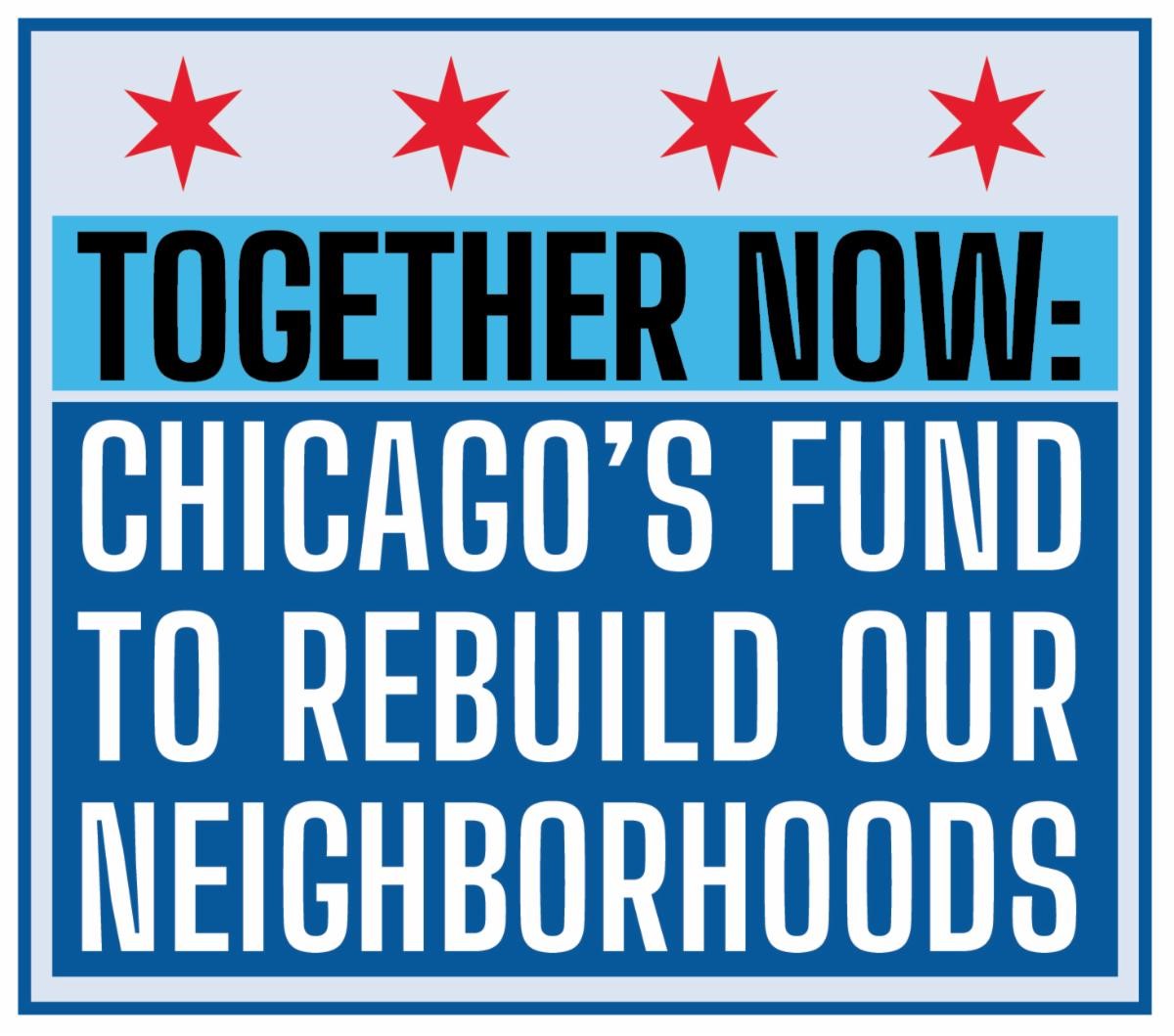 Applications are now open for the "Together Now" fund launched this month by Mayor Lightfoot to provide financial relief for Chicago small businesses and non-profits that have experienced economic distress due to COVID-19 or recent property damage. The application deadline is Monday, June 29.
Chicago businesses with property damage will be eligible for infrastructure grants up to $10,000 to help with repair costs. Businesses that have at least a 25 percent revenue loss due to COVID-19 will be eligible for operational grants up to $4,000 to help cover economic losses.
Each business owner is eligible to apply for one infrastructure grant and one operational grant. Select regional or national chain businesses, including franchises, branch banks and payday loan stores, are not eligible. Other restrictions apply.
The $15 million fund is supported by an initial commitment of $10 million from the City of Chicago, a $1 million contribution from Jewel-Osco, and several million dollars in additional private donations.
The initial round of grants is expected help more than 2,500 small businesses. Recipients will be selected through a lottery following the close of the application period a week from today.
City of Chicago
Business Affairs and Consumer Protection
121 N. LaSalle St., Room 805
Chicago, IL 60602
 312-74-GOBIZ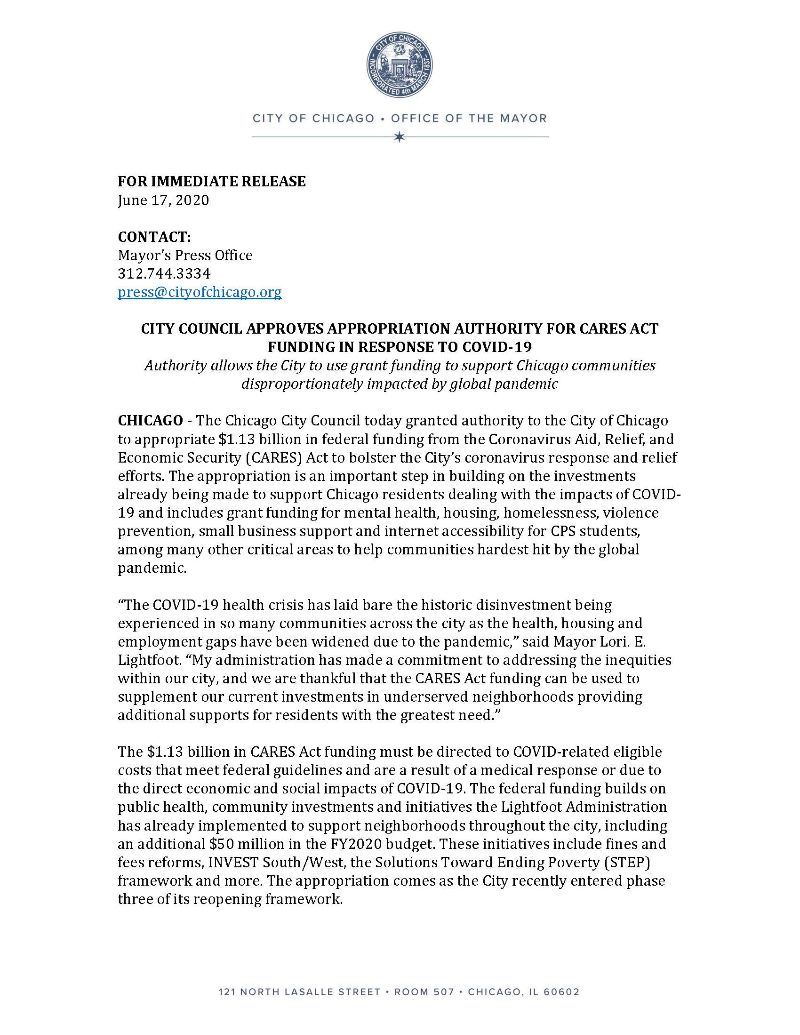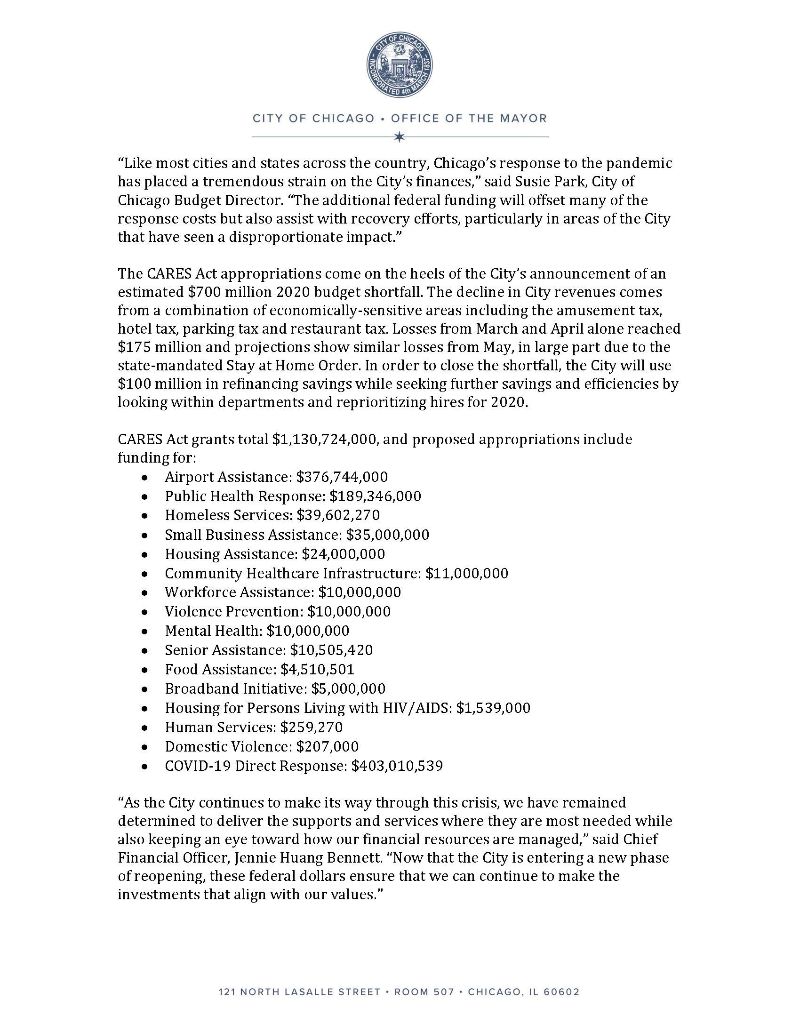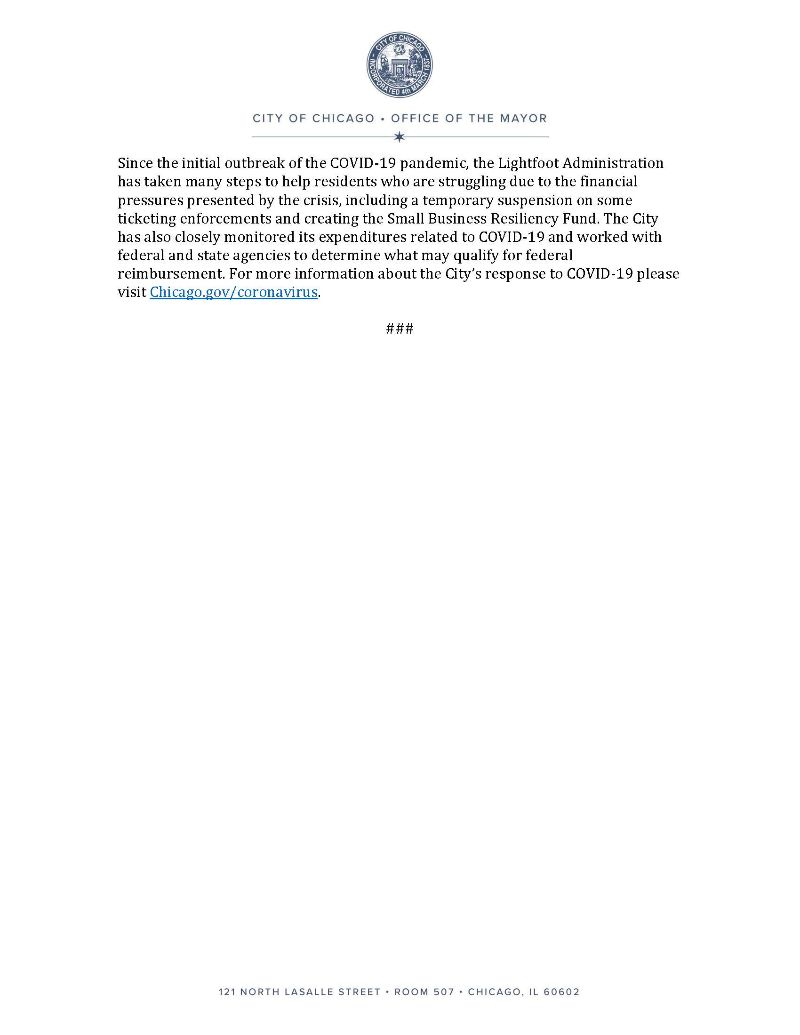 Housing Info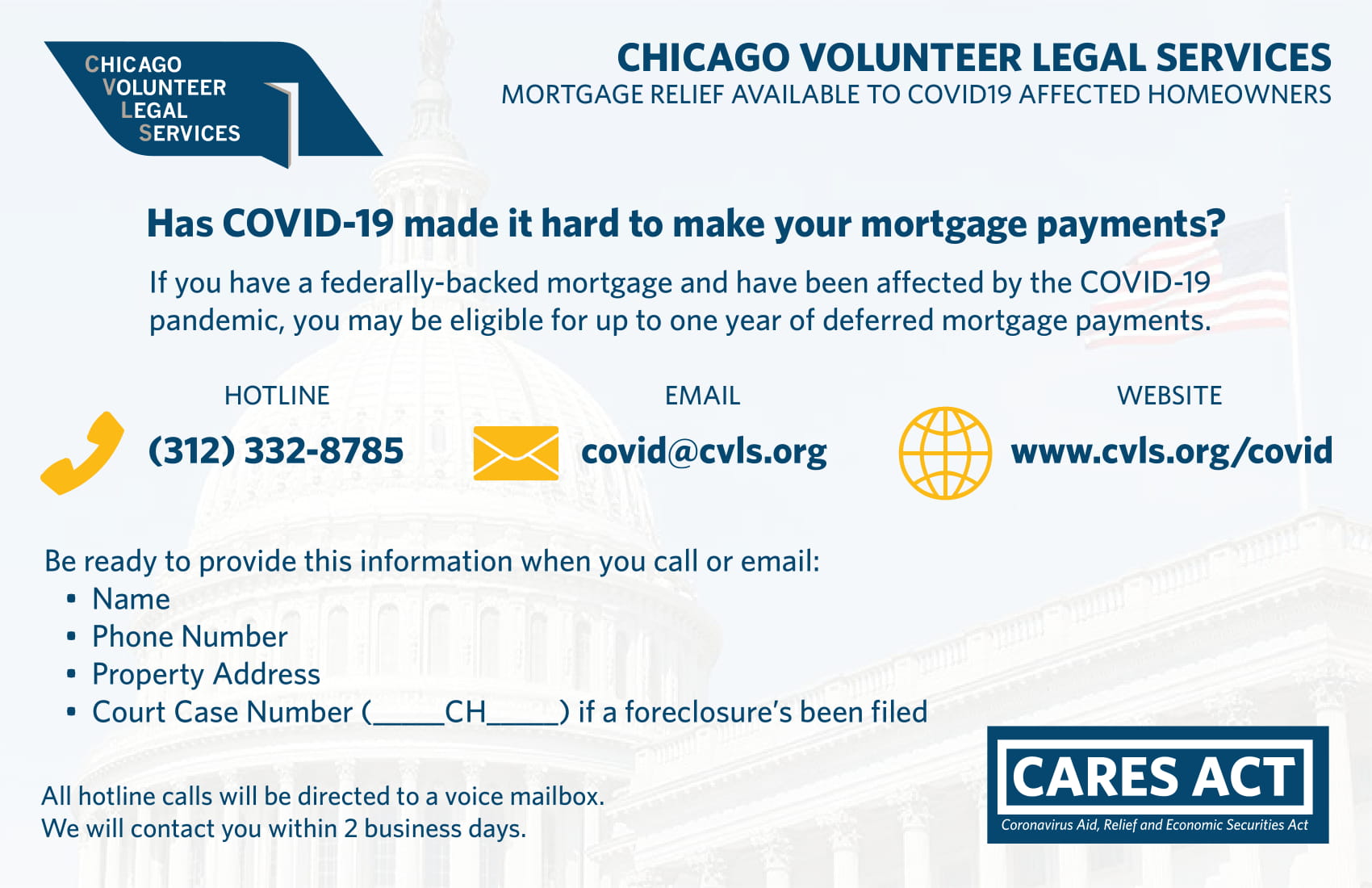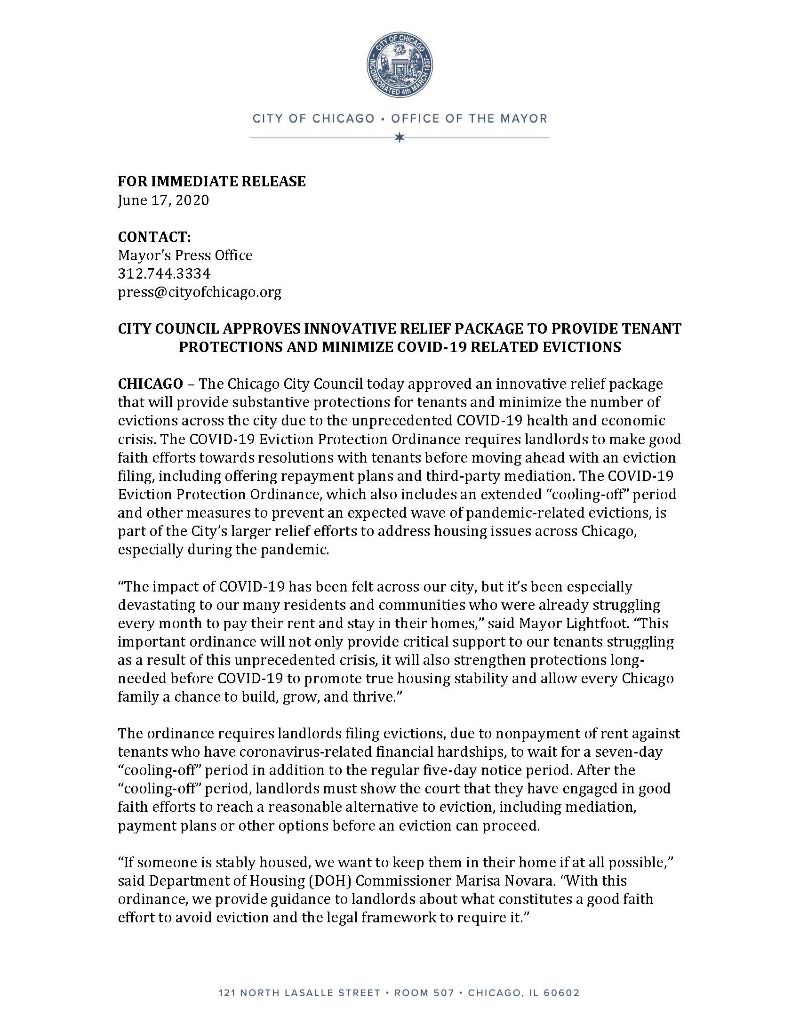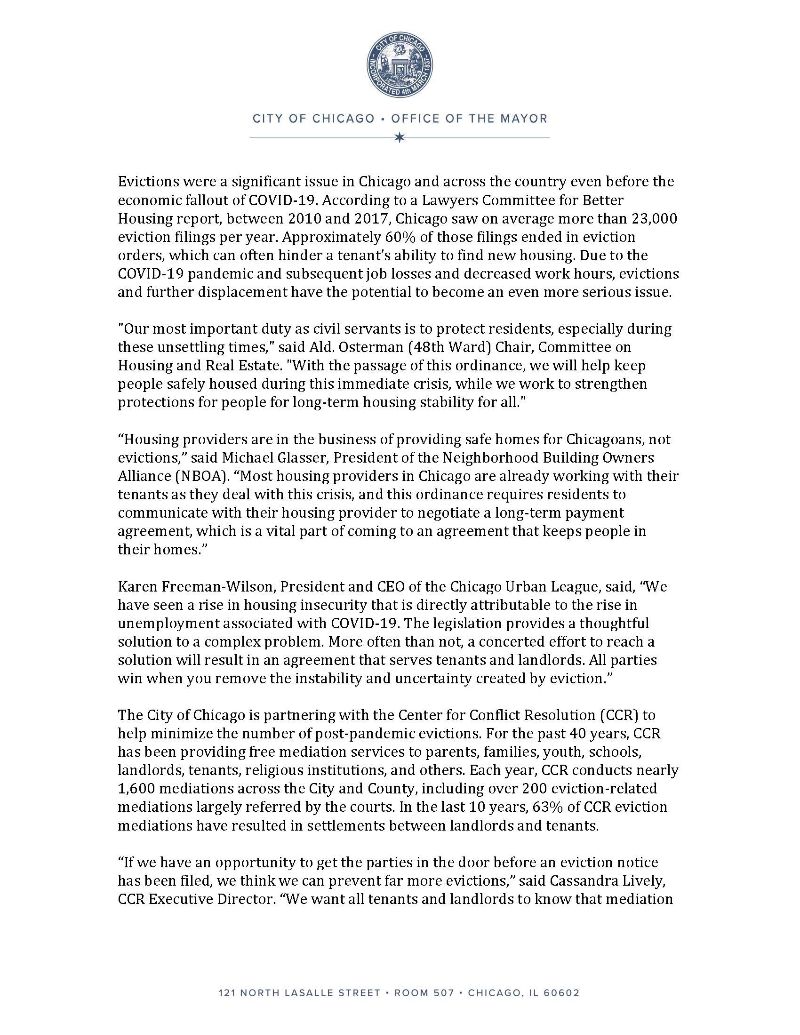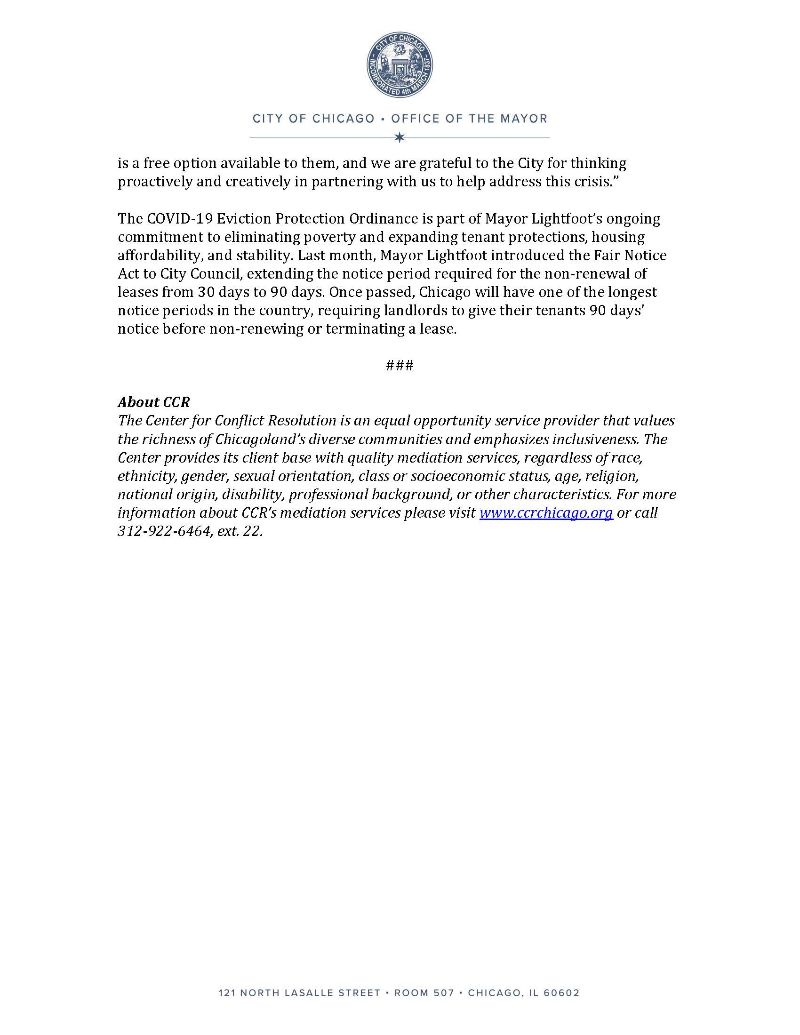 ---
---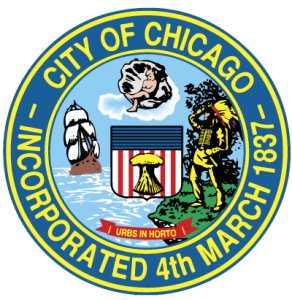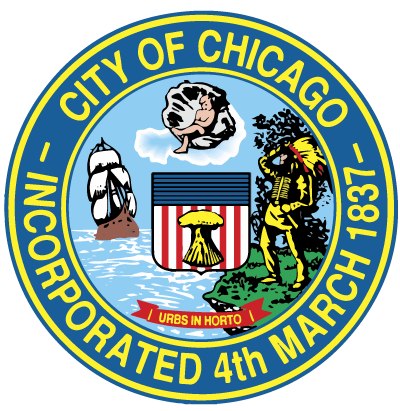 ---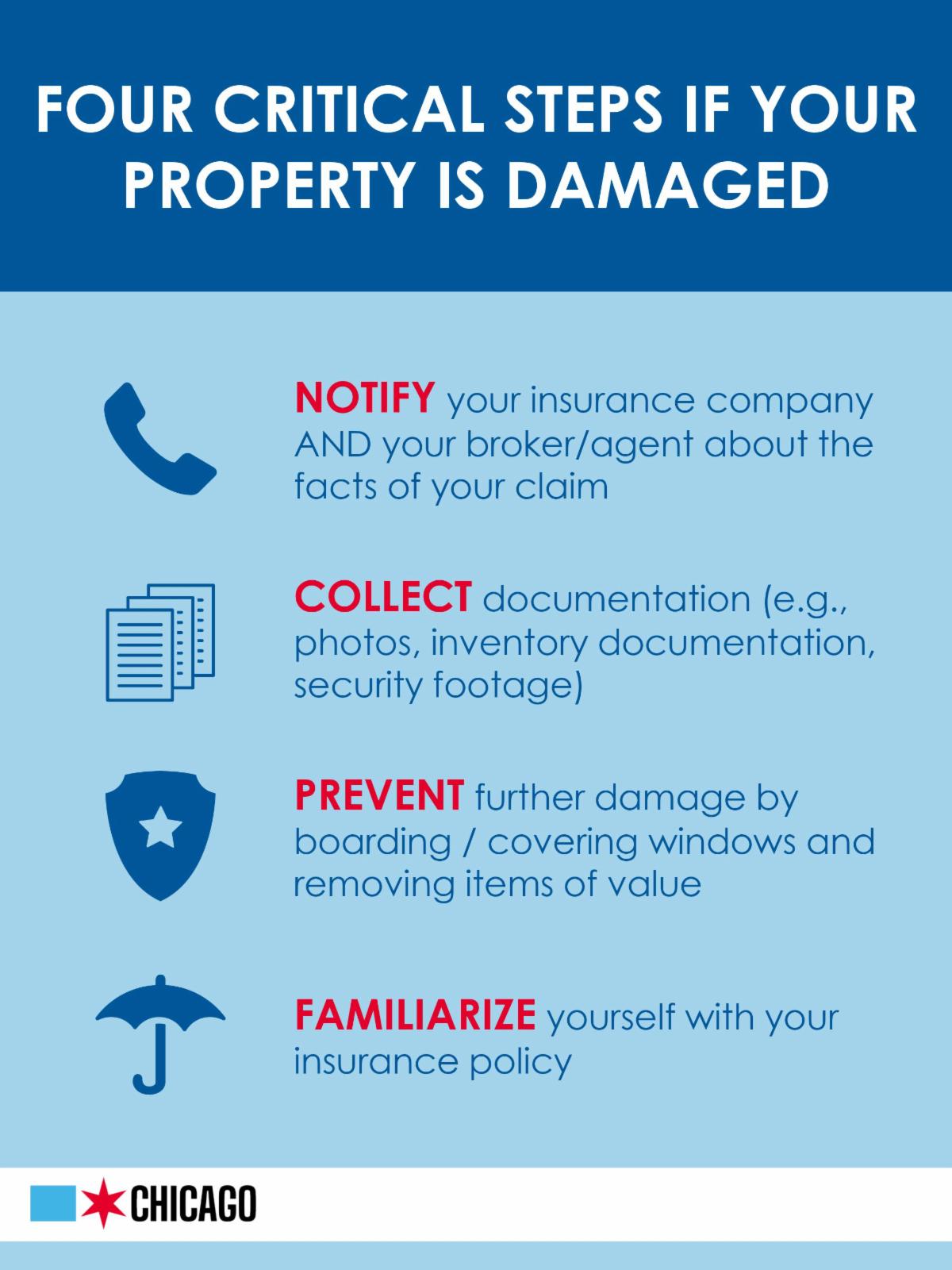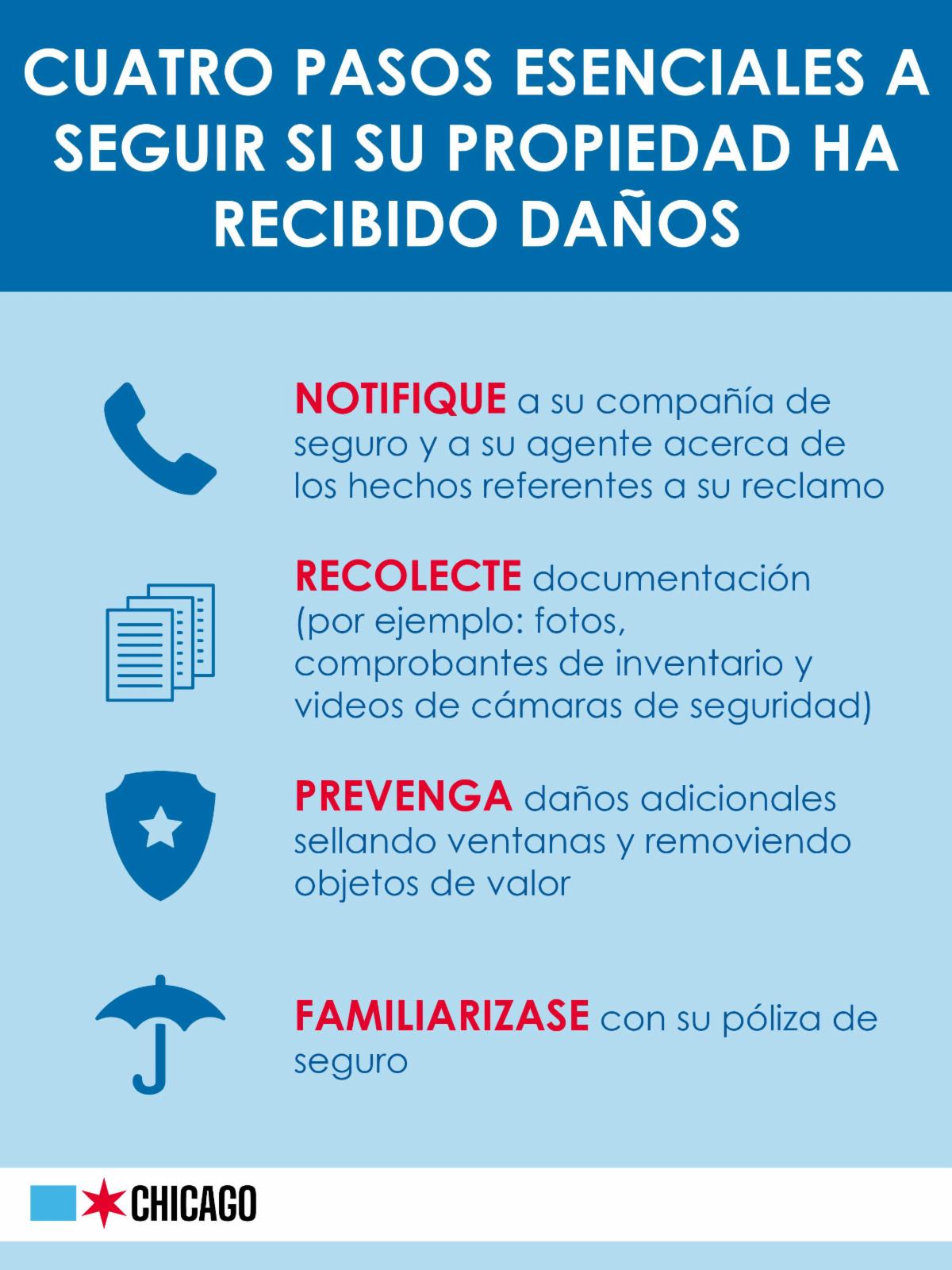 ---
---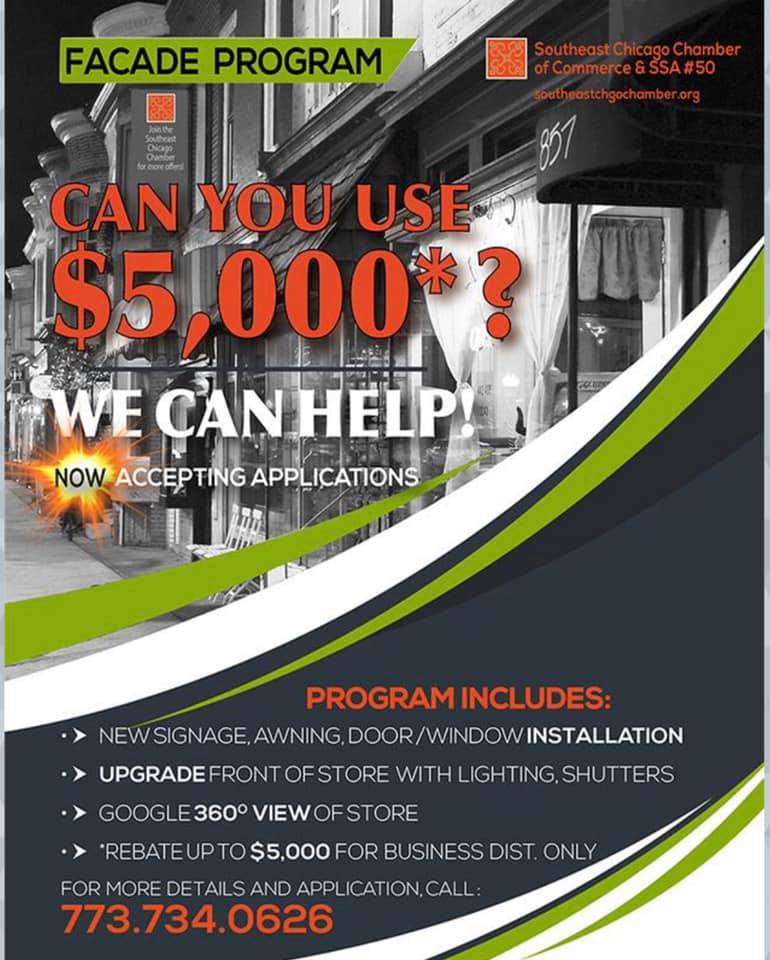 ---
---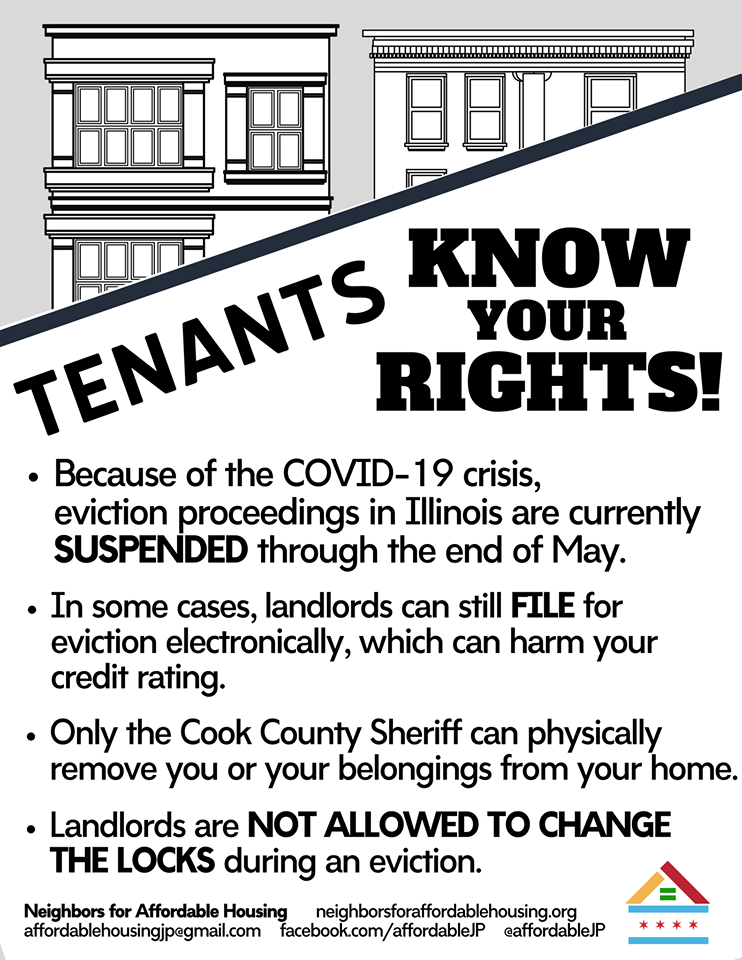 ---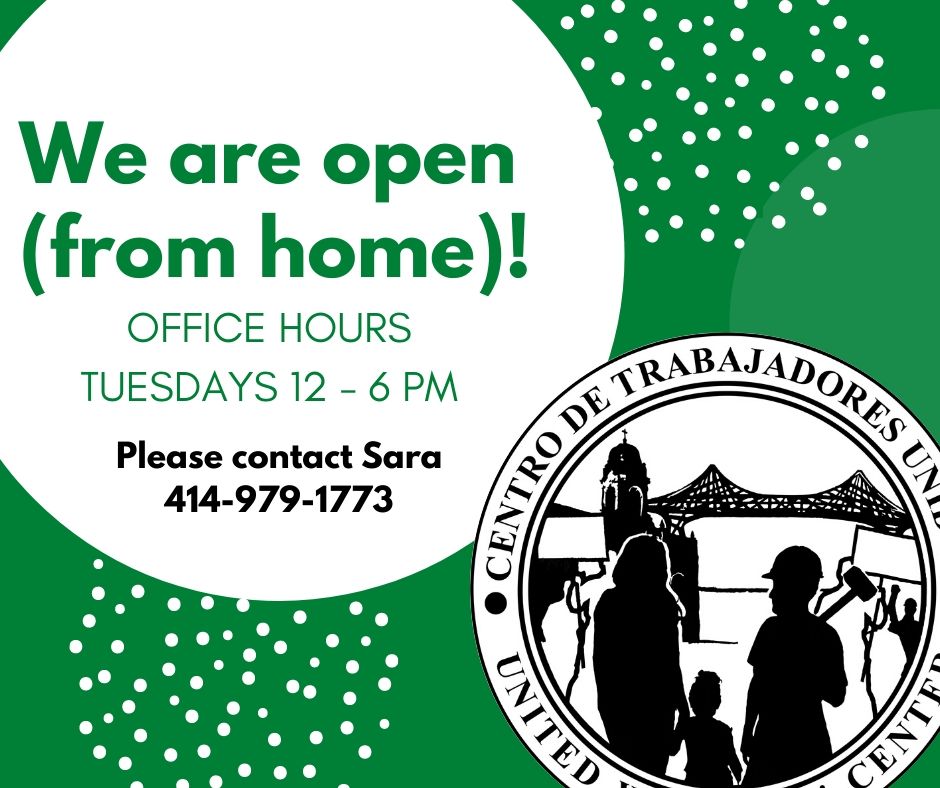 ---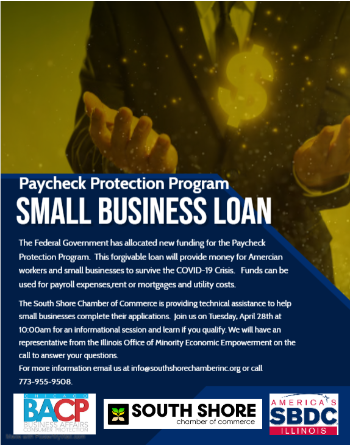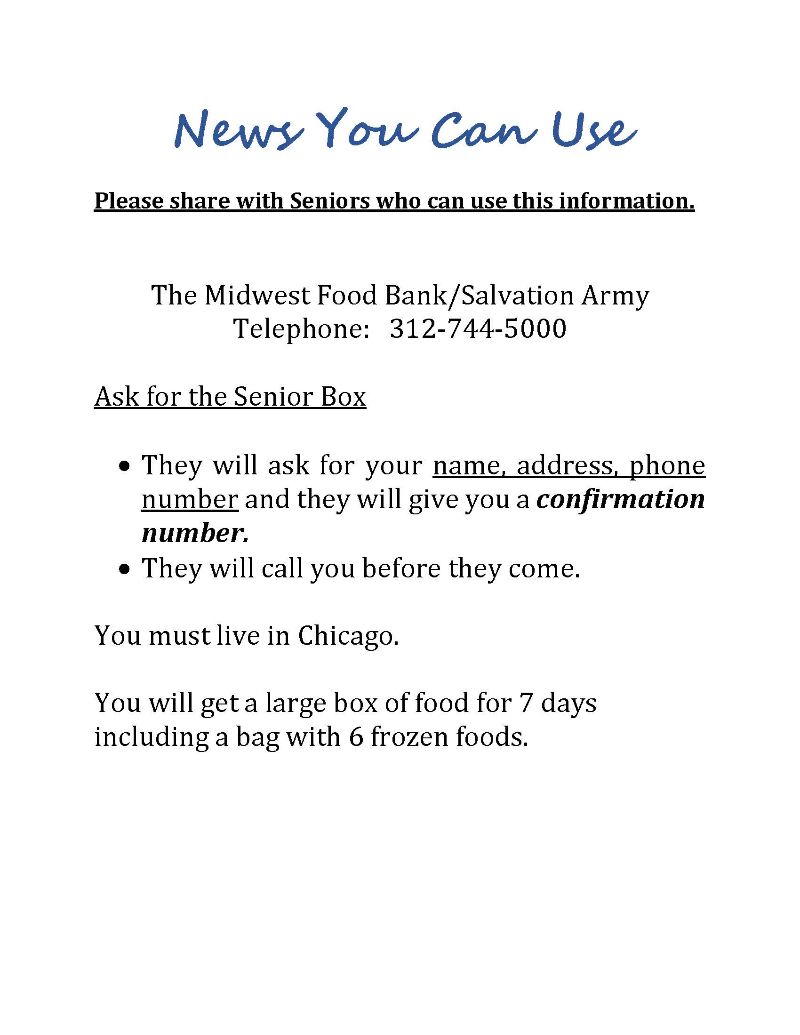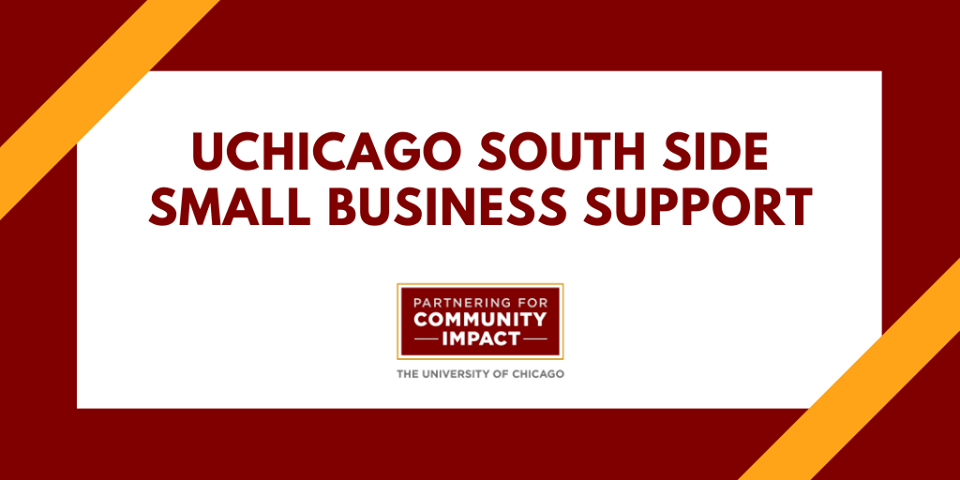 ---
---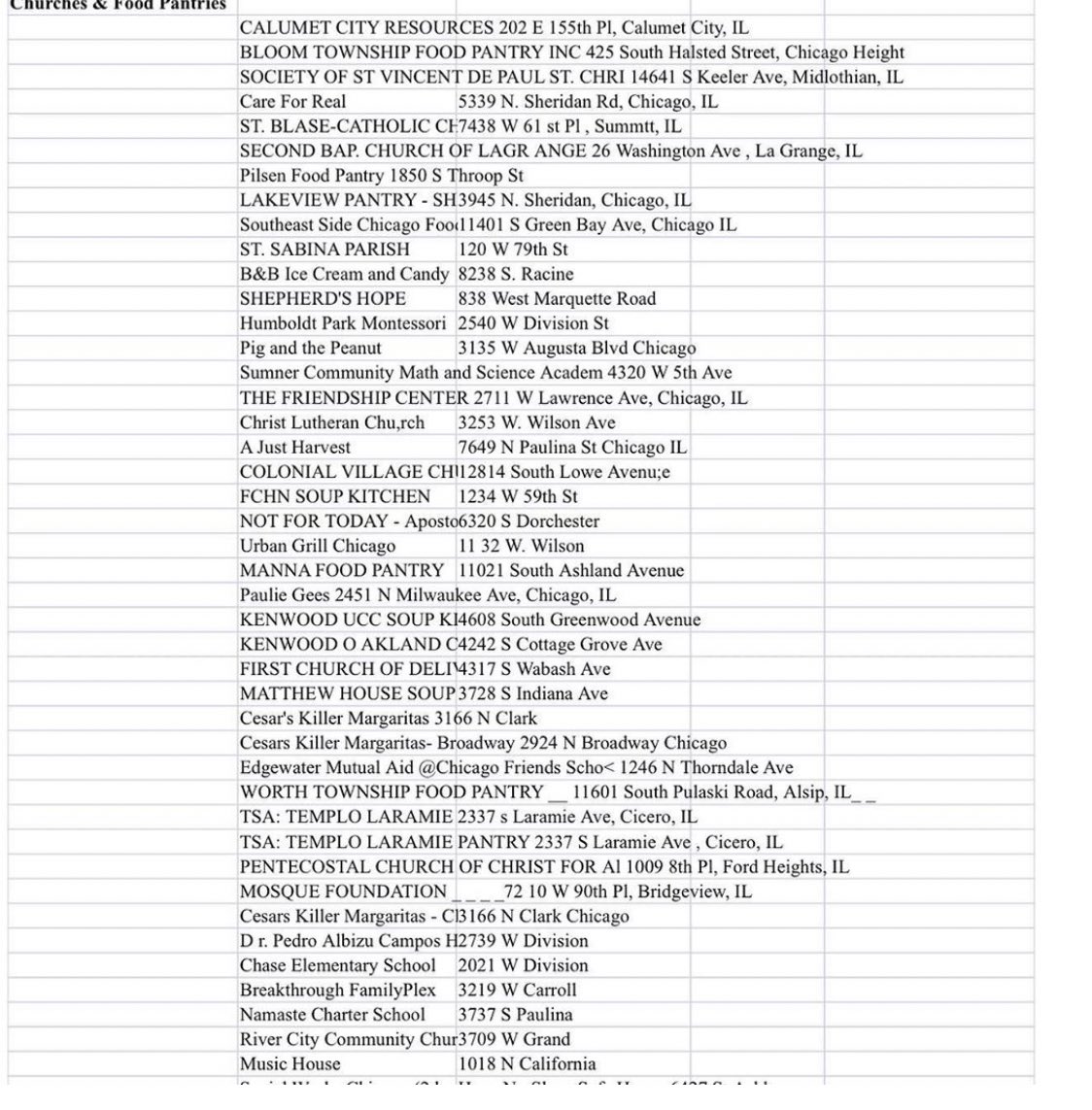 Info Shared by Sy Lewis and Amaila NietoGomez
---
Consumer Protection wants to help small businesses obtain additional funding. Loans can be used to start (less than 6 months revenue history) or grow your business, including leasehold improvements, inventory, supplies, working capital, machinery and equipment purchases. They can range from $500 to $25,000 with a no pre-payment penalty. If you are interested in more information, please clickhere.
_______________________________________________________________
City Launches Consumer Protection Campaigns on Credit Fraud
BACP Educates the Public of Free Ways to Fix Credit Reports and Tools to Research Reporting Agencies
To help consumers stay safe, BACP has launched two consumer protection campaigns to ensure consumers know their rights when it comes to their credit report and ways to avoid becoming victims of fraud.
"The City of Chicago protects consumers from fraud by resolving complaints and taking action against fraudulent businesses," said Commissioner Maria Guerra Lapacek of Business Affairs and Consumer Protection. "We also take a proactive approach by promoting consumer awareness through educational campaigns to help people protect themselves and their credit."
The dual campaign is made up of Know Your Credit Report and Know How to Fix Your Credit Report.
Know Your Credit Report informs consumers:
About the information that may be contained in their report,
That they are entitled to a free credit report every 12 months,
On how to deal with bad credit,
On activating a fraud alert on accounts.
Know How to Fix Your Credit Report brings awareness to:
What credit repair companies are required to provide,
What credit repair cannot do,
Consumer protection tips,
Seeking reputable credit counseling assistance,
Disputing inaccurate information on your credit report.
The campaign also provides contact information for several organizations that can help with credit issues, which includes calling 311 and filling a complaint with Business Affairs and Consumer Protection.
—————————————————————————————————————————————
 Info Forward by The Planning Coalition: