The only way you can protect your rights you must know them first! Click for More…http://constitutionus.com/
Constitution of the State of Illinois ARTICLE I BILL OF RIGHTS
SECTION 1. INHERENT AND INALIENABLE RIGHTS All men are by nature free and independent and have certain inherent and inalienable rights among which are life, liberty and the pursuit of happiness. To secure these rights and the protection of property, governments are instituted among men, deriving their just powers from the consent of the governed. (Source: Illinois Constitution.) SECTION 2. DUE PROCESS AND EQUAL PROTECTION No person shall be deprived of life, liberty or property without due process of law nor be denied the equal protection of the laws. (Source: Illinois Constitution.)
Democracy is a form of government in which all eligible citizens have an equal say in the decisions that affect their lives. Democracy allows eligible citizens to participate equally—either directly or through elected representatives—in the proposal, development, and creation of laws. It encompasses social, economic and cultural conditions that enable the free and equal practice of political self-determination.
Authoritarianism is characterized by highly concentrated, and centralized power maintained by political repression and the exclusion of potential challengers. It uses political parties and mass organizations to mobilize people around the goals of the regime.[2]
Authoritarianism emphasizes arbitrary law rather than the rule of law, it often includes election rigging, political decisions being made by a select group of officials behind closed doors, a bureaucracy that sometimes operates independently of rules,[dubious – discuss] which does not properly supervise elected officials, and fails to serve the concerns of the constituencies they purportedly serve. Authoritarianism also tends to embrace the informal and unregulated exercise of political power, a leadership that is "self-appointed and even if elected cannot be displaced by citizens' free choice among competitors," the arbitrary deprivation of civil liberties, and little tolerance for meaningful opposition.[2]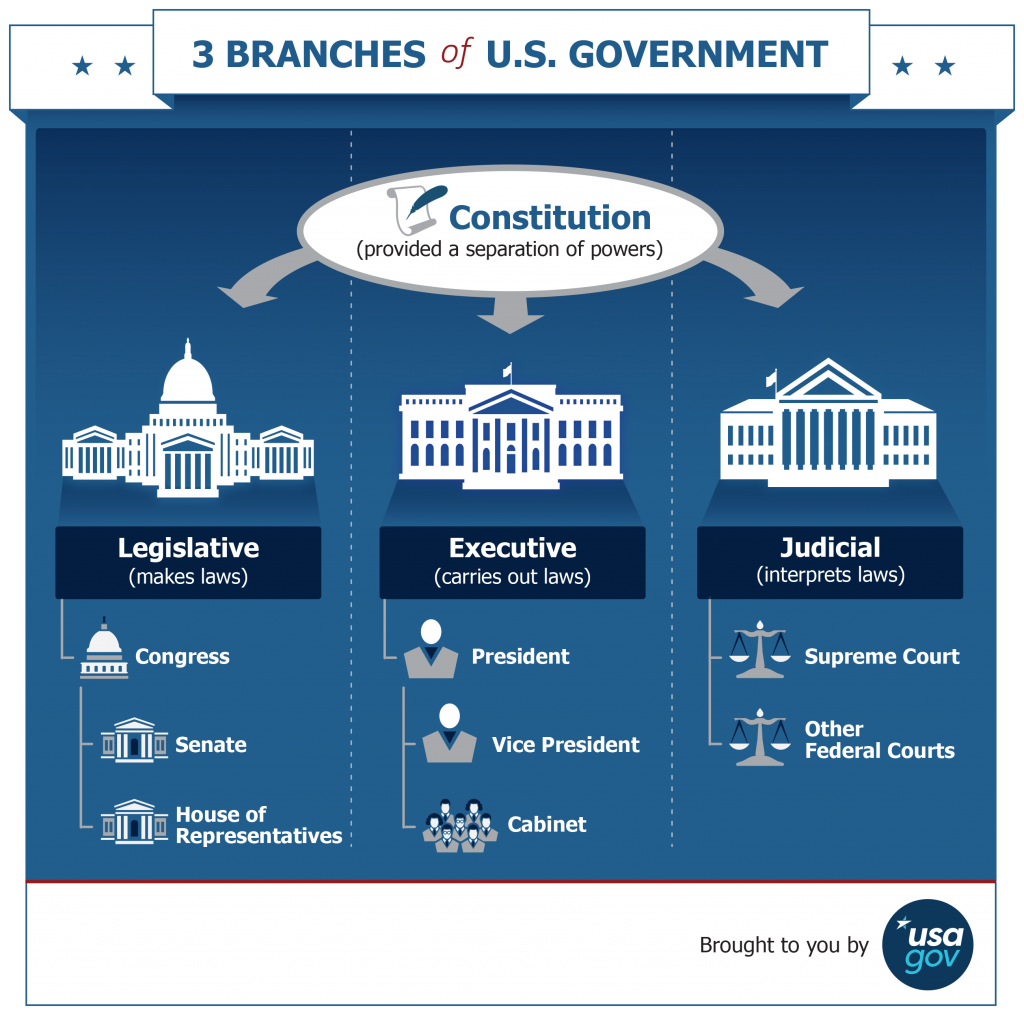 https://kids-clerk.house.gov/grade-school/lesson.html?intID=17
https://www.youtube.com/watch?v=Otbml6WIQPo

Explaining Bill of Rights Part 1
http://youtu.be/vmLosRzNRqA
---

I look forward to speaking to you soon and as always, should you have any questions or concerns please contact me at [email protected] or (773) 933-7715.
Warmest regards,
Elgie R. Sims, Jr.
State Senator, 17th District
Criminal justice reform
After hosting nine joint meetings of the Senate's Criminal Law, where I serve as Chairman, Public Safety and House Judiciary – Criminal Committees where we heard over thirty hours of testimony, I sponsored House Bill 3653 which passed the General Assembly this past week. HB 3653 included the Criminal Justice, Police Accountability and Violence Reduction pillar of the Illinois Legislative Black Caucus' agenda to rid Illinois government of systemic racism.
This comprehensive criminal justice and police accountability reform package focuses on removing barriers to equity and justice for communities who have been marginalized by a criminal justice system which criminalizes poverty, mental health and substance use disorders while at the same time reimagining public safety outcomes in our communities.
Critics of the measure have spent time spreading falsehoods and fear in communities across this state by arguing that efforts to bring accountability to our public safety systems will make us less safe. Those same critics complain that the process took place too quickly, ignoring the 126 days of meetings and testimony between the first committee hearing and the bill's introduction.
Those same critics ignore the fact that despite our respect for law enforcement and the job they do, our current public safety and criminal justice system is not working as effectively as it can when according to crime data collected by the Illinois State Police, from 2014 – 2019 arrests were made in only 21% of crimes STATEWIDE, this includes arrests in only 56% of murder cases and arrests in only 18% of cases involving rape.
HB 3653 provides community members and law enforcement the tools necessary to make our communities safer while working to build and restore trust between them. Throughout my legislative career I have and will continue to find ways to make our communities safer and will continue to work on these efforts until every person in every community has the same access to safety and justice.
Full Bill https://ilga.gov/legislation/101/HB/10100HB3653sam002.htm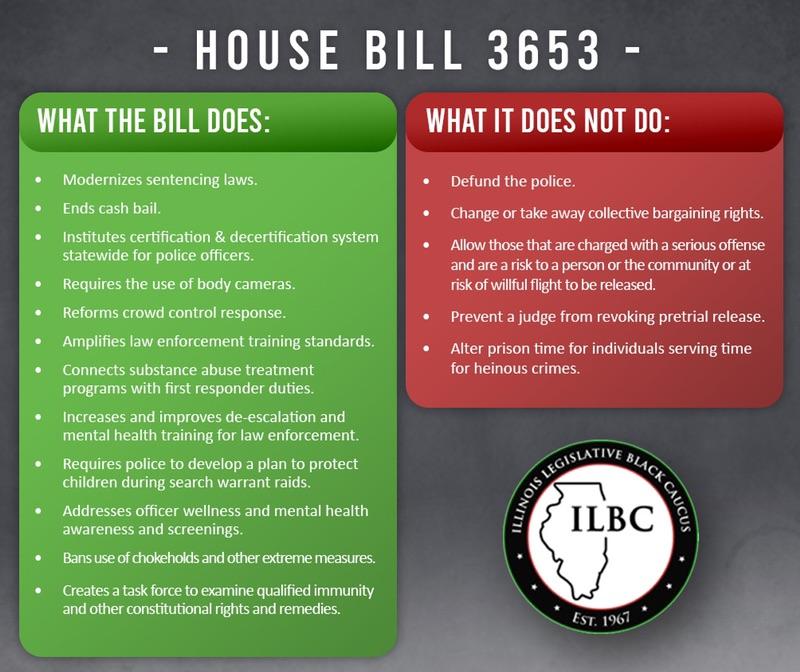 Education reform
House Bill 2170 included the Education pillar of the Illinois Legislative Black Caucus, the bill aimed at reforming the education system at all levels in Illinois. HB 2170 made the following changes
Made the following changes in early childhood education:
Allows children to continue to access Early Intervention services until the beginning of the school year after they turn 3.
Codifies the Kindergarten Readiness Assessment.
Requires the Department of Healthcare and Family Services to make recommendations on how to create a diagnostic system that would allow Medicaid to pay for some Early Intervention services.
Expresses support for the recommendations of the Illinois Commission on Equitable Early Childhood Education and Care Funding.
Urges the state to increase the availability of Infant/Early Childhood Mental Health Consultations.
Made the following changes to our K-12 education system:
Requires two years of laboratory science and a foreign language (or sign language) to graduate high school, starting in the 2024-2025 school year.
Adds a one-year course with an intensive computer literacy focus to the required high school curriculum.
Requires schools to automatically enroll students in the next level of advanced coursework if they meet or exceed state standards in that subject matter – including Advanced Placement courses.
Creates an inclusive American history curriculum to reform the Black history curriculum and curriculums for teaching about other minority groups.
Creates a Whole Child Task Force to address trauma in children and create an equitable, inclusive, safe, and supportive environment for all children.
Creates grant-funded Freedom Schools to expand teaching of Black history, the civil rights movement, and leadership.
Made the following changes to our higher education system:
Creates English and math placement requirements at community colleges.
Changes the matching requirement for AIM High scholarships. Allows schools with more than 49% Pell Grant recipients averaged over three years to pay a 20% match, while schools with less must pay a 60% match.
Supports the Illinois Board of Higher Education's efforts to identify more race conscious and equitable ways to fund higher education.
Collective Bargaining Rights restored for Chicago Teachers
The Senate also passed House Bill 2275, which restores certain collective bargaining rights to Chicago teachers on things like the length of school day and year, reductions in the workforce, use of pilot programs, class size, staff size, and other things. It also removes a mandate that labor disputes within Chicago Public Schools go to arbitration rather than a strike after a 60-day impasse. Unfortunately, Chicago Public Schools are suffering from overcrowded classes, nursing shortages, and staffing shortages and this legislation, which will treat Chicago Public schools the same for collective bargaining purposes like every other school district in the state, gives Teachers the power to bargain for changes that help our students and our schools.
Financial reform
The Economic Development pillar of the Illinois Legislative Black Caucus could be found in SB 1480, SB 1608, SB 1792 and SB 1980. Included in the package of legislation were:
Equal Pay: The state is prohibited from contracting with a private business with more than 100 employees that does not have an equal pay certificate.
Payday lending: Predatory payday loan rates are now limited to 36%, among other measures to hold such lenders accountable.
A Community Reinvestment Act for Illinois, which requires covered financial institutions to meet certain financial services needs of local communities, including low- and moderate-income neighborhoods and areas where there is a lack of access to safe and affordable banking.
The Illinois Small Business Innovation Research (SBIR) and Small Business Technology Transfer (STTR) Matching Funds Program are both reinstated. Those programs award matching grants to startup and research businesses that receive federal grants.
Hospital and health care transformation
Under Senate Bill 1510, up to $150 million in annual federal matching funds will enable health care institutions to forge partnerships with safety net hospitals, critical access hospitals and cross-provider networks to transform themselves to better meet the needs of their communities they serve. This legislation ensures that hospitals receive stable funding while workforce development and racial equity analyses provided for under the bill will work to address systemic disparities. This will help major health institutions partner with other local hospitals to provide specialty care and strengthen the quality of care in parts of the state that need it the most.
Secure ballot drop boxes
House Bill 3994 allows election authorities to establish permanent ballot drop boxes to accept vote-by-mail ballots. This measure came directly from election authorities who heard concerns from some voters who weren't comfortable with mailing their ballots. According to the election authorities, these voters wondered if the ballots would be delivered on time, if they would be lost in the mail and if they needed stamps – among other concerns. With this measure, many voters will have an additional way to safely cast their ballots.
---
These Are the New Illinois Laws Taking Effect in 2021
---
A Guide for Parents  in Illinois who are
Undocumented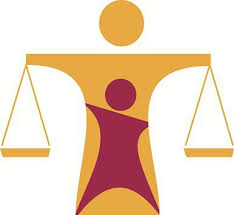 Click Link To Read Info:
Know Your Rights: What To Do If You're Stopped By Police, Immigration Agents or the FBI by ACLU
https://www.aclu.org/issues/criminal/bustcardtext.html
Info Forward by Mr. Betts, South Shore Connect: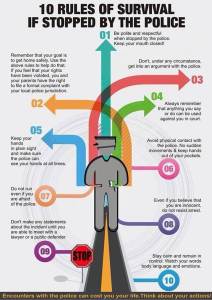 ********************************************************************************
According to the Chicago Municipal Code, any grass in excess of ten inches is in violation and will be ticketed. The fine is $600! Let's be good neighbors and keep our community looking nice! For questions, please call my public service office at Alderman Holmes 773-731-7777.
Gov. JB Pritzker signs bill raising smoking age to 21 statewide by ABC New
CHICAGO (WLS) — Illinois became the first state in the Midwest to raise the buying age of nicotine products to 21 after Gov. J.B. Pritzker signed landmark legislation Sunday. 
Gov. Pritzker was joined by the bill's sponsors, State Rep. Camille Lilly and State Sen. Julie Morrison. Mayor Rahm Emmanuel, Senate President John Cullerton, House Republican Leader Jim Durkin and U.S. Sen. Dick Durbin also joined the governor. Representatives from health organizations and hospital systems throughout Illinois, including the American Cancer Society Cancer Action Network, American Heart Association, American Lung Association and Respiratory Health Association were also be in attendance.
"Today is a milestone day for the health of our communities and especially our young people," said Gov. JB Pritzker. "We are here today to raise the age to purchase tobacco to 21 in Illinois. This is action that's supported by the surgeon general, the American Cancer Society, our own Illinois Department of Public Health, our local health departments, by all available research, every standing here and by common sense." 
HB 345 covers both tobacco and vaping products, including cigarettes, chewing tobacco, e-cigarettes and vapes. 
After four years of legislative effort and a veto by Gov. Rauner, lawmakers swiftly passed the Tobacco 21 bill mere weeks ago. The bill takes effect July 1, when Illinois and Virginia will become the eighth and ninth states to implement the legislation. 
Tobacco use is the leading preventable cause of death in Illinois. This year, more than 4,800 kids under age 18 in the state will become new daily smokers. But if a person doesn't begin using tobacco before age 21, they are less likely to start in the future. 
As a result of the City's robust policy agenda and enforcement actions, teen smoking in Chicago has reached a record low of six percent, dropping by more than half over the last six years. 
In February, Mayor Emanuel announced that the City filed a lawsuit against 27 online sellers of e-cigarettes and vaping liquids for selling the products to minors. 
https://abc7chicago.com/health/gov-jb-pritzker-signs-bill-raising-smoking-age-to-21-statewide/5237498/?fbclid=IwAR3uGixHme6UYGmByRGJjktizf5Ns6ApEa_6mac25RjSZ6XiyHNR9cOllss
Hyde Park Township 
Property Tax Assessment Appeal Forum
---
Dear Taxpayer,
If you did not file a property tax assessment appeal with the Board of Review for the 2013 property tax cycle, our office would like to assist you in properly preparing your appeal for the 2014 property tax cycle. Should you believe the value of your property has decreased, while your assessment has remained high, I invite you to attend a property tax assessment appeal forum in Hyde Park Township, Tuesday,ng with honorable guests State Senator Kwame Raoul, State Senator Mattie Hunter, State Senator Napoleon Harris, State Representative Marcus Evans, State Representative Elgie Sims, State Representative Robert Rita, Cook County Commissioner Robert Steele, Cook County Commissioner Deborah Sims, Cook County Commissioner Stanley Moore, Alderman Pat Dowell, Alderman Leslie Hairston, Alderman Roderick Sawyer, Alderman Michelle Harris, Alderman John Pope, Clerk of the Circuit Court Dorothy Brown & Cook County Recorder of Deeds Karen A. Yarbrough.Attending this forum will provide you with the opportunity to address your concerns regarding the 2014 property tax cycle. We will also assist you in submitting an appeal to our office and answer any additional questions you might have about the appeal process. Please be sure to bring your property tax bill and other evidence you believe provides proof of your property's true value, such as a current appraisal. I look forward to seeing you there.Best,
Commissioner Larry Rogers, Jr.
---
To find out more about the Board of Review and our process, contact my office at (312) 603-5540.  For filing deadlines, upcoming events, or to file an appeal online, go to www.cookcountyboardofreview.com.  You may also file in person at the County Building, located at 118 N. Clark Street, Chicago, IL. or at one of our neighborhood satellite offices.
The Cook County Board of Review is now accepting preregistration 20114 assessment complaints from individuals filing on their own property for any township that has not yet opened for review by the Board of Review  Click the link below to file online.
---
Please be aware that the thirty-day filing period is now open for property located in the following townships:
Riverside
River Forest
Norwood Park
Rogers Park
Evanston
Oak Park
Cicero
Palos
Berwyn
New Illinois Law Will Fast Track Forclosures
http://;id=8986067
Health Care Reform Info
http://www.bankrate.com/finance/insurance/health-care-reform-changes-2013.aspx?ic_id=most_shared
Criminal Background Check
Click HERE for Know your Rights flier

Drinking Safe .08 Legal How Many Drinks is this?
http://www.wciu.com/youandme.php?section=home&;assets=videos&assetID=10009831
http://www.;assets=videos&assetID=10009831
Click Links below:
Chicago Rents Rights Part 1 of 4
Chicago Rent Rights Part 2
Chicago Rents Rights Part 3
Chicago Rent Rights Part 4
Information forward by Alderman Hairston:
Cook County Recorder of Deeds- Property Fraud
Did you know that in many instances, stealing someone's house can be easier than stealing a car? All it takes is someone filing a fraudulent transfer of ownership document with the Cook County Recorder of Deeds.
Savvy fraudsters often target elderly persons who live in paid-for homes, and who have no heirs. This allows the criminal to take out a mortgage or sell the home outright once the owner dies.
Though the documents may be fake, the damage is real because the homeowner must get a court order, at their own expense, to have the fake document removed. Until this happens, the true owner will be unable to refinance or sell their home.
Although a new state law was passed recently that creates an expedited judicial review process to remove fraudulent recordings, there is a tool available now that can alert you when a document is recorded against your property's 14-digit Property Identification Number found on your property tax bill. 
The Cook County Recorder of Deeds free Property Fraud Alert will trigger a phone call or email to you when a new document is recorded, so that you can investigate further. Getting this alert will help you to take immediate action, before the criminal uses the fraudulent document to take out a loan against your home.
Signup is easy, free and your information is never used for anything other than the alert. Best of all, you can monitor multiple properties, allowing people to monitor the homes of their older parents and relatives. You can sign up online at www.CookRecorder.com, or by calling 800-728-3858.
If you suspect property fraud or have questions about signing up, please call the Property Fraud Unit at 312-603-4000.
---
There have been a number of reports regarding people who walk their dogs around the neighborhood but fail to clean up after their pets. This is unhealthy, a nuisance, inconsiderate and illegal. The following law describes the penalty for such a violation.
7-12-420 Removal of excrement.
No person shall appear with a pet upon the public ways or within public places or upon the property of another, absent that person's consent, without some means for the removal of excrement; nor shall any person fail to remove any excrement deposited by such pet. This section shall not apply to a blind person while walking his or her guide dog.
Any person found to have been in violation of this section shall be fined not less than $50.00 nor more than $500.00 for each offense.
My office and the Department of Animal Care and Control as well as the Police will be taking stepped up enforcement measures. Additionally, if you observe anyone breaking this law, please contact my office at 773-721-1999.