St. Luke Missionary Baptist Church
Rev. Scott Onque', Pastor
7262 S Coles Ave
Chicago, IL 60649
Phone: 773-768-8423   

Out motto is: "Healing the People of God through the Word of God". Our motto scripture is Jeremiah 29:11. "For I know the plans   I have for you, declares the Lord, plans to prosper you and not to harm you, plans to give you hope and a future".
We set the foundation for a strong presence in the South Shore Community.
We are dedicated to the advancement of our religion through education,
evangelism, discipleship, outreach, and other beneficial activities to the community.
In addition to our community services, we organize regular meetings and activities so that our members can join together and support our communities from day to day.
We are always happy to meet new people – everyone is welcome!
Youth Ministry
Worship Through The Arts Ministry
* Theatre Arts
* Praise Dance Ministry
* Mime Ministry
Young Adult Ministry
Food Pantry Ministry
* Top Box Foods
Culinary Ministry
http://www.saintlukembchurch.org/
Rev. Quentin M. Mumphery
http://www.windsorparkchurch.org/
 Ministry: Out-Reach
 The Windsor Park Ministry is subdivided into teams which are directed to focus on various needs of the members and the community. Each team has established goals and programs directed toward fulfilling our mission. Ultimately, our ministry is a TEAM effort and we look forward to sharing and utilizing all of the gifts available within our congregation.
 "Together Everybody Achieves More"
Evangelism

Evangelism team works to develop programs and outreach to the community on the offerings of the church and in particular Windsor Park's vision and mission. This team is dedicated to spreading the GOOD NEWS of our Lord and Savior, Jesus Christ to members of the community and throughout the world.

Service

Pantry


Service team oversees the requests and appeals for special projects and needs that benefits charitable needs of the community, the congregation and the church at large. This team can be summarized by Acts 20:35, "In everything I showed you that by working hard in this manner you must help the weak and remember the words of the Lord Jesus, that He Himself said, 'It is more blessed to give than to receive.'"

*Summer Camp

*After School Matter

Compassion
Baptist Church
2650 E. 95th Street
Chicago, IL 60617
(773) 933-2700
Welcome@CompassionBaptist.org">@CompassionBaptist.org
Be Inspired:
so that, having been justified by His grace, we might become heirs having the hope of eternal life. Titus 3:7(NIV)
Welcome to Christ Bible Church Of Chicago
Where CHRIST is the Master  The BIBLE is the Message The CHURCH is theMembers
LOCATION: 7877 S. Coles Avenue Chicago, Illinois 60649
Pastor James Ford, Jr Senior Pastor – Pastor Arthur Lyles Assistant Pastor
Contact: Phn: (773) 734-2933 Fax: (773) 734-6329 – Email: info@cbcofchicago.org
Domestic Violence Ministry
Grief ministry
Prison Ministry
Food/Feeding Ministry
Drama Ministry
http://christbiblechurchofchicago.org/ 
Praise Tabernacle Deliverance Church
Adult Spanish Classes
11 am–12 pm
9511 S. Commercial Avenue
Chicago, IL 60617
Adult Spanish Classes offered every Saturday from April 26 to July 26, 11:00am to 12:00pm.  Adults are welcomed to join.  Classes are taught by Outreach Pastor Mario Zaragoza.
For more info, please call 773-449-0888.
https://www.facebook.com/pages/Praise-Tabernacle-Deliverance-Center/111507248892088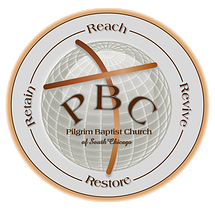 Pilgrim Missionary Baptist Church of South Chicago
Pastor Corwin D. Lasenby, Sr.
3235 E. 91st Street
Chicago, Illinois 60617
Tel: 773-374-3888
Fax: 773-374-2621