Who is running for mayor of Chicago? Election Day is Feb. 26, 2019-ABC News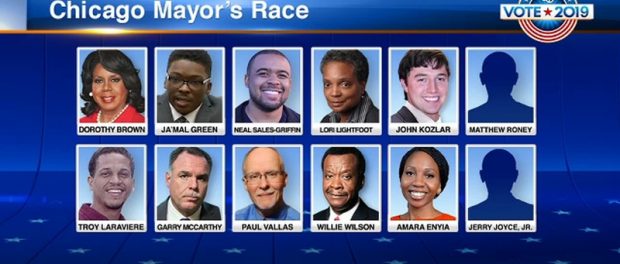 https://abc7chicago.com/politics/who-is-running-for-mayor-of-chicago/4146783/?utm_source=hl-publisher-abc
Several well-known names in Emanuel's political circle are being talked about as possible candidates.
After the announcement, at least two progressive aldermen said they are not ruling out a run, including Ald. Ricardo Munoz (22nd Ward) and Ald. Ameya Pawar (47th Ward).
The big question is who will benefit from big money that would have gone to Emanuel?
"I think most people want to wait and see the smoke clear, and when it clears who remains interested," said Ald. Ed Burke, chairman of City Council's Finance Committee.
So far, people who have said they will run include:
Dorothy Brown
Clerk of the Circuit Court of Cook County
Amara Enyia
Community activist and policy consultant
Ja'Mal Green
Community activist who helped organize demonstrations after the Laquan McDonald police shooting tape went public. Executive director of the Majostee Allstars Community Center
Jerry Joyce Jr.
Former Assistant States Attorney and son of former Alderman Jeremiah E. Joyce
Troy LaRaviere
President of the Chicago Principals and Administrators Association. Former CPS principal.
Lori Lightfoot
Former Chicago Police Board president and Chicago Police Accountability Task Force chairwoman
John Kozlar
Attorney and former candidate for alderman in Chicago's 11th Ward
Garry McCarthy
Former superintendent of the Chicago Police Department
Matthew Roney
DePaul University student/pharmaceutical technician
Neal Sales-Griffin
Tech entrepreneur and professor at Northwestern University's Farley Center for Entrepreneurship and Innovation
Paul Vallas
Former Chicago Public Schools CEO and city budget director under Richard M. Daley
Willie Wilson
Businessman, 2015 mayoral candidate, 2016 presidential candidate
CANDIDATES SHIFT GEARS
Many of the candidates have focused their campaigns on attacking incumbent Emanuel, but now will have to change their strategy.
Garry McCarthy, Emanuel's former CPD superintendent, said Tuesday's announcement could change the whole race.
"It changes the campaign, it makes it easier for people who are afraid of the bullying politics of City Hall to come forward and say, 'We are supporting you,'" he said.
McCarthy said he would not be surprised if deals are being cut at City Hall for an Emanuel-backed candidate.
"Is there another shoe that is going to drop here?" said McCarthy.
However, Lori Lightfoot said the news doesn't change her campaign.
"With the incumbent being out, there is going to a lot of conversations, I'm still going to be talking about what I've been talking about for the past four months," said Lightfoot.
A former CEO of Chicago Public Schools is vying for another tour of city public service.
"The public remembers me as someone who was always concerned about every neighborhood, every community, particularly those communities that had long been neglected," said candidate Paul Vallas.
And the activist who's long been critical of the mayor
"Much of the credit after the announcement goes to the activists and organizers who hit the pavement after the Laquan McDonald video," said Ja'mal Green. "Good riddance is what we say to him!"
Lightfoot and Vallas had harsh words for candidates who plan to jump into the race now.
"If they did not have the guts to get in the race when Rahm Emanuel was still running, then will they have the guts to move the city forward?" Vallas said.
"Anybody that decided to jump in to take advantage of today's political news, I think a fair question to ask them is, "Where have they been?" Lightfoot said.
Tuesday night activists converged on Daley Plaza to celebrate the end of a term and talk about who's next to lead Chicago.
"We believe the power exists within the people to make that decision on their own," said community organizer Rachel Williams.