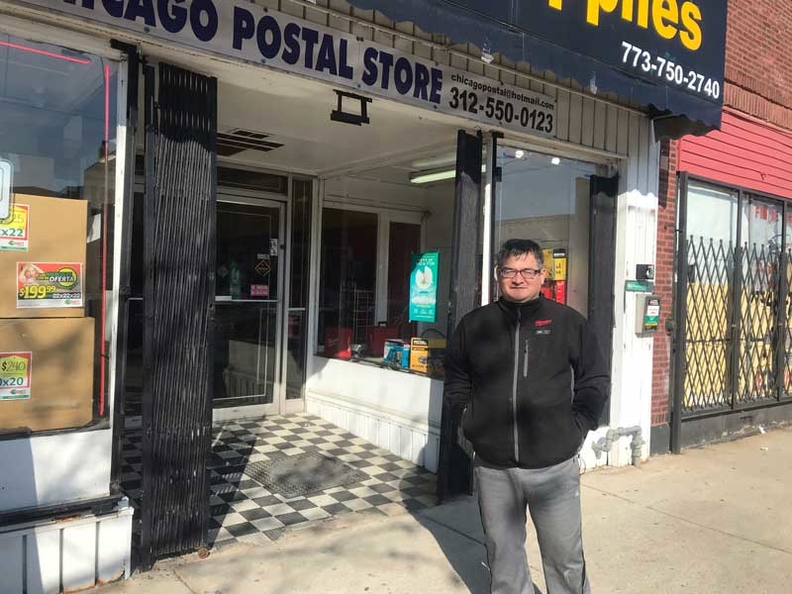 Latino Chicago is more suburban yet more segregated
Income and educational attainment are on the rise, but gentrification is pricing Latinos out of traditional neighborhoods.
Owner Reynaldo Salcedo says business is thriving thanks in large part to the patronage of Latino construction workers. Ironically, that could also foreshadow problems for Salcedo. Many Latino workers are hired to build new homes and rehab buildings in the area as it quickly gentrifies, from a working-class Latino neighborhood to one of the city's hippest enclaves, with a median home price of $445,000, according to online real estate database Zillow.
"This building is going to be bought by investors later," says Salcedo, who is originally from Peru and has lived in Chicago for over 20 years. "I'm going to try to do my best in the next couple years to buy something here, if not this building. But after three years it's probably going to be impossible."
Logan Square, Avondale and Pilsen are among the neighborhoods that have experienced significant decline in Latino population in recent years. Latinos are migrating to neighborhoods farther from the city center, like Gage Park on the Southwest Side and Belmont Cragin on the Northwest Side, and to the suburbs. Some Latino people are moving into traditionally African American neighborhoods like Austin and North Lawndale, even as they are gentrified out of adjacent neighborhoods like Little Village and Pilsen.
In 2000, 49 percent of Latinos in Illinois lived in Chicago and 43 percent in the suburbs. By 2016, only 37 percent were in Chicago and 53 percent in the suburbs, according to the Latino Policy Forum in Chicago. The MPC's report notes that "between 2000 and 2010, six majority-white suburbs flipped to majority Latino, including west suburban Berwyn and northwest suburban Carpentersville."
Despite these demographic shifts, in both the city and suburbs, Latino populations remain largely segregated.
"While the region is becoming increasingly diverse, it's not necessarily becoming more integrated," says Latino Policy Forum Executive Director Sylvia Puente. "In (suburban) Aurora, most Latinos live on one side of town. We're seeing pockets of ethnic enclaves. There are a lot of advantages to living in an ethnic enclave, but the opposing way of looking at that is segregation."
LATINO CHICAGO
There are just under 800,000 Latinos in Chicago, according to the latest census estimate, with the largest groups being of Mexican and Puerto Rican origin, along with people with roots in Central and South America and Cuba.
Latino communities in the Chicago area are faring better than in decades past by many measures, including education, income, political representation and jobs. But it's often a matter of "good news, bad news," as Puente puts it.
Even as many Latinos are gaining higher incomes, they are being displaced by rising rents and property taxes. While more Latinos have professional jobs, many still work in low-wage restaurant, construction, warehousing and other sectors without benefits or opportunities for advancement.
Jorge Mujica, a labor organizer with workers' rights group Arise Chicago, explains that Latinos often fill largely "invisible" jobs that keep the modern economy running: cleaning hotel rooms, cooking food, delivering newspapers, processing meat, repackaging consumer goods and sorting through millions of coupons used in grocery stores.
"For example, you have Valentine's Day and 10,000 freaking fuzzy hearts coming in huge containers from China," Mujica says. "Someone has to individually package them to send to stores."
Nearly half of all students in Chicago Public Schools are Latino, but many attend schools that are under-resourced, and there is a shortage of bilingual teachers to serve students who speak Spanish as a first language.
The number of Latinos holding elected and appointed posts in city and state government is rising, but it is still far from proportionate to the Latino share of the population, in part because a sizable portion of adults are not citizens and can't vote. Meanwhile, redistricting and underparticipation in the census could erode political power and access to resources.
"As we became 30 percent of the population (in Chicago), with Latino and Latina students filling our schools, we still have not come close to achieving parity," says U.S. Rep. Jesus "Chuy" Garcia, D-Chicago, who was born in Mexico, lives in the Little Village neighborhood and became the first Latino in the state Senate in 1992. He is the only Latino member of Congress representing a district largely in Chicago, though the city's congressional delegation also includes three black members and two whites even though the populations of all three groups are roughly equal in size.
"Whether you consider the city, the county, or the state of Illinois, it remains a key challenge. . . .In order to make headway into other sectors of society like corporate America, you need to have a stronger base of local power, and we've not achieved that," says Garcia. "We've become a more significant player, but if you look at the laundry list of issues that are facing Latinos today, it's not very different from what it was in the '80s."
MEXICAN CHICAGO
Pilsen is perhaps Chicago's most iconic Mexican immigrant neighborhood. But as Pilsen has evolved into a trendy arts and dining district with property values skyrocketing, many Mexican American families have left. In the community area that contains Pilsen, the Latino population dropped by about 14,000 between 2000 and 2017, according to Paral's data.
Ald. Byron Sigcho-Lopez, 25th, who represents Pilsen, laments that there are many empty storefronts on 18th Street—the neighborhood's main drag—since property owners charge high rents and developers seem to be stockpiling property for future development.
"Now we have developers who own entire blocks, and they can afford to keep a store empty," says Sigcho-Lopez. "The effect on small businesses is that the rent goes up and the property taxes go up."
Latino business owners in Pilsen have also adapted to and benefited from the changing neighborhood. For example, Marcelina Hernandez owns Yvolina's Tamales on 18th Street, which sells organic, vegan and vegetarian tamales likely to appeal to both longtime Mexican residents and the growing number of multicultural, young non-Latino residents.
Hernandez began selling tamales to family and friends as a way to raise money for her mother in Mexico, and to remind her of her hometown in the La Huasteca Potosina region on Mexico's Gulf Coast. Her tamales now feature locally sourced vegetables and more than 50 flavors, including her family's traditional mole recipe.
"I grew up watching my mom, my grandmas and my great-grandmas making mole," Hernandez says. "It was something that stayed with me, not as a written recipe but in my mind and in my heart."
Just southwest of Pilsen, Little Village's 26th Street is known as one of the most thriving commercial strips in the city, lined with stores selling Mexican candy, hardware, dresses for girls' traditional quinceañera 15th birthday parties and more, plus many restaurants, laundromats and bars. The businesses are a magnet for Mexican American visitors from around the region.
"We have so many people coming from out of town, all the way from Minnesota," says Blanca Soto, executive director of the Little Village Chamber of Commerce. "We have people from the suburbs, Indiana, Wisconsin that come in and do their shopping here on the weekend."
Nonetheless, Soto says gentrification and displacement are concerns local business owners and residents bring up at nearly every community meeting. Between 2000 and 2017, the community area that includes Little Village saw its Latino population drop from about 75,500 to 62,500, according to Paral's data.
LATINO IMMIGRANT ANXIETY
Chicago has long been known for powerful immigrant rights organizing, and massive marches that swept the country in 2006 started with one organized from Pilsen. Fewer immigrants come to the Chicago area than in years past; growth in the Latino population these days is driven more by births and transplants from other parts of the U.S., statistics show.
But there are still an estimated quarter of a million undocumented Latino people living in the Chicago area. And since many legal residents and citizens have undocumented family and friends, the Trump administration's escalating attacks on immigrants and strict enforcement of immigration law have wide-ranging ripple effects.
One big and immediate challenge will be the 2020 census, with the counting just weeks away. An accurate count of Latinos—including citizens, legal residents and undocumented people—will help determine political redistricting and allocation of resources.
However, Miguel Lopez, an activist with the Chicago-based group Organized Communities Against Deportations, says many Latino immigrants are likely to opt out of the census, afraid their information will be shared with immigration enforcement despite laws meant to strictly prohibit that.
"As undocumented people in the U.S., we tend to live in the shadows," Lopez says. "That makes us feel more safe."
PUERTO RICAN CHICAGO
As U.S. citizens, Puerto Ricans don't need to worry about legal status. But they face many of the same issues as other Latinos in Chicago: gentrification, low-wage jobs, struggling schools, violence and sometimes language barriers.
The recent debt crisis in Puerto Rico, as well as earthquakes and devastating hurricanes, has driven large numbers of Puerto Ricans from the island to the mainland, including Chicago. Puerto Ricans here have long been highly organized and politically powerful, as demonstrated in the wake 2017's Hurricane Maria, when local organizations convinced Chicago-based United Airlines to send a plane full of aid to the island.
"It's that two-sided coin—you have some areas where there have been some notable gains in terms of the political power and social capital, but then we have to think about the material conditions of Puerto Ricans that are living in Humboldt Park and other areas," says Cristina Pacione-Zayas, co-founder of advocacy group Puerto Rican Agenda and also a member of the Illinois State Board of Education. "With very little we've been able to accomplish a lot."
The Puerto Rican Cultural Center and other groups have started service organizations and housing developments with the express intention of maintaining a stake in Humboldt Park.
Northwestern University Latino studies professor Mérida Rúa noted that senior citizens in those developments for "the first time in their lives actually have stable housing in the neighborhoods that they feel most comfortable in. But everything around them is changing."
Across the city, Latino aldermen and community organizations are working hard to protect affordable housing and small businesses. But curbing a complicated demographic shift like gentrification can seem impossible, as Salcedo sees in Logan Square.
Stephanie Manriquez contributed.