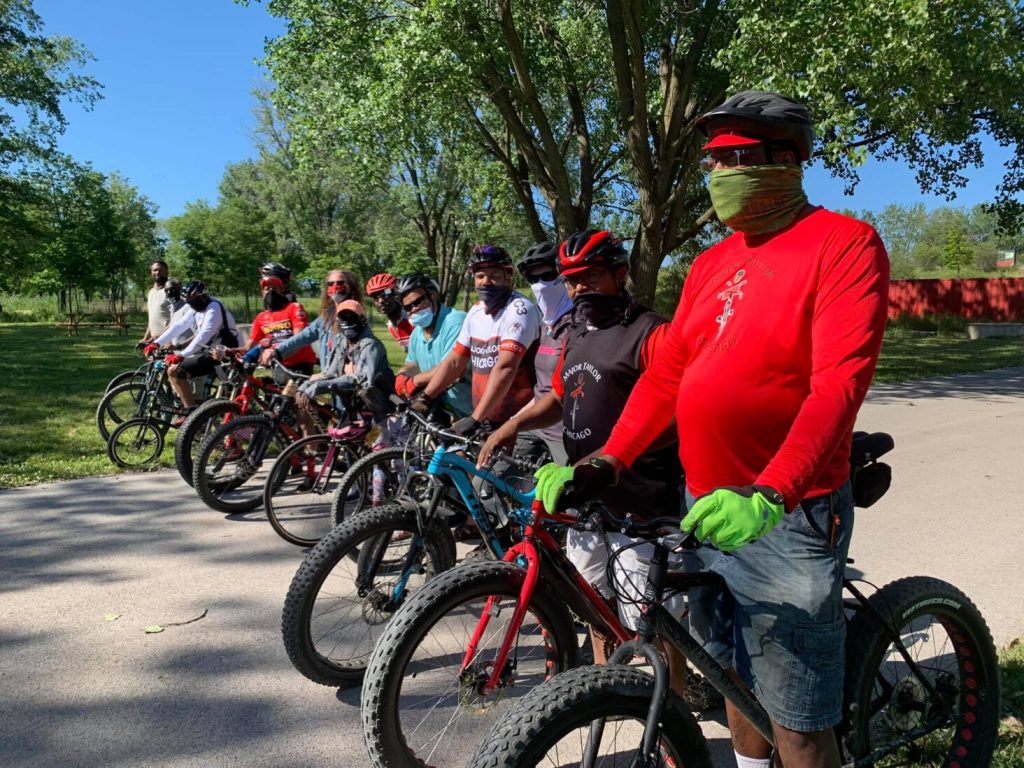 Contributed by Jason Ward, President of Major Taylor Cycling Club Chicago and member of the Friends of Big Marsh Board of Directors.
How do you get more people of color on bikes?  This has been the topic of many discussions, more so as of late.  Major Taylor Cycling Club Chicago (MTC3) is actively diversifying its membership to include more off-road riding with an open invitation for friends and family.  With plenty of open space and well-maintained trails Big Marsh Park, located at 11559 S Stony Island Ave, Chicago, IL 60633, is the perfect Chicago resource to make this happen in a family-friendly environment.
Every Sunday from 1-4 pm Memorial Day through Labor Day (weather permitting) we set up an inviting space complete with canopies, tables, chairs, coolers, and grill.  We have initiated a mountain bike clinics to teach basic mountain bike riding for MTC3 members during our Sunday event at Big Marsh Park.  Our club observes local guidelines in regards to Covid-19 during this event which include a limit of 50 participants, masks, social distancing, and hand sanitization.
For non-riders, there are a variety of trails to explore, birds to watch, and nature to take in.  For those who want to ride we especially enjoy the 1 mile of single track, gravel roads, jump lines, and looking forward to the 2 pump tracks currently under construction.  Year after year Big Marsh Park has added new features to make this hidden gem a world-class bike park.
Special thanks to Paul Fitzgerald, Executive Director at Friends of Big Marsh,  for his help in providing a framework for our event and providing loaner mountain bikes for club members to explore the wonderland that is Big Marsh Park.
https://bigmarsh.org/2020/08/06/bike-skills-and-social-distance-sundays-at-big-marsh-with-major-taylor-cycling-club-chicago/?fbclid=IwAR36cgSVQXkugDE95iy0-TfzzByOiutjmVJNJ99vuG_y–SrHPcO-P5m2Q4