Claretian Associates Healthy Block Clubs Quarterly Meeting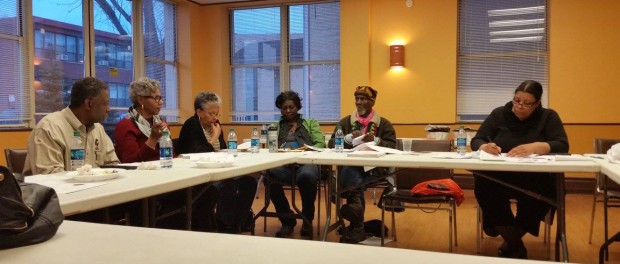 Claretian Associates Healthy Block Clubs Quarterly Meeting
Claretian Associates
Healthy Block Clubs
The Block Clubs initiative started in 2010 with Neighborhood Housing Services of
Chicago (NHS) along with The Claretian Associates, inviting residents of the community
to a focus group. The purpose of this meeting was to discuss the roles NHS and
Claretian Associates had in helping to preserve the strengths of the South Chicago
community, and to address the issues involving revitalization of projects and foreclosure
prevention.
Now called Healthy Block Clubs, we meet every other month, always welcoming new
leaders (block club represented or not). There are 25 blocks that represent this
initiative and continue to grow strong during this time when we all need to keep getting
informed. Attendants of Healthy Block Clubs also serve as our Green Summit Advisory
Team where they can share thoughts on what green topics should be presented at the
Green Summit (which takes place annually for the whole month of May).
We invite you to join our mailing list and we will keep you informed on these upcoming
events. Meetings are held every other month (weather permitting) in the evenings to
accommodate community representative's schedule. We bring guest speakers from
organizations that have resources for residents (anywhere from housing, safety, health
resources and more). I hope you are able to attend one of our meetings and please
refer your school parents, LSC, and staff to these meetings. They can always pick up
the information and take it back to the school.
For more information, contact Graciela Robledo, Program Manager at 773-734-9181
Ext. 26 or email at gracer@claretianassociates.org.