Free Support Groups, Workshop & Job Info by South Chicago Community Services.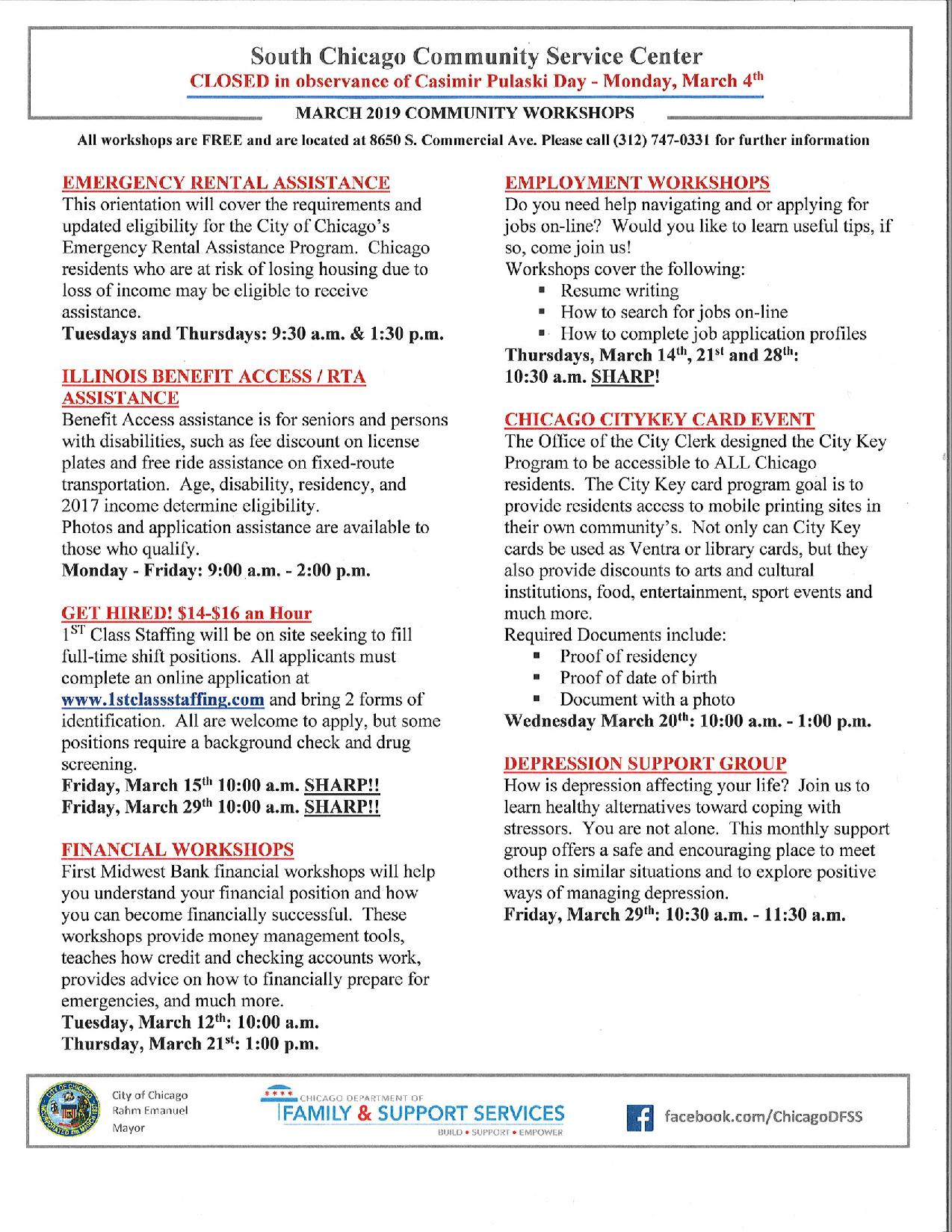 EMERGENCY RENTAL ASSISTANCE
This orientation will cover the requirements and updated eligibility for the City of Chicago's Emergency Rental Assistance Program.  Chicago residents who are at risk of losing housing due to loss of income may be eligible to receive assistance.
Tuesdays & Thursdays: 9:30 a.m. & 1:30 p.m.
ILLINOIS BENEFIT ACCESS / RTA ASSISTANCE
Benefit Access assistance is for seniors and persons with disabilities, such as fee discount on license plates and free ride assistance on fixed-route transportation. Age, disability, residency, and 2017 income determine eligibility. 
Photos and application assistance is available to those who qualify.
Monday – Friday: 9:00 a.m. – 2:00 p.m.
PUBLIC BENEFIT ASSISTANCE
Avoid the long lines and wait.  Come in to apply for SNAP, Medicaid, and TANF benefits.  Also, get answers and the support you need for denials and redeterminations. 
Mon, Tue., Thur., & Fri.: 9:00a.m. – 2:00p.m.
GET HIRED! $14-$16 an Hour
1ST Class Staffing will be on site seeking to fill full-time shift positions. All applicants must complete an online application at www.1stclassstaffing.com and bring 2 forms of identification.  All are welcome to apply, but some positions require a background check and drug screening.
Friday, March 15th 10:00 a.m. SHARP!!
Friday, March 29th 10:00 a.m. SHARP!!
FINANCIAL WORKSHOPS
First Midwest Bank financial workshops will help you understand your financial position and how you can become financially successful.  These workshops provides money management tools, teaches how credit and checking accounts work, provides advice on how to financially prepare for emergencies, and much more.
Tuesday, March 12th: 10:00 a.m.
Thursday, March 21st: 1:00 p.m.
EMPLOYMENT WORKSHOPS
Do you need help navigating and or applying for jobs on-line? Would you like to learn useful tips, if so, come join us!
Workshops cover the following:
§  Resume writing
§  How to search for jobs on-line
§  How to complete job application profiles
Thursdays, March 14th, 21st & 28th:
10:30am SHARP!
CHICAGO CITYKEY CARD EVENT 
The Office of the City Clerk designed the City Key Program to be accessible to ALL Chicago residents. The goal is to provide City Key cards to residents in their own communities through mobile printing sites across Chicago.
Wednesday March 20th: 10:00 a.m. – 1:00 p.m.
DEPRESSION SUPPORT GROUP
How is depression affecting your life?  Join us to learn healthy alternatives toward coping with stressors.  You are not alone.  This monthly support group offers a safe and encouraging place to meet others in similar situations and to explore positive ways of managing depression.
Friday, March 29th: 10:30 a.m. – 11:30 a.m.
JOB FAIR
100 Employees Needed! Flex-N-Gate will be conducting an on-site hiring event.
Incentives
Ø  Minimum pay $15/hour
Ø  Medical, dental, vision, and life insurance
Ø  Permanent Employment
Requirements
Ø  Must be able to pass background and drug screening
Ø  Willing to work any shift
Ø  Willing to work mandatory overtime
Ø  Able to stand for long periods of time
Ø Able to use hand and power tools
Wednesday, April 1st : 10:00 a.m. SHARP!
Da Lina Bailey
District Manager of South Chicago Community Service Ctr.
8650 S. Commercial Ave. | Chicago, IL | 60617
Phone: (312) 747-0327| Fax: (312) 747-0510
dalina.bailey@cityofchicago.org