New Elementary School Opens In Chicago's East Side.. Rias-Winstead-South Shore Community Action Council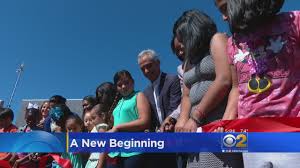 New Elementary School Opens In Chicago's East Side
CHICAGO (CBS) – A new elementary school opened Friday in the East Side neighborhood just in time for the first day of school on Sept. 6 due to a growing demand.
Chicago Public Schools closed 49 elementary schools, three years ago due to low enrollment, but a new one has been built in the South East Side, CBS 2's Sandra Torres reports.
South East Elementary opened its doors Friday for hundreds of students on the city's east side.
"I was excited about this new school being built," said parent, Yuridia Alcantar.
For parents like Yuridia Alcantar, this means her 10-year-old daughter will have more room to grow.
"Having teacher focus more on one child instead of 35 in a room really helps," Alcantar said.
Alcantar previously had her daughter enrolled in Gallistel Elementary School, one of two schools which has been at double capacity for years.
"At Gallistel and Adams, you had teachers holding classes in stairwells, under stairs, in closets," said Valencia Rias-Winstead.
Valencia Rias-Winstead with the South Shore Community Action Council said she has been fighting for a new school for years.
"For years the community had been asking to relieve overcrowding," Rias-Winstead said. "CPS had leased several buildings from the archdioceses to be able to put children."
Some question the construction of a new school in the wake of nearly 50 schools closing in 2013, but others praise the efforts.
"Having been against CPS school closings and forcing CPS to create a plan, this is a great example of how master planning works."
The new school has capacity for 1,200 students, but Alderman Sodlowski-Garza told CBS only 355 are enrolled, so far, for this 2016-2017 school year. CPS said more students are likely to enroll over the first 10 days of school.
CPS plans to try out different grade levels throughout the coming years, by offering PreK-6th grade in 2016-2017, PreK-7th grade in 2017-2018 and Prek-8th grade in 2018-2019.
"Phasing in the school allows students in the upper grade from Addams and Gallistel to graduate at their original schools," said Emily Bittner, CPS.