SBIF Breakfast Avalon, South Shore, Stony Island, Burnside Southeast Chicago Chambers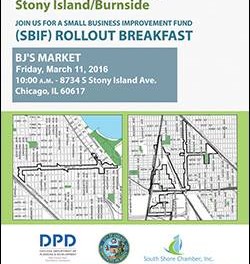 SBIF Rollout Breakfast
Avalon Park/South Shore/Stony Island/Burnside
March 11, 2016
BJ's Market
8734 S Stony Island Ave
Chicago, IL 60649
The Chamber Representative was presented and the community business in search of ways to improve their business for the community development.
The Small Business Improvement Fund (SBIF) is helping small businesses and commercial corridors stay viable in the City of Chicago by providing financial assistance for building improvement costs. Eligible program participants can receive reimbursement grants for qualified permanent building improvements to small business properties.
SBIF Grant Structure
The City of Chicago's SBIF grant uses local Tax Increment Financing (TIF) revenues to reimburse eligible applicants for repairing or rehabilitating their facilities within specific TIF districts. The following features apply to this grant program:
Maximum Grant Program Assistance
Industrial Property – $150,000 per property
Commercial Property – $100,000 per single-tenant property
Multi-tenant Property – $50,000 per owner/tenant with no more than $250,000 for overall property
Grant Type
Reimbursement grant, paid after work is completed by the applicant, and proof of payment to their city-licensed contractors is received by the City of Chicago.
Multiple Grants
Yes, an applicant may receive one or more grants for the project property up to the maximum grant program assistance for which the property is eligible. Once the project property has received the maximum grant program assistance for which it is eligible, then no application made for that property shall be eligible for SBIF consideration for three (3) years from the date the reimbursement that reaches the maximum grant program assistance is paid.
Grant Repaid?
No, the grant does not have to be repaid.
Am I eligible?
If you are located in an eligible SBIF district and meet the program's other eligibility requirements, then you will be eligible to receive this grant.
Grant Average
The average grant amount is approximately $40,000.
What are some typical projects?
Check out a bunch of recent SBIF projects in the SBIF Showcase.