Every 3rd Tuesday meeting is held. Christy Beighe-Byrne Director of Programs & Operations – Pilot Center Please Call (773) 731-0444 for more information.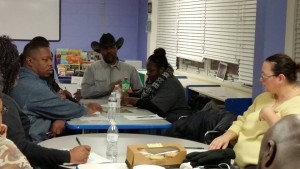 Here are the minutes: 
Thank you for a very productive meeting on Tuesday! It was great seeing (and meeting) all of you! I am really excited to see where our revitalized Board will take us this year. Here are the notes from our meeting and a few action items.
I. Welcome and Introductions: we welcomed Keena Brown (HR Professional), Anndriene Bell (Rev. Winfield Phillips Foundation), Danielle Richards (District 4 CAPS Facilitors/ Community Leader), Julia Hunter (Work Together For Peace Foundation), Chuks Onyezia (Alderman Mitchell's Office), Dante Wilson (Notarized Inc), LaVonte Stewart (Lost Boyz, Inc and Senator Raoul's Office, Jacqueline Daley (Northern Trust), Alfred Jackson (KayJay Foundation and Target Area Project), Luke Watkins (Executive Chef), Stephanie Roddy (Rainbow Beach Coalition) Dante Oakley (CYC Alumni Member) and Christy Beighe-Byrne (CYC-Rebecca K. Crown Youth Center). Bold indicates a new member as of January.
II. Center Updates: 
a. Staff New Hires in December: Devin (Maker's Lab), Val (All-Stars Classroom), Travis (Young Leaders Classroom) and Shontell (Family Engagement Specialist). 
b. New Programming (shared the club schedule for January 11th-March 10th). Youth have a choice between two club options each day. 
c. New Partnerships- Lost Boyz, Inc, South Shore Cultural Center, and Technique Gems (providing in-kind clubs for us this quarter)
III. Goals of the Local Advisory Board: 
a. Membership- helping to bring in active, committed people that will uplift our mission of serving children and families and will help to fundraise to support innovative programming. 
b. Fundraising: helping to plan and execute fundraisers. Researching and assisting with grant applications. 
c. Community Outreach and In-Kind Resources: helping to promote the amazing work of the CYC-Rebecca K. Crown Youth Center by spreading the word about programming, events, youth recruitment, etc… Helping to seek in-kind resources that will save the Center money from having to purchase goods/services (such as helping to find a Hair Stylist who will run a Cosmetology club for free). Volunteer at CYC clubs and events when able.
IV. South Shore Shake and Stir Event: March 18th
a. We need all hands on deck for this event by: 
i. Attending
ii. Promoting the event to your networks. (Action Item: Please send out the attached document to all your networks. Please send me your list of contacts by next Friday so that I can let you know when one of your guests RSVP's). 
iii. Volunteering to help run the event (we will have a list of duties soon). 
iv. Helping solicit in-kind donations and silent auction items (AJ- I will connect you with Lauren shortly!) 
v. Helping out in the Maker's Lab to assist with the VIP Gifts. Email me your availability and I will connect you with Devin.
V. Upcoming Events/Meetings: 
a. Next L.A.B. Meeting: Tuesday, February 16th at 6:30pm
b. Youth Showcase: Thursday, March 10th at 5:30pm
c. South Shore Shake and Stir Event: March 18th at 6pm.
ACTION ITEMS: 
1) Find us on Facebook: https://www.facebook.com/groups/CYCRebeccaCrownCenter/ 
• Go to Facebook.com. Login
• Search: CYC-Rebecca K. Crown Youth Center (GROUPS)
• Look for the basketball symbol. 
• CLICK JOIN. 
2) Check out the items in red under the "South Shore Shake and Stir" Event. We really need your help in making this event a success. 
3) Volunteer! The more time you spend with us the more you will love us
Thanks all! See you on Tuesday, February 16th at 6:30pm!
About CYC:
CYC – Rebecca K. Crown in South Shore offers well-trained youth-development specialists giving individual attention to children and teens to help them with academic achievement and social and life skills development. Each year, the center serves more than 500 children and teens. The center's goal is to give members the tools, support and guidance they need to reach their full potential through the following age-specific programs:
Early Childhood Education
School-Age Child Development
Teen Leadership Development
Summer Fun