BACP Educates the Public of Free Ways to Fix Credit Reports and Tools to Research Reporting Agencies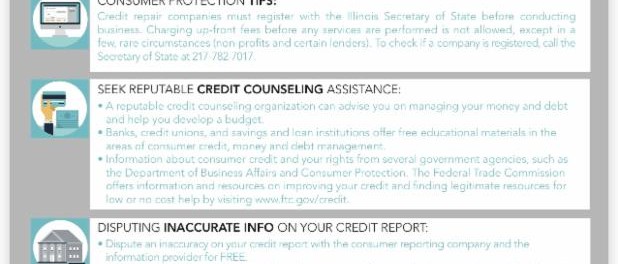 City Launches Consumer Protection Campaigns on Credit Fraud
BACP Educates the Public of Free Ways to Fix Credit Reports and Tools to Research Reporting Agencies
To help consumers stay safe, BACP has launched two consumer protection campaigns to ensure consumers know their rights when it comes to their credit report and ways to avoid becoming victims of fraud.
"The City of Chicago protects consumers from fraud by resolving complaints and taking action against fraudulent businesses," said Commissioner Maria Guerra Lapacek of Business Affairs and Consumer Protection. "We also take a proactive approach by promoting consumer awareness through educational campaigns to help people protect themselves and their credit."
The dual campaign is made up of Know Your Credit Report and Know How to Fix Your Credit Report.
Know Your Credit Report informs consumers:
About the information that may be contained in their report,
That they are entitled to a free credit report every 12 months,
On how to deal with bad credit,
On activating a fraud alert on accounts.
Know How to Fix Your Credit Report brings awareness to:
What credit repair companies are required to provide,
What credit repair cannot do,
Consumer protection tips,
Seeking reputable credit counseling assistance,
Disputing inaccurate information on your credit report.
The campaign also provides contact information for several organizations that can help with credit issues, which includes calling 311 and filling a complaint with Business Affairs and Consumer Protection.