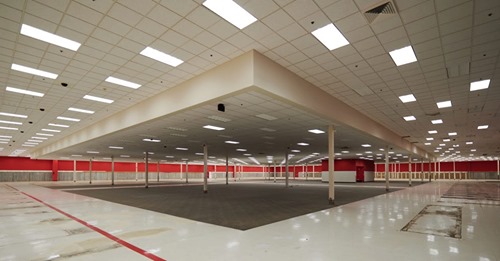 https://wbbm780.radio.com/articles/target-in-calumet-city-to-be-transformed-into-vertical-farm?fbclid=IwAR2Lo6kCOm7WBFWZHhxPfoJxozdWY_Tlc1ll6fbFqeXHB37O6Q2D6PG-S1M
CHICAGO (WBBM NEWSRADIO) — What used to be a Target store in the south suburbs is set to become one of the world's largest vertical farm that is designed to grow 25 million heads of lettuce a year.
The Mayor of Calumet City, Michelle Markiewicz Qualkinbush and Jake Counne, founder of Wilder Fields, announced Wednesday a commitment to build and operate its first full-scale commercial vertical farm in a former Super Target store, located in a shopping center at 1717 E. West Road in Calumet City.
Listen Live Now on WBBM Newsradio
Wilder Fields will take the long-since closed, 135,000 square-foot Super Target store  and transforming it into seven acres of greenhouse space – a vertical farm.
According to Wilder Fields, the majority of space will house 24 separate cleanrooms for growing dozens of varieties of greens. The site also includes a retail store and education center for the citizens of Calumet City and other consumers. In addition, there will a large loading dock provides a hub for distributing produce to supermarkets and select restaurants within 100 miles of the vertical farm.
Counne said with this floor-to-ceiling, 20-foot-high vertical farm he will be able to do high-tech stuff like tweaking the amount of light to affect the flavor of arugula.
"You can make arugula spicier if you stress it a little bit more, with more light.  Or milder, if you hold back on the light," he said.
The whole process, he said, is more advanced than the first generation of vertical farming, where the farmer had to scale a wall of crops.
"In this case, with our automation, we're able to have the crop come to the farmer. And so you can treat it more like a manufacturing process than a farming process," Counne said. "That creates huge efficiencies in terms of the cost of production."
Counne said not everything is a good fit for the vertical farm, like tomatoes and strawberries, but he said, the greens that will come from the vertical farm will stay fresher, because they haven't come all the way from the West Coast.  They're local.
This will be Counne's first commercial-scale vertical farm.
Construction is planned for two phases. Phase one, to be completed in early 2021, includes building critical infrastructure and an initial group of cleanrooms. The second phase will be completed in early 2023.